As John MacKenzie, a former strategic manager at TransCanada Pipeline, said: "It's easier to move natural gas from one end of the continent to the other than to keep a dozen workers moving in the same direction." The task can be much harder if the goal is to bring together thousands of bank employees working in different departments and branches dispersed over the country.
The bank's complex business and corporate structure can become a great obstacle while implementing a corporate intranet that should create a synergic environment for everyone's productive work. Without a clear understanding of features to implement and target users, banks can fail to get the value they expected from their intranets, even developed on such a versatile collaboration platform as SharePoint. As a result, an intranet can be inconvenient and inapplicable to the bank's daily processes.
Fortunately, it's never too late to change the situation for the better and reboot a SharePoint-based intranet by filling it with features supporting both the front and back offices. For this, it's worth starting with 3 important questions.
3 fundamental questions to answer
Even if a bank has already spent certain time on implementing an intranet, yet the solution still looks disintegrated and faces employees' poor adoption, it's reasonable to rethink the current system by answering the following questions one more time:
Who are the target users, and how should the intranet help them in their daily activities?
Does our intranet facilitate cross-department collaboration and power knowledge exchange internally?
Does our intranet increase employee engagement?
Answering these questions allows killing two birds with one stone. First of all, these questions help to define target user groups and specific features helping them fulfill their day-to-day tasks. Thus, business functionality is to be tailored to particular bank units and employees (e.g. lenders, risk managers); collaboration features should aim at facilitating internal and external collaboration (i.e. between different bank branches or with bank partners (insurers, mobile operators)); and finally, social features should cover all user groups. Secondly, a bank will understand which intranet functionality is lacking at the moment to satisfy existing business and collaboration needs.
Putting business in the focus
No bank intranet can be successful if it doesn't provide value for employees in their business activities. A fine-tailored solution should complement and extend the core banking system or even make up the lacking features.
Effective document management and sleek workflows
A bank is a document-abundant establishment with multiple formalized processes. That's why document management and workflows entrusted to a bank intranet should go like clockwork.
It's worth thinking of well-structured document storages represented by separate site collections. Each of these site collections is to contain either particular types of documents (e.g. loan agreements, compliance reports) or documents processed by certain departments (e.g. the consumer lending department can store auto loans, home equities, mortgage applications). Within such a structured repository, every site collection will be accessible to a limited group of specialists granted with strict permissions in order to protect confidential information, prevent data leaks and access of unauthorized employees.
At the same time, using SharePoint's advanced search capabilities, it's possible to enable search by multiple criteria and find a required document throughout all of the available site collections.
There is also the possibility to automate bank workflows within a SharePoint-based intranet. In this case, it's reasonable to address the automation requirements to SharePoint developers who will build up full-cycle workflows reinforcing the platform's out-of-the-box capabilities with timer jobs and custom event receivers to automate such multistep processes as bank account reconciliation.
Role-specific activities management
Apart from a bank-wide document and workflow management, a SharePoint intranet can assist front and back office employees in their role-specific duties. The biggest advantage of using SharePoint for these purposes is the possibility to create secure task-focused sites and grant users with relevant access rights.
Compliance managers may have a centralized access point to all the rules, regulations and policies, a unified storage for compliance cases, as well as the opportunity to report an issue to the HR department, legal services or financial offices with the help of a dedicated workflow.
Risk managers can use a bank intranet as a unified repository of risk management policies and protocols, important statistics, reports and market trends.
Wealth managers will benefit from extranet capabilities of a SharePoint-based intranet. To ensure the required level of confidentiality, they can use extended SharePoint sites to collaborate with external partners and clientele.
Call-center specialists will be able to access communication scripts via a corporate intranet, as well as register complex cases and leave their detailed description to elaborate unique call processing tactics that can be reused by other call-center employees.
Sales and marketing managers can use their intranet as the centralized storage of sales and marketing materials that can be accessible to all stakeholders. The updates can be made using Office Web apps and shared across all bank branches either via customized notifications or a generally available newsfeed.
Intensifying cross-department collaboration
Used as a cross-department collaboration tool, an intranet should serve as both a single source of information and a unified discussion hub for employees from different bank departments and offices. The scenarios of bank collaboration management can include:
Collaboration sites can be created to facilitate collaboration within the same bank departments located at different branches (e.g. auto loan specialists can discuss an interest rate discount for a customer enrolled in a loyalty program) or connect people from different departments, which is crucial for complex bank processes that require the approval of several specialists (e.g. approving an application for mortgage refinancing).
Discussion boards can be integrated with a banking CRM and will represent a set of stand-alone collaboration spaces that can be used to discuss particular bank issues. For example, retail banking specialists can collaborate with marketing reps on a recent decrease of customers who chose a particular bank program.
Instant business chats are extremely helpful in a banking environment where every minute counts. Bank specialists will be able to contact each other and discuss any business-related issues within a secure chat embedded into a collaboration site.
Ensuring dynamic knowledge and ideation management
To enable bank employees to freely exchange new knowledge with their colleagues, an intranet should come with handy knowledge and ideation management tools. These tools will not only support creating the unique corporate expertise but also stimulate creative thinking that contributes to the bank's development. They also allow onboarding members to quicker and easier dive into their responsibilities and ramp up productivity.
A bank intranet can feature 2 levels of knowledge and ideation management solutions:
A global knowledge base available for all employees and containing corporate guidelines, code of conduct, tactics to apply in communication with customers, success stories, etc.
Independent ideation / knowledge management sites for particular bank departments or teams. These sites are to process and store confidential or specific knowledge (e.g. private banking specialists can keep personal finance planning programs for their HNWIs) that mustn't be shared widely. This knowledge will form a bank's unique asset that can be used as a competitive advantage.
Supporting corporate values and facilitating social interaction
Apart from its business and collaboration capabilities, a bank intranet should explicitly promote corporate values, strengthen the sense of community and involve every staff member into the corporate life. Moreover, due to strict internal policies adopted at banks, common social tools (e.g. messengers, private storages) are usually forbidden. That's why an intranet should fill the gap and provide a whole set of social features. Among them, there can be:
Bank news and events describing the corporate life and important milestones.
Personal pages communicating employees' interests and competencies, as well as letting them get connected with their peers and join communities.
Photo and file stocks enabling users to have a Facebook-like experience within their intranet and providing the possibility to upload and share photos, personal news, etc.
Ratings and acknowledgments of employees' achievements, recent awards or important projects.
Informal chats enabling staff to discuss any non-business-related topics.
Social communities, like the Social Village implemented by ScienceSoft as a part of a bank intranet for 45,000+ employees.
Assembling all the layers together
Summing up the features described above, it's easy to see that a bank intranet is a multi-layer solution that should meet employees' needs at 3 levels: business, cross-departmental and social. Depending on corporate specifics and existing banking software, a bank can pay primary attention to developing a business functionality if it aims to complement the core banking system or focus on collaboration and social features to cover HR needs.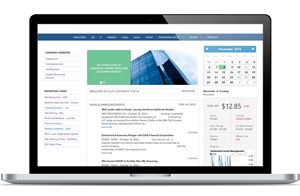 Do you want to create a brand-new Office 365 or SharePoint intranet or improve your existing corporate portal? Let's make it real together.