Editor's note: Boris shares how IoT helps the telecom industry beat the ongoing customer retention problem and shows the ways for telecoms to benefit from this innovative technology. Read on, and if you think IoT may help you meet your telecom organization's needs as well, consider a tailored offer from our IoT developers.
Mobile and network connectivity services are largely commoditized, yet they constitute the core of the telecommunications providers' service offering. Telecommunications services are relatively indistinguishable from those offered by the competition, the only difference being the price. Thus, high commoditization makes telecoms slash prices in order to remain competitive, which leads to low ARPU. Another problem faced by telecoms is high customer churn – a survey suggests that about 20% of Americans have switched to a different phone, internet or telecom service provider in the past 24 months.
I'm convinced that with the further development of IoT, the telecom industry gets an opportunity to solve their customer retention and revenue generation problems and create new revenue streams. By 2026, telecoms can get $1.8 trillion in revenue by tapping in the IoT services market. Below, I explain how IoT technology helps telecoms generate value and share how to approach the implementation of IoT initiatives in the telecommunications industry.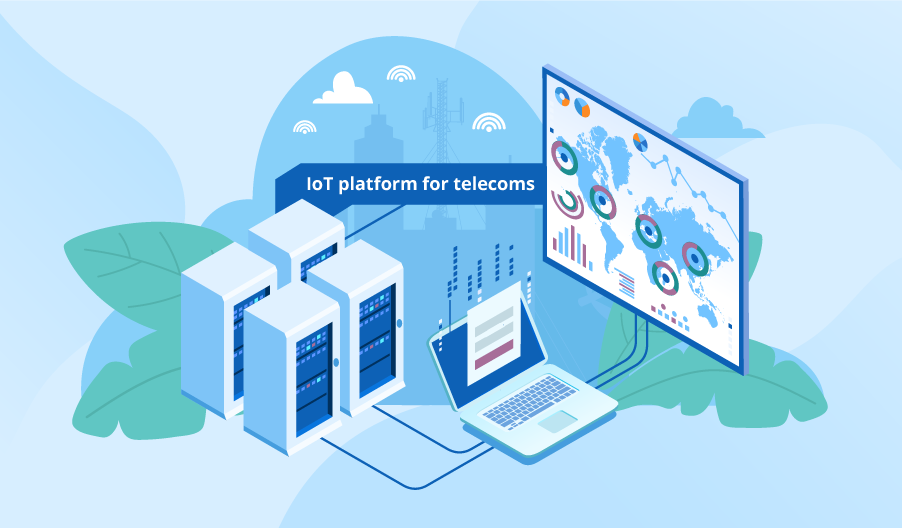 Telecoms may amplify a service portfolio with a range of IoT-enabled services in such areas as smart manufacturing, smart retail, smart city, smart home, vehicle and asset tracking, and others.
To realize these IoT capabilities, I recommend telecom companies to build an IoT platform for their customers to connect end-point devices and their centralized control and run desired IoT applications. The IoT platform for telecoms should be built upon an open, modular architecture featuring reliable APIs between the modules.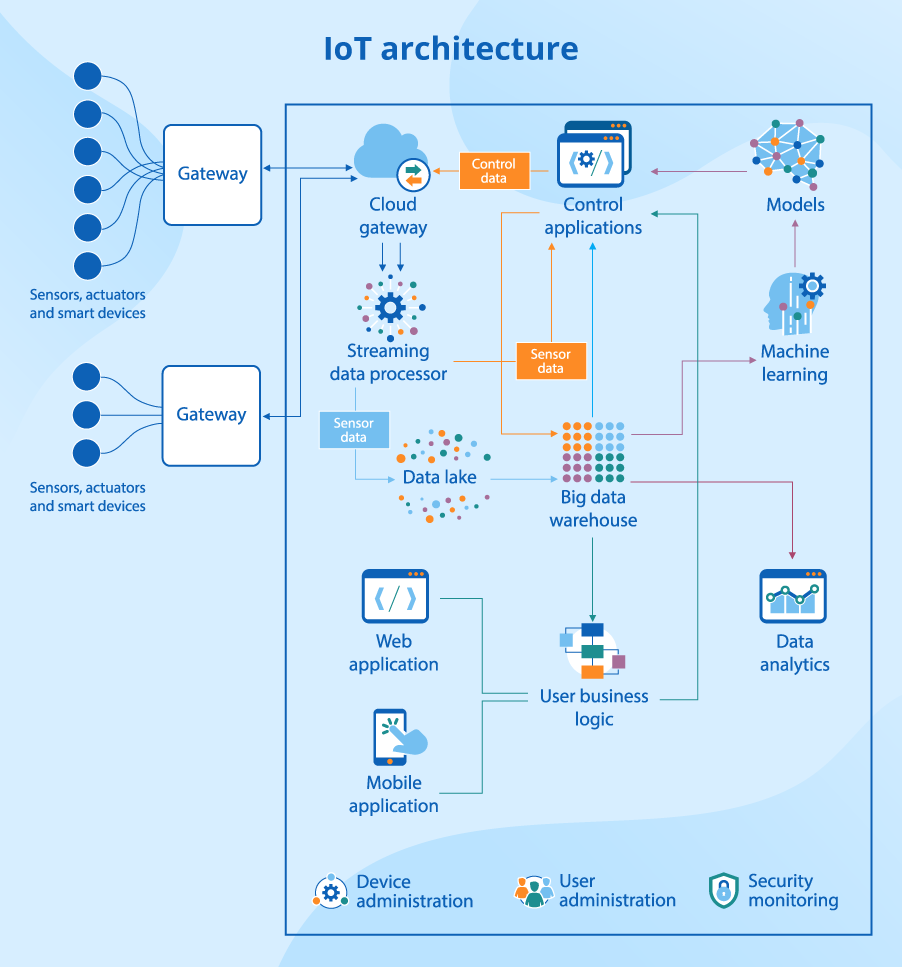 A modular approach to the architecture design allows offering IoT solutions and services with a different degree of involvement in the solution and service provisioning, namely:
End-to-end business solutions: telecom companies offer SaaS tools to solve their customers' business problems in a particular area, for instance, fleet tracking.
Backend business solutions: telecom companies offer a back end capable of storing, managing, and processing IoT-generated data, as well as performing basic and advanced analytics on this data. Telecoms' customers may access the back end via APIs and integrate it with their existing enterprise applications.
Data analytics and data science services: telecom companies offer descriptive, diagnostic, predictive, and prescriptive data analytics services for their customers to get value from the data generated by IoT devices and business data.
IoT data storage and management services: while a business application runs on the customer side, telecom companies take charge of storing, filtering, cleansing, and processing their customers' IoT-generated data.
IoT connectivity services: telecom companies support their customers' IoT infrastructures by providing managed connectivity services based on the NB-IoT protocol, for instance, while the data generated by IoT devices is stored and managed on the customers' side.
To enable monitoring of usage data of the IoT solutions and services for telecoms' top management, R&D, marketing, and other relevant teams, I recommend accompanying the IoT platform with an end-user application that will enable convenient access to analytical reports and forecasts.
According to recent research, pursuing the opportunities in each of the above service directions, telecom companies may boost their revenues by 500% over a five-year period. And telecom services providers have already started leveraging the IoT technology and achieved improvements in their customer retention rates, as well as acquired new customers. For instance, the same report says that having introduced their own IoT platform, AT&T managed to sign about 300 new deals in a single year.
Other industry players have, too, started using IoT as an opportunity to conquer new markets. For instance, ScienceSoft's customer introduced an application for vehicle on-board diagnostics to the market of connected cars, which transportation companies now eagerly use. Another customer of ScienceSoft's launched a new service for pet owners to monitor their pets' locations with the help of wearable trackers managed via a mobile app.
As there are still no ready-made IoT platforms tailored to the needs of telecoms on the market, telecom services providers may choose to build a custom IoT platform from scratch or develop an IoT platform relying on an existing cloud platform, for instance, AWS IoT or Azure IoT.
Developing a fully custom solution provides extreme flexibility and the freedom to pack the platform with any desired functionality. However, choosing this option, you risk engaging in a lengthy development process, which may take up to 12-18 months. Another important limitation is that in order to develop a fully custom platform, you should have your own cloud, which may be costly to implement and to maintain.
In turn, developing an IoT platform based on a public cloud platform available on the market is faster and less expensive. For example, we at ScienceSoft often choose this option when cooperating with telecoms and start development based on either AWS or Azure cloud platforms. Both providers are trusted leaders on the market of cloud services with the offerings standing out in a number of ways – they ensure high data security and service availability, as well as provide an extensive network of services to support cloud-native platform development from every angle.
A key limitation is that both cloud platforms come at a cost. However, the experience of our customers shows that incorporating the expenses for the cloud platform into the pricing models of their own IoT solutions and services helped them achieve a fast return on investments. Also, with appropriate cloud platform configurations, it's possible to optimize cloud resource consumption and avoid overpaying for unconsumed cloud services.
With IoT capabilities, telecom companies get a chance to expand their offer with new, innovative solutions and services, gaining a competitive edge in the industry where services are largely commoditized.
My colleagues and I are very enthusiastic about bringing telecom companies to new markets. With expertise in IoT development and established partnerships with leading cloud services providers, we can help solve the problems of low ARPU and insufficient revenue with IoT technology consulting or end-to-end software development. If you are interested in either of these services, you are welcome to leave us a request.
Choose service model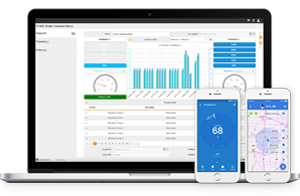 IoT Services by ScienceSoft
From strategy development to support and evolution - we will lead your IoT initiative from 'How?' to 'Wow!'