Chatbots have changed the way brands reach out for their customers. Oracle's survey shows that as high as 80% of brands plan to incorporate chatbots to their business processes by the year 2020. Moreover, 35% of consumers want to see more companies using chatbots, according to Ubisent. In fact, chatbots and AI-powered aids are now making their way to the mainstream. We already have chatbot lawyers, chatbot educators, and even chatbot customer service representatives.
Companies increasingly look to incorporate chatbots into their customer service management. This article will help you know why. Let's dive in!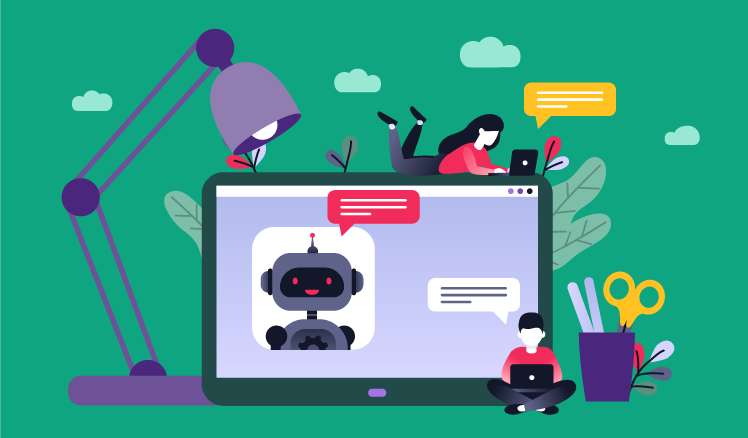 First things first, what on Earth is a chatbot?
Talking in technical terms, a chatbot is software that is capable of conversing with humans via the live chat interface. Businesses can use multiple ways to implement it. They can turn to a custom software development company to develop their own chatbot. Alternatively, they can partner with brands providing chatbot services or use systems like Slack, Skype, Facebook Messenger, WhatsApp, and even Alexa.
How do chatbots work?
The two types of chatbots - simple and AI-powered ones - use different methodologies to function. Simple chatbots scan messages for specific keywords. Once they identify the keywords, they reply with a predefined message. As the name implies, AI-powered chatbots apply their artificial intelligence and machine learning to implement natural language processing. This enables them to create complex responses to engage customers into more personalized conversations.
Here is an example for better understanding.
Visitor: What time does the store in New York close today?
Simple chatbot: Hi! We'll be closing at 8:30 pm today.
AI-powered chatbot: Hello Suzanne, we'll be closing at 8:00 pm today. Don't you feel it's cold in New York today? Dress warmly.
Doesn't that give you a fantastic experience? Well, it does to Suzanne.
How do chatbots transform customer service?
Smart chatbots allow companies to cut down on the human resource cost. "Businesses can reduce customer service costs by up to 30% by implementing conversational solutions like virtual agents and chatbots," Chatbots Magazine says.
Along with that, chatbots are truly capable of transforming customer service management. Here is a proof to our statement.
1. Improved customer experience
The NewVoiceMedia survey indicates that companies lost $75 billion in 2017 from customers switching to competitors due to bad customer service. There have been certain improvements in handling customer queries recently. For example, current methods of handling customer calls, like the usage of automated telephone menus, have ensured better customer experience. The IVR technology allows interacting with customers via a series of questions where each next question depends on a customer's response. Though automating customer service, this option implies a never ending conversation until the customer reaches a pre-programmed destination.
AI-powered chatbots win with their instant solutions. They do not irritate customers with the questions and instead make them feel like their voices are heard and understood to offer a resolution. Users save time considerably when they don't have to explain the entire problem to an agent.
Chatbots can successfully replace contact forms. Instead of making customers fill in multiple fields to leave a request or question, you can have a chatbot talking to them. This delivers better customer experience as it requires less effort on the part of a customer.
2. Smoother customer journeys
Steve is looking to buy a brown leather belt and lands on an online marketplace. Here, the product assortment is so large that Steve has got lost in the website navigation and decides to leave. Just as he is about to click the close button, an AI-powered chatbot pops up to know if it can be of any help. Steve describes his problem and the chatbot presents to him a wide range of brown leather belts. Besides, the chatbot informs him about a current promo code for purchases. Steve places an order and leaves the website satisfied.
Well, that's the magic of AI-powered chatbots. They can assist in transforming visitors into customers. With their ability to gather information, they can provide useful insights to help you understand customers better.
3. 24/7 customer service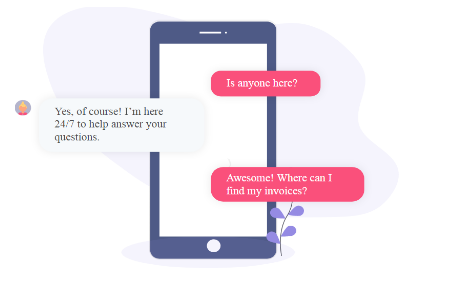 Do you think customer support actually serves its purpose if it is not available for your customers at every time of the day (and by every time, we mean even non-business hours)? We strongly doubt it.
Chatbots have an advantage here as they don't get tired or need time for a sleep, so they can "work" all day long. Customers are free to ask questions by voicemail, email or a live chat any time they want and can count on a timely response.
4. Effective handling of repetitive tasks
Consider a situation when a customer wants to modify an order for the fifth time in a week. While this idea can really freak out the customer support staff, chatbots will handle it effectively and with a cool head. Thus, they are valuable for carrying out boring tasks like repetitive calculations and modifications along with database searches.
David Cancel, CEO at Drift, a company that uses chatbots in a conversational marketing platform, says: "The goal of chatbots is not to replace humans with perfect simulation but to satisfy the customer needs." And if this need implies contacting a support team several times a day, a chatbot would definitely not mind.
5. A seamless live chat
Interacting with an AI chatbot is as simple as talking to a customer support agent. These chatbots apply their natural language processing to decode a customer's query and respond promptly with the most logical answer. Customers don't have to wait until customer support agents are available online - they can check for the integrated chatbots and shoot their questions. So convenient and time-saving, isn't it? No wonder that Facebook's live chat support has earned huge profits. In fact, it is estimated that over 8 million messages have been exchanged between customers and businesses using Facebook's live chat support since the time it was introduced.
6. Multifaced and multifunctional chatbots
It's impossible to change the personality of a customer support agent. If they are quick-tempered, they may lose self-control easily and ruin customer experience. That's not the case with chatbots. You can directly program them to behave a particular way, starting from professional to humorous. Moreover, chatbots can perform different functions - handle accounts, take care of technical support, or collect information.
The takeaway
Chatbots are not just the "wave of the future" in the customer service realm. They are here to stay and allow businesses to make the most out of their CRM systems by enabling customers to engage with brands in an all-new and effective way. However, it's not a fair deal to expect a human-like behavior from them. The goal here is not to deliver an experience as a professional would do but to ensure customer delight in a way that a customer leaves satisfied.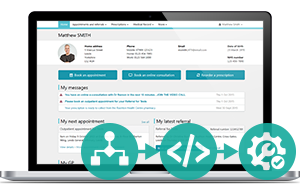 Need to deal with a challenge in software planning, development or maintenance? Leverage the qualified assistance of our specialists to get the results you aspire to.