A Story of 5-Year-Long Partnership with a Global Leader in Image Processing
Industry
Entertainment, Software products
Length of cooperation
5+ years
Project team
30+ specialists
Customer
With the headquarters in Europe and offices in the USA, Japan and Korea, the Customer is a global leader in image processing with an extensive portfolio of innovative technologies and patents. They offer award-winning products and solutions to enhance user experience in all aspects of digital imaging including processing, compression, storage, printing and display of digital images. Among the company's patented intellectual property there are:
embedded software for manufacturers of mobile phones, tablets and digital cameras
image quality evaluation software
photo enhancement tools for photographers and imaging specialists
Challenge
In 2011, the Customer aimed to create new functionality for one of their products – a standalone application to help users revamp photos by applying analog and vintage effects. After a series of failed outsourcing projects with Eastern European vendors, the Customer was still in need of a reliable development team ready to start right away. ScienceSoft reached out to the company to offer its 22 years of experience in cross-domain software development. The main challenge was to turn the outsourcing-averse customer into a long-term partner (76% of ScienceSoft's revenue comes from the clients the company has been serving for more than 1 year).
Cooperation
Taking off
To cut the development costs by 40%, ScienceSoft suggested using the Qt framework to make the application run on both Windows and Mac by the effort of one team instead of two. Upon signing a strict NDA to protect the Customer's intellectual property, ScienceSoft assigned 4 Qt Developers, 3 Testers and 1 Scrum Master to work under a T&M arrangement with only the Product Manager on the Customer's side. The team provided a careful planning and architecture design and made some proposals to reduce the development costs and improve the product features. Though initially designed as a plugin, the product evolved into a standalone application that could be easily integrated with other image processing software like Adobe Photoshop, Lightroom and more.
Managing differences
Despite the sales boost after the product release, the project revealed several inconsistencies in both companies' attitudes towards cooperation. For security reasons, the Customer was reluctant to share their infrastructure (for example, time tracking and revision control systems) with third parties. Simultaneously, ScienceSoft needed some time to adjust their development processes to the Customer's understanding of Scrum and be able to deliver a potentially shippable product at the end of a sprint. However, inspired by the product's progress in the market (70,000 unique users) the companies went on to learn from each other and, thus, invest in mutual success.
New projects on the way
Whereas the development team, increased in size, headed for the next, improved version of the software, a number of small projects followed. ScienceSoft created a tool – an application and a plugin – that allows correcting complex perspective problems, deformed objects and various types of distortions. In addition to that, a team of 2 Testers was commissioned to perform quality assurance for a desktop software to optimize camera by eliminating noise and reveal important details and textures taking the most out of an image.
Struggling for partnership
At that point, the Customer was still hesitant about further cooperation with ScienceSoft and even launched a parallel outsourcing project with another vendor. The competitor was probably as advanced and technologically mature as us, but they were not inspired by the product being just another small project for them. Excellent in following the backlog to the letter, they did not ask questions, recalls Aliaksei Dziadovich, ScienceSoft Project Manager who contributed a lot to establishing fruitful relationship with the Customer. Finally, set out to fulfil ambitious plans, the company chose ScienceSoft as a technological partner.
Ramping up the team
ScienceSoft team of 3 C++ specialists joined the Customer's development group to improve the framework which allows corrections to happen being a core to all the company's products.
With the aim to increase market visibility, the company wanted to publish one of their products for Mac to the App Store. Another 4 ScienceSoft Qt Developers were assigned to revamp the code according to the requirements.
In the course of the following 4 years, ScienceSoft was continuously involved in improving the existing applications as well as creating new ones under both fixed price and T&M models. In 2015, over 30 specialists have been working on 7 projects – with part of them extending the Customer's development groups as well as the others creating products from A to Z as independent teams.
Creating breakthrough products
The most anticipated among the forthcoming products is an innovative mobile app integrated with a portable accessory that could be attached to iOS devices and would allow to take professional-quality pictures. With time-to-market being the highest priority in such a competitive technology-driven industry, ScienceSoft team of 5 Developers, 6 Testers and 1 Scrum Master along with a number of distributed development groups was striving to deliver the product on time.
Thriving together
Apart from the product development, ScienceSoft as an experienced IT services provider helped the Customer to improve their IT infrastructure (for instance, to seamlessly migrate from Git to SVN) as well as offered expertise in user interface design. We have become partners, says Aliaksei Dziadovich, we are now part of the Customer's resources and capabilities. And they are willing to invest in us by organizing regular trainings and business trips to improve the cooperation.
Results
The Customer has paved their way to business growth worldwide thanks to the flexibility and short time-to-market (3-4 months per product) they achieved while ramping up development capabilities together with ScienceSoft. In 4.5 years, the cooperation between the companies has grown from one team of 8 specialists to 7 teams totaling more than 30 people.
As a result, in collaboration with ScienceSoft the Customer has released 12 products (6 of them created entirely by ScienceSoft). One of the products has been awarded Best Imaging Application by a prestigious press photographers association. The company is now planning to increase the size of ScienceSoft teams and launch new projects.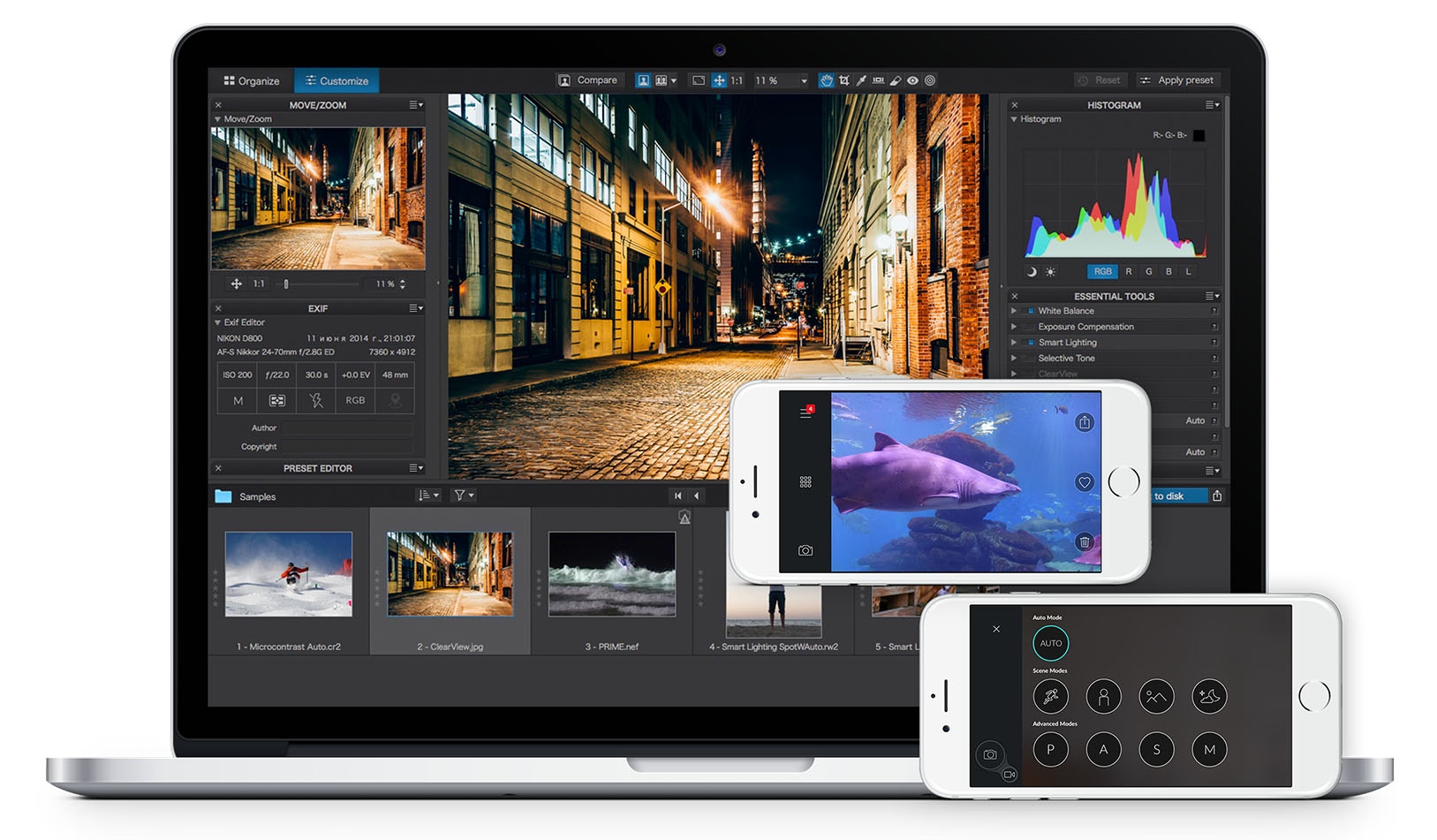 Technologies and Tools
Qt, C++, Objective-C, iOS, Xcode, Cocoa, .NET, Visual Build, InstallShield, PackageMaker, Intel IPP library, RLM Activation, Calabash

Need help with a similar project?

Drop us a line, and our rep will contact you within 30 minutes to arrange an initial discussion.

<![endif]-->