Customer
The Customer is a US smart home appliances supplier that focuses on smart thermostat and house control systems. Along with selling thermostat controllers, cameras and motion/CO2 detectors, the Customer offers free mobile and web apps for convenient remote management of the entire smart home system. Recently the Customer has also extended its business to Europe where they provide boiler systems for smart water temperature control.
Challenge
Since its inception 4 years ago, the Customer's smart-home project has been growing to include new functions, so new features were to be added to the mobile app as well.
Eventually, as the project matured and the amount of features planned for implementation outstripped that of the features already in development, the Customer turned to ScienceSoft for help with further upgrades of their Android app version.
Solution
The latest version of the application released in cooperation with ScienceSoft allows the user to create different accounts for each apartment with the Customer's appliances installed. On the home screen, the user can see a live video streamed from the cameras in their house. The data recorded by the camera is transferred to the app's back-end and is displayed on the app home screen once the user's device connects to the Internet.
Temperature at an apartment can be changed via the application as well. In addition, the app is self-learning and as the user repeatedly inputs the same data, the system devises a respective schedule offering automatic temperature changes at the periods of time the user has been inputting most often.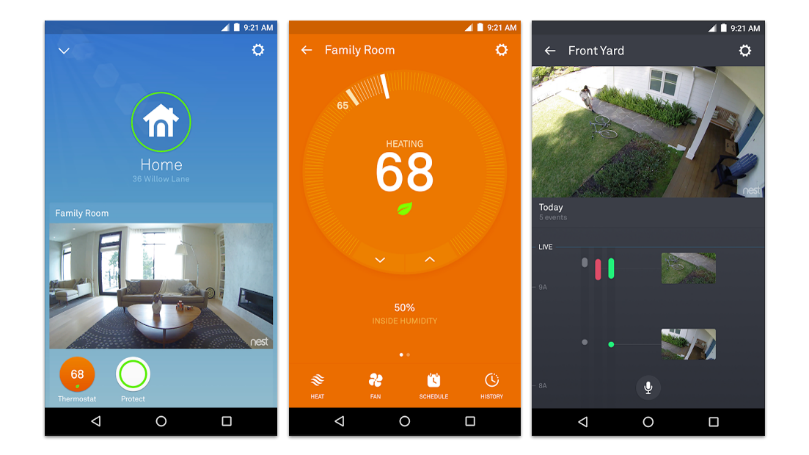 As the Customer has signed a contract with the major US energy services provider, the application now allows to check up up-to-date electricity price rates. Also, by learning the dynamics of energy costs throughout the day, the app marks the time with most cost-effective prices as preferable, thus helping users save money on their energy bills.
Results
The Customer has been completely satisfied with ScienceSoft's Android development services and the app features released so far. The cooperation is still in progress and we are continuing to enhance the functionality of the Customer's Android application.
Technologies and Tools
Android SDK, Bluetooth, Google Directions API, Location API