Editor's note: Natallia describes the most effective measures to ensure security for a telehealth application. And if you consider creating a secure telehealth solution, you are welcome to explore ScienceSoft's telehealth app development offering.
As statistics show, the telehealth market is growing rapidly, which means that the amount of personal data transmitted through telemedicine solutions grows too. Thus, the issue of telemedicine security is getting more important as the leakage of PHI (protected health information) results in serious financial and reputational losses for care providers. Based on ScienceSoft's experience, I would like to help the care providers avoid PHI leakages by outlining important security measures that should be taken during telehealth app development and after an application's roll-out.
In the healthcare industry, data encryption refers to translating the patient data into the form that cannot be decrypted by unauthorized users or users who do not have an encryption key. Even if a data leakage occurs, thieves receive encrypted health information. For example, we used data encryption to ensure the security of peer-to-peer video connection between patients and medical staff when developing an Android version of the Chiron Health platform.
Encryption is applied to both stored and transmitted in the network patient data:
Data encryption at rest protects PHI when it is stored in the cloud or on-premises. As it can slow down the work of a telemedicine solution, I always advise using file-level or block-level encryption to prevent a decrease in the application speed.
Data encryption in transit secures PHI when it's transmitted using in-transit encryption standards such as SSL/TLS certificates.
To regulate who and to what extent can access the patient data in a telehealth solution, I recommend employing such measures as setting up user roles, user authentication, access rights, action permissions, automatic logoff, etc. Thus, patients and medical staff are assigned different roles that enable them to acquire particular information only and perform a limited set of actions. For example, we at ScienceSoft carried similar measures to ensure telehealth security during the development of a remote care mobile solution.
As my experience shows, regular vulnerability assessment and penetration testing procedures can help assess an overall security level of a telemedicine app. You can use recommendations issued following the audit results to increase and maintain the quality of telehealth security.
To achieve telemedicine security and patient health data safety with a telehealth app, I strongly recommend making provision for such security measures as data encryption and data access control, carry out regular security audits, and ensure continuous telemedicine system monitoring. If you need a qualified vendor to perform these procedures, feel free to turn to ScienceSoft's healthcare IT team.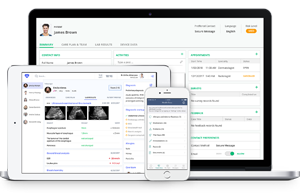 Looking for a solution to your healthcare IT challenge? Our experienced healthcare consultants are here to help.