Editor's note: With the steadily growing demand, ensuring consistent best quality becomes a real challenge for industrial bakeries. Read on to learn about how computer vision systems help address the varying customer needs in quality assurance of bakery products. And if you're also looking for a way to keep the best quality at scale, reach out to ScienceSoft, a custom software development firm, for getting powerful and reliable custom software solutions to your everyday business problems.
It is hard to imagine western cuisine without bakery products coming in all shapes and sizes. Every day bakeries produce millions of French croissants, English scones, Italian ciabattas, American muffins, and loads of various breads and buns. Experts say that the global bakery market will reach $532 billion by 2022, driven by the accelerating pace of consumers' lifestyle.
With an ever-increasing demand, the bakery industry is highly competitive. Numerous baker's shops and boulangeries strive to answer the needs of their customers and win their loyalty. This is not easy, because modern consumers tend to be picky, looking not only for the best price/quality ratio, but also for a perfect appearance and uniformity.
To win the market, bakeries have to overcome several quality-related challenges. The good news is that image analysis provides a solution to many of them.
Bakers' problems and computer vision solutions
Of course, above all, bakery is about taste, but appearance matters too. Pleasant exterior means a lot to customers choosing a bakery product.
Broken loafs of bread, as well as underbaked and overbaked pastries often go into scrap, leading to a manufacturer's losses and spoiled reputation. Therefore, the earlier the problem is revealed, the better it is for the company. In some cases, computer vision solutions can not only detect, but also prevent possible damage, decreasing product waste and financial losses, thus contributing to its social responsibility level by reducing the scrap rate.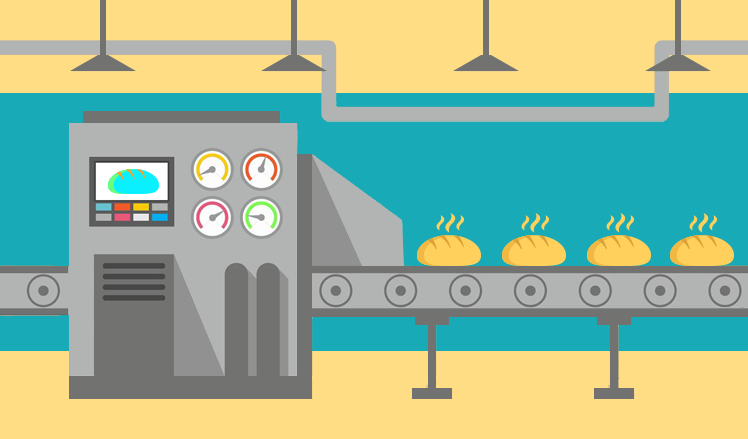 1.Color
Production inspectors and operators control the line speed and oven temperature based on the color of bakery products, which indicates if they have been baked properly or not. But their judgment may be arbitrary, based on their personal experience and subjective color perception. In the absence of a common objective benchmark, deviations tend to be too high.
To ensure the uniformity of bakery production and minimize the scrap rate, one of the world's top cookie manufacturing companies installed in their production line automated visual inspection software. The software analyzes color data from a photo of a cookie based on the values of RGB color channels. Each of them can be set to a particular threshold value with the subsequent result of a 'properly baked' cookie color. This solution not only eliminated the ambiguity of a subjective judgment, but also speeded up the production, providing an immediate feedback on the baking status of cookies and passing on the well-baked cookies to the next production steps.
2.Size and shape
In bread production, weight uniformity often may be enough; but it is a different story with pastry. Cookies and cakes should appear almost identical in size and shape.
To ensure this similarity, bakeries mostly rely on the opinion of human inspectors, which, again, can be biased. Besides that, inspecting tons of cookies on a conveyor belt is a tedious task, and people are likely to get tired and lose focus, which leads to low-grade products going to the market. In this case, a visual inspection system can make a difference.
For example, scientists from Wisconsin have proposed a computer vision system that distinguishes whole and broken crackers. The system calculates area, aspect ratio, curvature, continuity, and radius of cookies, and then classifies them with a multilayer neural network.
3.Quantity
Counting 'good' and 'bad' bread loafs and cookies is important for the quantitative analysis of production efficiency. Besides that, counting is needed when products should be packed in the desired quantity.
In both cases, automated counting based on image analysis can do the job quickly and reliably. In fact, counting may be added as an 'extra feature' to any visual inspection system employed at the bakery.
Computer vision as a bakery problem-solver
Image analysis algorithms provide feasible solutions for visual inspection of baked goods on the conveyor belt. Computer vision controls quality and quantity in a pedantic manner, based on objective and adjustable criteria.
Computer vision systems used in the bakery are designed according to specific customer needs, varying from relatively simple color analyzers to sophisticated shape-classifiers based on the state-of-the-art machine learning algorithms, such as neural networks and support vector machines.
References
Sun DW, editor. Computer vision technology in the food and beverage industries. Cambridge: Woodhead Publishing; 2012.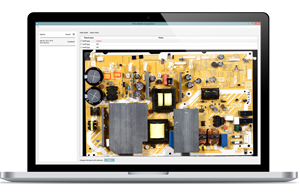 Dissatisfied with the speed, results or costs of your inspection process? Consider what changes automated visual inspection can bring.