Knowledge is considered the most important asset that organizations have. The process of discovering, acquiring, organizing and using the organization's collective know-how is not only a complex one, but also repetitive and ongoing.
Knowledge management can be distilled down to four unique processes, each of them playing a crucial role in an organization's ability to compete, progress and grow:
Knowledge discovery
Knowledge capture
Knowledge sharing
Knowledge use
Here's how to master them all, and equip your organization for continuous knowledge management.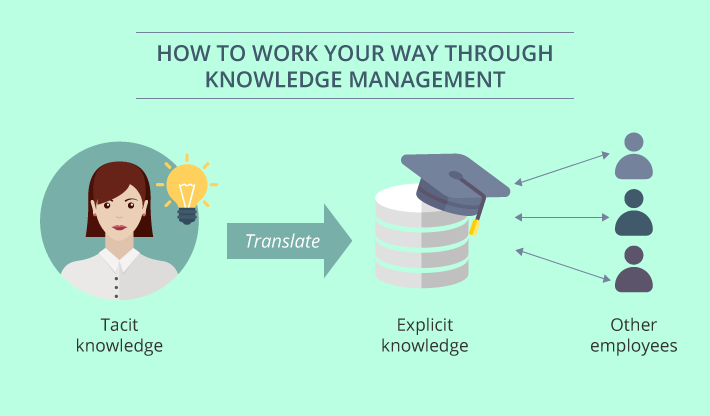 Like knowledge itself, all four processes of knowledge management rely on effective communication. What you do with all your knowledge should be clearly outlined in a company's policy, a document that communicates a set of guidelines for creating, capturing, sharing and applying your intellectual assets.
A company's knowledge management policy regulates operations and practices that all employees should comply with on a daily basis. It thus establishes the way employees use what they know how they acquire knowledge through work and where they store it so that it is accessible to everyone. A well designed document management policy will enable you to create a knowledge map bringing structure to your knowledge management process.
A large number of companies organize and store their collective know-how within an internal knowledge base. As a centralized repository of resources, they are a part of knowledge management software designed to help organizations master and regulate knowledge discovery, capture, sharing and application.
Knowledge discovery includes practices for the discovery of new information, both inside and outside the organization, which, in turn, leads to generating new knowledge. Not only does every employee need to have access to knowledge management tools, but they should also be encouraged and welcome to contribute to the discovery and creation.
As soon as they learn something new and applicable, employees should be empowered to translate that tacit knowledge into explicit knowledge that can be used by anyone within the organization.
A company policy should provide guidelines for doing so for instance, it can offer a template for adding new materials to the knowledge base, together with predetermined structuring and formatting rules.
The difference between tacit and explicit knowledge lies in their practical value. While the former is extremely difficult to communicate, and therefore, capture and apply, the latter is recorded and thus easy to transfer.
The explicit knowledge is everything that resides within your knowledge base, while tacit knowledge is every expertise or skill used by your employees to complete tasks and solve issues.
And tacit knowledge needs to be preserved and transferred too.
In order to do so, organizations should define the best practices for capturing tacit knowledge.
Most importantly, they should allocate time and resources needed for translating tacit knowledge into explicit knowledge by recording an employee's practical know-how.
For instance, every employee should be responsible for creating a document that details the processes they use in everyday work.
If your annual performance reports reveal a particularly high contributing customer support agent, they should be asked to outline their working style and highlight practices that yield the best customer feedback. The same applies to the employees of every department.
That way, potential employee turnover will never harm your organization, as all individual expertise and skill will be made explicit and included in your knowledge base for other employees to apply.
Expertise related to successfully completed projects and resolved issues should be treated the same way. Preserve any knowledge you can entrust responsible employees with recording the project or incident, describing it in detail, and providing the techniques, methods and steps used to execute or respond to it.
Once the knowledge is recorded and stored, its transfer becomes faster and easier. From there on, everything relies on managing the knowledge base itself. Though there's no end to what you can store in there, you must make it clean and keep it tidy to facilitate knowledge sharing.
First and foremost, a reliable knowledge base must be seamlessly searchable. Information should be possible to find and access within seconds, which is why all resources must be organized in suitable categories and subcategories, and be searchable through the appropriate keywords, tags or parts of text.
Without a set of guidelines to establish a uniform way of adding tacit knowledge into a knowledge base, your repository of information would be a mess, and the resources kept in there would be inapplicable.
A template for creating knowledge base articles enables all employees to record, communicate and share what they know from experience and what they have just learned in practice. ​
To make knowledge even easier to transfer and apply when necessary, make good use of different types of knowledge base resources. Instead of just one template, prepare a number of them for various purposes 'for creating guidelines, issue and how-to articles, and FAQs.
Pay attention to the structure, as a knowledge base article of any kind should present content in a neatly organized and searchable way. Use a step-by-step structure to break down the problem-solving process, showcase different scenarios and solutions with bullet points, and leverage context-sensitive help to provide additional information, and thus cater to various levels of users' previous knowledge.
Make corporate knowledge work for you
A reliable knowledge management system can enable you to manage both explicit and tacit knowledge, streamlining all four main processes of knowledge management. It should also provide tools for sub-processes, such as externalization and internalization of captured knowledge or directions and routines for successful knowledge application. Fine-tuned knowledge management processes will increase the value of corporate knowledge turning it into a competitive advantage.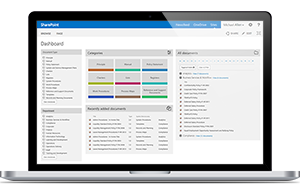 Are you looking for a powerful knowledge management solution? We can show you how to make your corporate knowledge flourish with SharePoint!