Editor's note: If you're guesstimating how much your custom software development will cost, we suggest analyzing your business needs according to the cost factors listed in this article. And if you're looking for a way to reduce development costs, you can explore ScienceSoft's software development outsourcing offer.
A matter of cost is often an 'ouch point' in software development. You've also probably noticed that a cost range for custom software development is extremely wide. What's the trick, and what to expect for your project?
Based on 31-year experience in software development, ScienceSoft explains what factors increase development costs and how outsourcing helps optimize the expenses.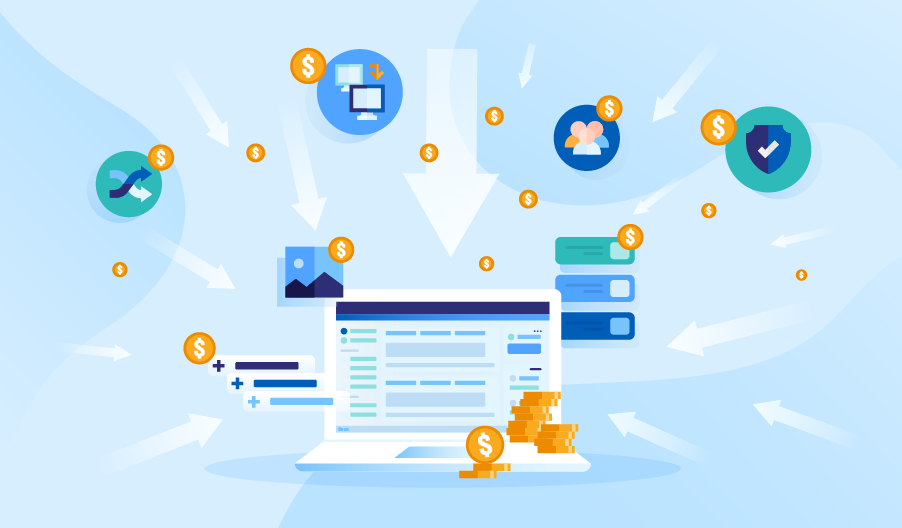 Factors that influence software development costs:
Project complexity

Functionality

UI/UX design complexity

Software integrations

Data migration
Project complexity describes the overall environment in which your software is developed. So, what defines your project as complex and, thus, more expensive?
Uncertainty

: the possibility of many software changes agreed upon as a part of Agile development (changes could be driven by gathered user feedback, actions of competitors, customer's budget or strategy alterations, etc.). For example, ScienceSoft

developed a mobile app

for a global leader in image processing while adapting to regular changes in business needs.

Novelty

: implementation of cutting-edge technologies (AI, blockchain, AR/VR), as in our project on the development of the

AI-powered application

for brain tumor localization.

Security matters

: applications, where security is critical require more development efforts and special arrangements for the development process, as in the

development of a highly secure Android application

for private text conversations.
Functionality, defined by the number and the complexity of features to implement, is one of the biggest software cost drivers. Besides directly affecting costs (more features, higher costs), vast functionality often entails the need for complex software architecture design, which comes at a price. To have an idea of a project with complex functionality, check ScienceSoft's case study on Java backend development for a hotel self-service app.
UI/UX design pricing differs depending on the amount of functionality to depict and the complexity of it (for example, custom illustrations for welcome screens and animations for screen transitions and buttons). Another cost factor is the involvement of complex technologies (3D modeling, motion design, as in the development of 3D models for AR-based interior design software by ScienceSoft).
Common examples of integrations are:
Integration with third-party services, for example, for payment or file sharing.

Integration of two or more business applications, such as ERP, CRM, supply chain management, business intelligence, and HR.

Integration with AI, AR/VR, blockchain, IoT.
Some integrations are easy (for example, with popular third-party services like PayPal), others can be challenging (integration with legacy systems) and demand more efforts for analysis, planning, and verification of results. To see what a complex integration looks like, read a case study on integrating real-time data on the supply chain for an e-collaboration platform.
Data migration requires a tailored approach to go without problems as two systems store data differently, and you need to reshape data from one system to fit it in another. This process includes figuring out translation rules, preparing custom scripts, performing testing and making adjustments if needed, which also adds to the price. Have a look at this process on the example of ecommerce ecosystem migration to Amazon Cloud.
Taking into account all the above factors, each software development project will require a different set of skills to complete, from the roles needed (BAs, PMs, architects, developers, testers, designers, etc.) to their experience level (junior, middle or senior) – hourly rates directly depend on these variables.
The simplest formula to estimate software development costs is Time x Hourly Rate.
Let's begin with time estimation. Considering the factors from previous sections, we divided software for development by its complexity and provided rough timelines.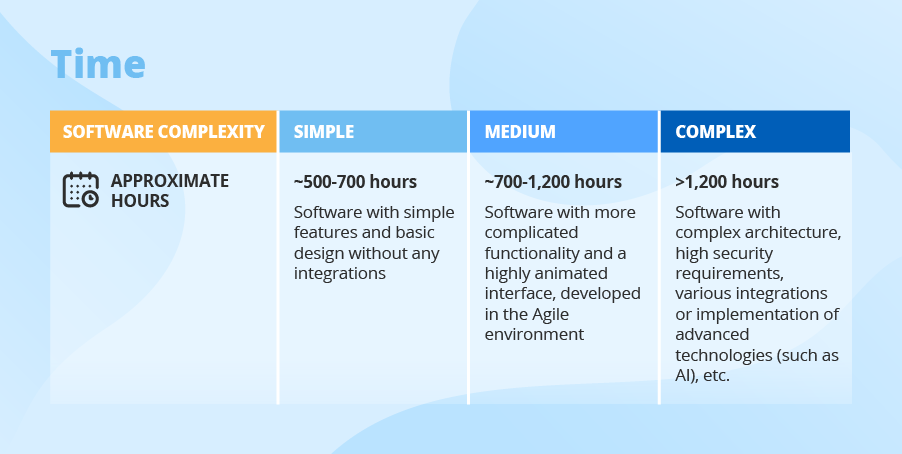 Note: To learn about particular methods of time estimation, you're welcome to read an article with our step-by-step guide.
For cost estimation, you need to multiply the development time by an hourly rate of all roles involved in the project. Here's where outsourcing services step in as a way to lower costs. To give you an idea, we compare developer rates in the US and emerging offshore outsourcing destinations.

Moreover, outsourcing eliminates other costs inherent to in-house software development:
No recruitment and other HR costs.

No fringe benefits and payroll tax costs.

No workplace and equipment costs.

No training costs.
Note: Although outsourcing helps cut down software costs, you should be aware of inefficient outsourcing engagements that can bring hidden costs and make your project's price creep up. ScienceSoft explains how to avoid this in the article on outsourcing hidden costs.
Conducting a comprehensive business analysis to get the detailed project requirements. Thus, you don't invest in excessive software parts or target platforms – only what answers your needs 100%.

Building MVP

to save 10-30% of development costs while maintaining the high quality of software. As development costs majorly depend on the number of features, we prioritize which features to develop first to create an early product that could already start bringing you ROI, while we gradually enhance it.

Using ready-made components and services where applicable, both open-source and commercial, to cater for tight budgets (and timelines).
Using architectures that support easy application evolution, e.g., microservices, which saves a lot of development time (and costs) in perspective.
We also eliminate hidden costs of outsourcing with mature project management, experience in various domains, and the implementation of agile methodologies.
It's time for fair-priced software development outsourcing
ScienceSoft develops solutions of different complexity cost-effectively and without compromising quality.
Get a Free Project Cost Estimation
Looking for an outsourcing partner to take over your software development project or the entire pipeline of projects? ScienceSoft is ready to support your business growth and digital transformation initiatives.