Creating a smart city is like climbing a ladder. Cities make sure they do the right moves to climb to the top. It works out well and seems quite effective, until… They find out the ladder is placed to the wrong wall. Similarly, many cities have invested in things, connectivity, and device management, but relatively few have achieved great success without connecting these investments to a central smart city solution.
In this article, we'll share our Salesforce consulting experience and explain why a comprehensive smart city solution helps you stay on track and what Salesforce has to offer for building smarter and safer cities.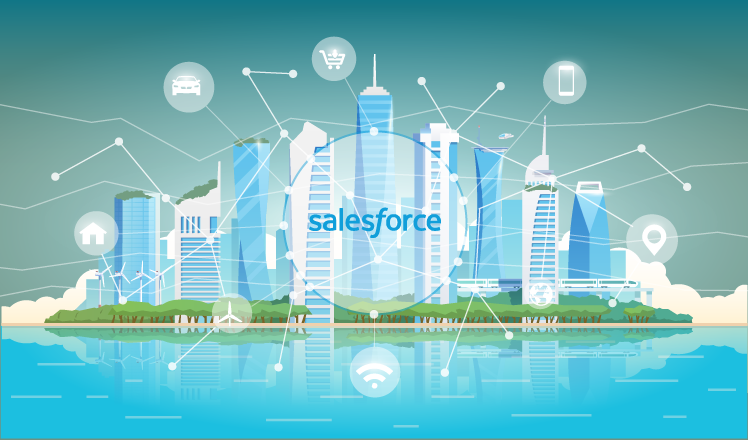 Smart city platform: what to look for?
Let's make one point clear: there is no the technology for smart cities. But to ensure your smart city offers real value to citizens, you need a stable platform with rich functionality. Smart cities are complex systems that require a mature platform. Even if an outage takes place, a mature platform synchronizes connected services and ensures secure storage of data. At the same time, keep in mind potential growth: cities are not static and you would probably like to ramp up additional services in future. To find the right balance between stability, rich functionality, and scalability, opt for a cloud-based platform. You won't need to update old infrastructure, buy servers, and manage complicated software. Besides, concentrate on the following key points:

Efficient data accumulation and processing
Whether you automate service requests, connect with citizens, monitor traffic lights, control street lighting or carry out any other smart city tasks, you'll face the need to process huge amounts of data. Make sure your platform has enough infrastructure capacity: computing power, storage space, etc.
Machine learning-powered analytics
By using tools that leverage machine learning (ML), cities can automate more tasks and deliver a better experience for citizens. Analyzing incoming data, ML recognizes iterative patterns in city's functioning and citizens' behavior. It provides a well-rounded image of how people use cities and creates models that "tell" the city what to do to solve a particular issue.
Fast round-the-clock service
Malfunctions in smart city devices can pose a significant inconvenience to citizens. Whether it is a damage of a street light or a power outage, ensure you handle citizens' requests, report and fix damages as quickly as possible.
Citizens' engagement
A smart city platform is not only a monitoring and controlling tool. Ideally, it should be a common workspace that unites city administration, employees, field workers, and citizens.
Salesforce smart city solutions
Salesforce-based smart city solutions include the following components:
You can combine different platform components, focusing on a particular task and choosing a tool that addresses it. If you look for a solid state-of-the-art solution, you can opt for IoT Cloud as a base and integrate it with Service Cloud and Community Cloud, as well as apply Einstein Analytics. But if you already have a city management platform but search for a powerful analytics tool, you can integrate IoT Cloud with Einstein Analytics only, leaving off the other components. Let's see what each component offers for smart cities.
Salesforce IoT Cloud
Salesforce IoT Cloud allows to gather, store and process data from sensors and combine it with contextual data about the inhabitants and the infrastructure of a smart city (this comes from an asset database that stores information on where the equipment is installed and how it is connected, as well as from websites, mobile device and other sources.) This involves connecting "thing" data with the data about citizens and employees who use, operate, or access those things. Once you've captured relevant data, Salesforce IoT Cloud uses this information to take the right action at the right time, e.g. alert truck drivers about the need to empty waste containers, automate traffic lights to adapt their behavior based on real-time traffic analysis, etc. To ensure these actions are right, Salesforce IoT Cloud users design real-time rules - the logic that tells the platform what to do. Users can define, modify and set rules for events that will then automatically trigger actions across smart city platform components.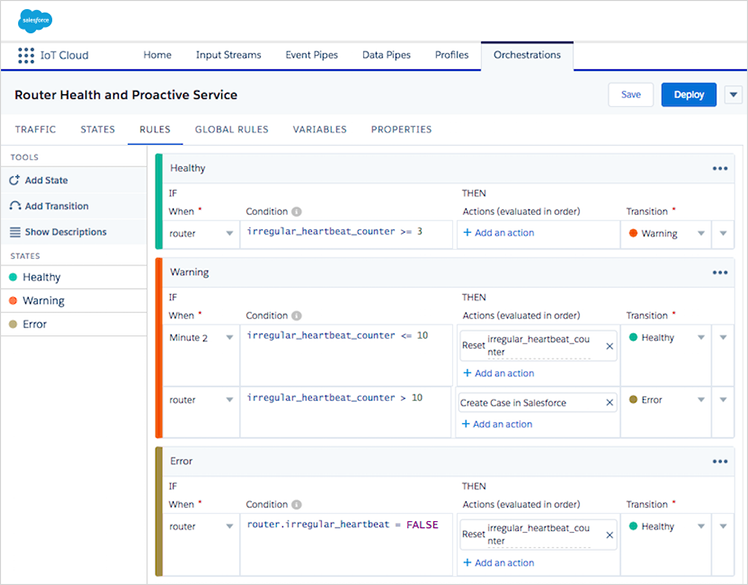 Real-time rules in Salesforce IoT Cloud
For example, you can enforce public traffic safety and set rules to identify and report risky driving. This way, if the speed of a bus or trolleybus slumps instantly, in-vehicle sensors identify "sharp brakes" and trigger IoT Cloud to create a case and report dangerous driving.
Einstein Analytics
Einstein Analytics app can automatically analyze billions of data records. The app uses data gathered by sensors and accumulated in a big data warehouse and combines it with contextual data from IoT Cloud. Analyzing this data, ML algorithms recognize iterative patterns and interpret them. When the efficiency of a pattern is approved, it is used by control applications to optimize smart city management. For example, monitoring water consumption over time, Einstein Analytics creates the patterns of water usage across the grid. Based on the identified patterns, you can predict the extent of water consumption by hour of day, day of week, and month of year and re-distribute water across the grid accordingly.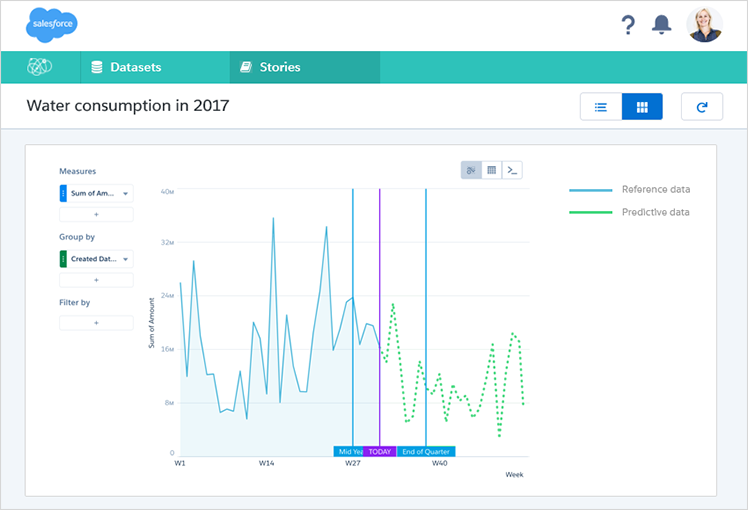 Predictive data in Salesforce Einstein
Salesforce Service Cloud
Salesforce Service Cloud is a platform for customer service and support. Service cloud can "listen" and respond to citizens across a variety of channels: e-mail, phone, social media, online communities, or real-time web chat. For example, a citizen notices that a road sign is out of order. They send an alert about the damage. Service Cloud processes an alert and creates a case. Cases are automatically prioritized and sent to respective agents for processing. Service Cloud can integrate data from numerous channels in one help desk – console that agents use to manage cases. After the issue is resolved, the case closes automatically.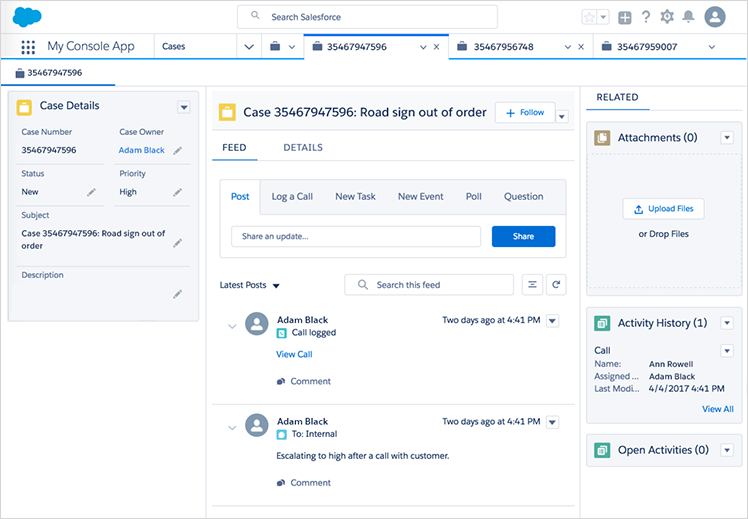 Case management in Salesforce Service Cloud
Integration of IoT Cloud to Service Cloud allows even more automation. This way, IoT Cloud monitors the state of devices in real time. If an outage take place, e.g. a connected street light goes out, IoT Cloud automatically identifies a problem. Simultaneously, in Service Cloud a case is created. Field workers receive an alert and fix the issue. As soon as the work is completed, the case is closed in Service cloud, and the device's status is set back to 'normal' in IoT Cloud.
Additionally, you can integrate Service Cloud with a variety of different technologies, e.g. Salesforce Radian 6 for monitoring social media. If a problem occurs, a citizen can submit a query directly on your social media page. For example, a customer types a question on your Facebook community. The Service Cloud lets you track the conversation on the respective tab, automatically opens a case and assigns it to an agent who can see the customer details and the description of the problem.
Salesforce Community Cloud
Community Cloud facilitates communication among citizens, field workers, and city administration. It allows users to exchange data in real time and provides channels to find information, e.g. knowledge bases. Community Cloud analyses citizens' queries and discussions and automatically creates topics. Users can instantly access discussions, files and experts, as well as endorse each other for important contributions.
For example, a citizen notices a problem with a smart thermostat. They go to the Community Cloud and search for an article about smart grid support. If they don't find what they need in an article, they can easily ask a question, or file a case directly from the Community Cloud. Due to integration with Service Cloud, the case will be automatically created and assigned to an agent.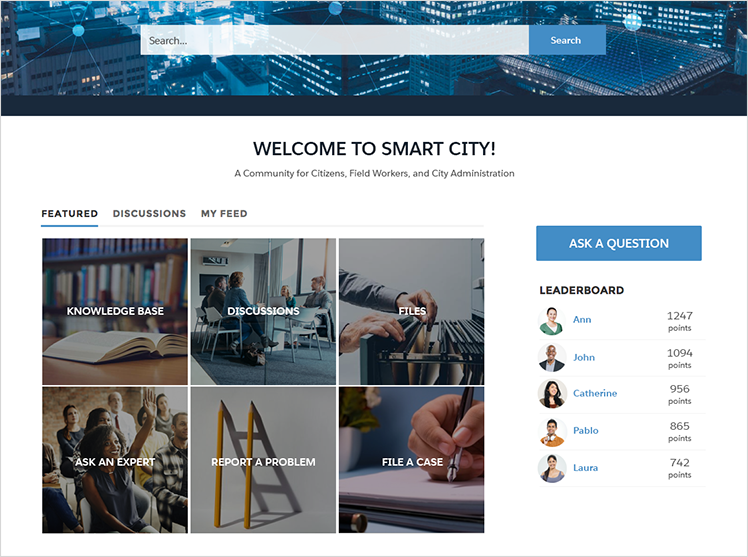 Salesforce Community Cloud for citizens, field workers, and city administration
How does it work together?
Assume that a traffic light goes out. IoT Cloud constantly monitors the status of traffic lights and identifies there's an outage. This information is displayed on the IoT Cloud dashboard. Behind the scenes, due to IoT Cloud to Service Cloud integration, in Service Cloud, a new case is created, prioritized and scheduled. Since traffic lights outage poses a huge threat to the citizens, the case gets high priority and has to be solved immediately.
After the case is prioritized, a field technician, who uses a mobile app, receives an alert. The application takes him directly to the issue. Before he starts the work, he may want to brush up some information on the traffic light (junction box installation details, controller cabinet foundation type, traffic light head wiring details, etc.) For that, he can access Community Cloud knowledge base and get all of the content he needs. Additionally, he can take a picture of any unusual or unfamiliar case and upload it to the Community Cloud to ask for advice of technical experts. As soon as the work is completed, due to integration of IoT Cloud with Service Cloud, the status of the traffic light is set back to 'normal' in IoT cloud and the issue is closed in Service Cloud.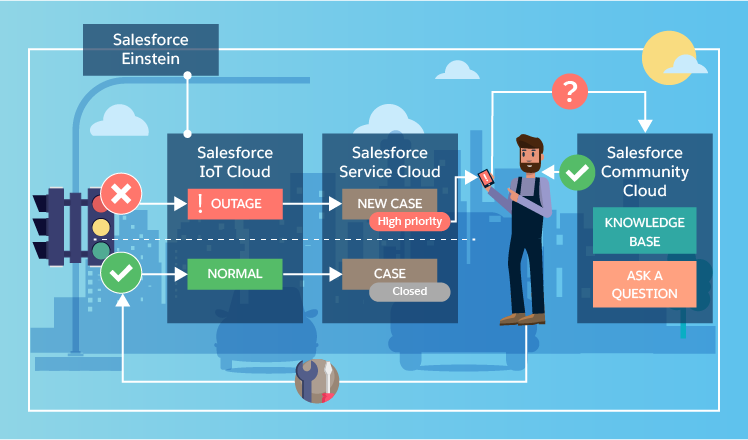 In reality, hundreds of such issues occur every day - someone has to keep track and monitor these issues: the money, the time, and the human resources. And this is when Einstein Analytics comes into play. Analyzing the information for a prolonged period of time will help you to identify bottlenecks and potential areas of improvement.
To sum it up
Salesforce-based smart city solutions can help you diagnose problems before they even happen. When troubles do happen, the cloud platform can identify what is going wrong and what needs to be done to fix the problem. You optimize the use of resources and facilitate communication between citizens and city administration. And this, in its turn, leads to reduced costs for maintenance and better experience for citizens.
Do you need to get an expert opinion on your Salesforce solution? Our consultants will analyze your current Salesforce capabilities and offer an optimal solution to meet your business needs.