Healthcare providers are eager to facilitate their work with digital tools. However, they work in a strictly regulated environment, which imposes restrictions on the use of such tools. For example, HIPAA regulations demand high security of healthcare information.
The choice of digital tools is limited due to the necessity to check them against regulations and requires relevant consulting provided by tools' vendors or providers of IT consulting services.
In this article, we share the insights gained from our experience in SharePoint consulting and solution delivery for health care institutions. More precisely, we explore if SharePoint can be a good choice for collaboration, document management, learning management, ticketing, and policy management in healthcare.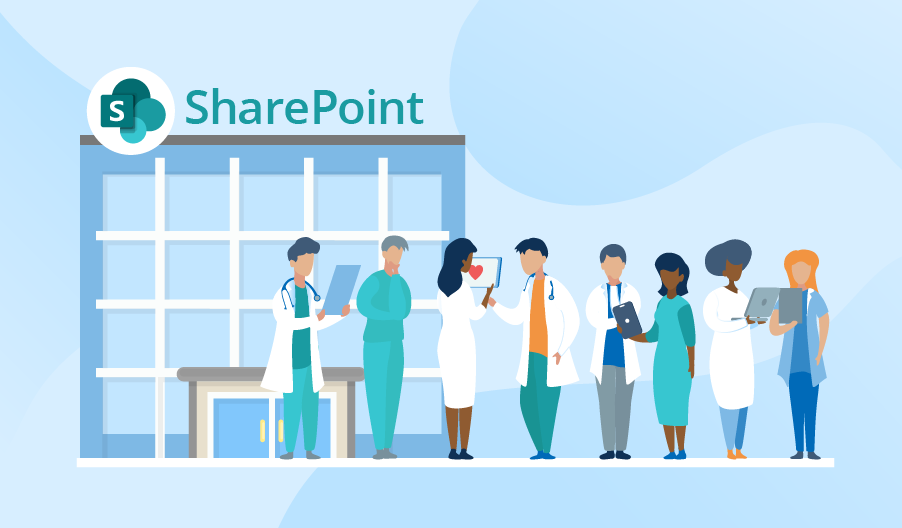 SharePoint use cases in healthcare
SharePoint's functionality can be employed in various spheres of work of a health care facility. Accordingly, we've divided SharePoint use cases into several groups:
This group includes SharePoint solutions for internal collaboration between employees of a health care institution (intranets) and solutions for external collaboration between a health care institution and other associates (extranets) like laboratories, insurance companies, etc.
Intranet
SharePoint-based intranets can improve the efficiency of the medical staff, patient care as well as employee engagement by:
Accelerating internal processes. Automated workflows help to streamline such processes as approving budgets, tracking employee status changes and vacations, managing assets and more. For example, our live demo shows how to submit a vacation request for approval. Mobile access helps to increase productivity and improve patient care. For example, a doctor can quickly approve a patient discharge request remotely via a mobile app. Nurses can use SharePoint-powered to-do lists to track their daily activities, associate patient names with their tasks (making an injection, taking a blood test, etc.), prioritize tasks, add an estimated time of task fulfillment. What is more, SharePoint can help always-busy doctors and nurses to pre-order meals for a week via forms and surveys.

A physician receives a patient discharge request, signs and approves it

Tracking events and work activities. Medical staff is always engaged in many activities like patient attendance, surgeries, training, etc., and it can be difficult for them to keep an eye on these activities without a scheduling system. SharePoint calendars help employees to schedule medical procedures and upcoming events like meetings or workshops and allow them to join, discuss, share and celebrate events. Also, on-call scheduling calendars help to track the replacement staff, schedule changes and notify other employees about them.

A nurse sets up reminders to give injections to a patient

Tracking news and announcements. SharePoint alerts and announcements ensure medical employees never miss a critical update (system outages, news, hospital events, etc.). Besides, the platform allows conveying alerts in several ways: as a display banner on the intranet or a push notification on the mobile app. Also, the system can block employees from using intranet until they've read and acknowledged the message.
Managing emergencies. To quickly and efficiently address emergencies in a health сare facility, SharePoint provides a list of emergency color codes with quick links to relevant procedures to undertake or action sheets. Also, it offers an emergency contacts directory that helps to reach dispatch operators and an emergency response team.
Supporting employee recognition. Employee retention is a burning issue in health care institutions as the turnover rate is growing. SharePoint enables recognition of medical employees for the length of service, noteworthy performance or one-time achievements through filing in employee recognition nomination forms. As a result, nominees are awarded special badges that are displayed on the intranet and visible to all employees.

SharePoint in healthcare: Events and employee recognition
Extranet
SharePoint-based extranets replace phone calls for communication of healthcare providers with their partners and makes it faster and more transparent due to providing a unified collaboration space for business interactions. SharePoint extranets offer:
A single source of knowledge on changing needs in medical supplies, so that suppliers could quickly adapt to them.
Quick information exchange between affiliated physicians to track the course of treatment when a patient is treated in several medical facilities. SharePoint also enables setting up workflows between different patient care teams.
Announcements to create general public awareness about pharmaceutical breakthroughs and new research.

SharePoint in healthcare: Announcements
A document management system (DMS) helps to ensure the security and traceability of healthcare documents. SharePoint DMS can help healthcare institutions to streamline the following tasks:
Organizing and centralizing various types of healthcare content: textual (contracts, physician notes, prescriptions, and reports), graphic (images, X-rays, ultrasound and PET scans, and MRIs), audio and video files for quick and easy access.
Creating typical documents like admission forms, consent forms (anesthesia, surgery, biopsy), contracts (payer, patient, employment) using templates and clauses libraries.

SharePoint in healthcare: Typical documents

Maintaining integrity and high security of electronic Protected Health information (ePHI) due to backups, versioning, multifactor authentication, at-rest and in-transit data encryption, audit trails and other features. SharePoint also enables setting up retention policies for documents. For example, SharePoint ensures that a document under HIPAA will be deleted after 6 years since its creation, as required by this regulation.
Converting hard copies of medical documentation into readable and searchable PDF files by means of integrating with optical character recognition (OCR) software.
Transferring data like a patient's information from and into integrated systems (DMS, EMR, CRM, and HR) to avoid double entry.
Finding content by keywords, metadata and full-text search across integrated systems.
If you want to get a better idea of SharePoint document management capabilities, you are welcome to check our interactive guide.
SharePoint can be a basis for a learning management solution (LMS) helping to arrange and deliver relevant training to healthcare employees. A SharePoint LMS can bring value to healthcare organizations due to:
Automatic training scheduling and enrolling of employees to training and wait lists.
Tracking employees' training activities through reports (how many employees registered for training, were wait listed or completed training, etc.).
Providing training materials to employees, including an HR guide with FAQ, web links and necessary documents for onboarding training.
Evaluating employees through online tests and giving feedback on their skills on problem identification, differential diagnosis, clinical reasoning, patient communication and more.
Offering online surveys for employees to measure staff satisfaction with training.
Providing compliance training with confirmation that trainees have undergone it and are obliged to abide by the relevant regulations, for example, HIPAA.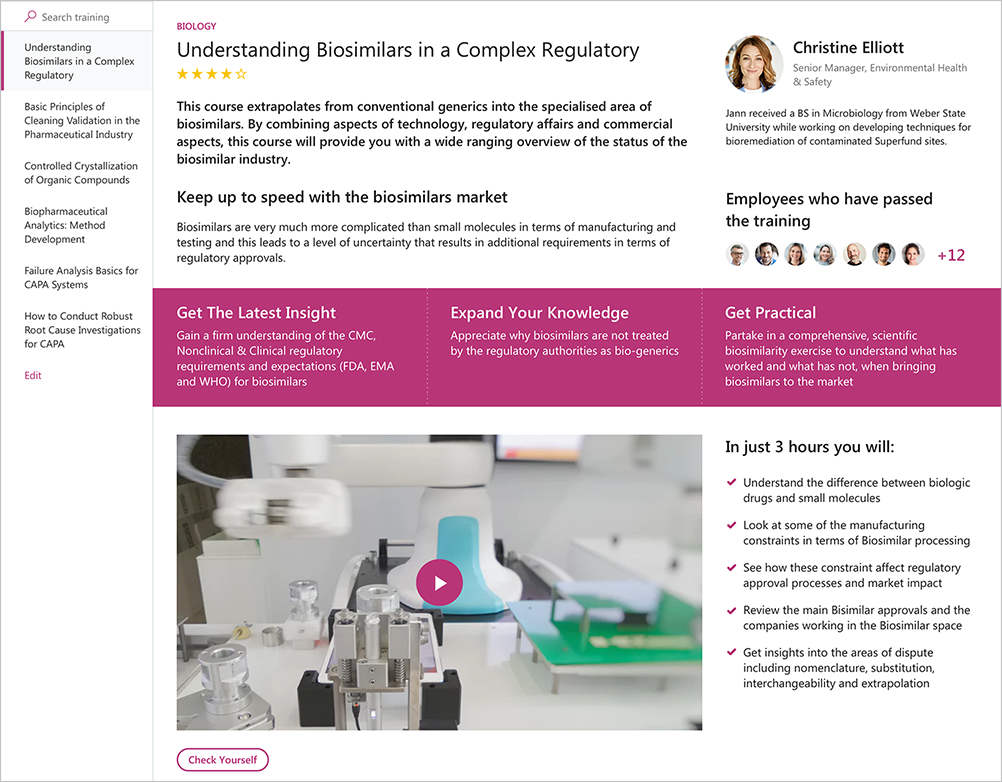 SharePoint in healthcare: Learning management
SharePoint can be used to create a help desk solution with regard to unique urgency and the potential impact of clinical support. It enables creating, assigning, reassigning, prioritizing, grouping tickets, attaching files and signatures to tickets, tracking their status, getting notifications about any changes in tickets, their status and more. SharePoint allows managing tickets related to:
Physician support (a medical knowledge base).
Room booking (e.g., an operating room).
Employee status change (e.g., from part-time to full-time).
Vacations and sick leaves of employees.
Ordering medical equipment, medications, cleaning services, etc.

A hospital employee creates a ticket to order antibiotics

Maintenance of hospital facilities and equipment.
Incident management and policy violations.
Resolving medical software issues (downtime, compatibility issues).
Adhering to external and internal policies is crucial for healthcare organizations, as non-compliance can bring about high penalties and legal claims. SharePoint can bring value to healthcare organizations as a policy management solution due to:
Categorizing healthcare policies, procedures and manuals and associating them with regulatory requirements (HIPAA, FDA, GDPR, etc.), relevant facilities and departments.
Providing policy knowledge tests and surveys for employees to prove their readiness to fulfill medical tasks.
Keeping policies up-to-date due to scheduling notifications for policy owners when they need to be reviewed.
Monitoring policy acknowledgement (employees who read and agreed), review dates, policies that need confirmation, with a special dashboard.
Tracking time spent by each employee on studying a policy to understand if the staff studies the provided materials responsibly.
SharePoint in healthcare: Policy management
Although SharePoint can offer a number of benefits for healthcare organizations like accelerating internal processes, improving employee communication and collaboration, streamlining document management, and supporting compliance, it's important to pay attention to the following limitations of the platform and solutions based on it:
Security loopholes. Incorrect usage of SharePoint solutions can lead to security vulnerabilities. For example, the overuse of breaking permission inheritance in SharePoint sites can bring about security gaps that can lead to the violation of HIPAA regulations.
The necessity of training. Even if only out-of-the-box functionality is implemented in a SharePoint solution, medical employees will still need training on how to use it and time to master a solution afterwards. It can be challenging for always-busy healthcare professionals. And without proper training, instead of facilitating things, SharePoint can encumber their daily work.
Not one-size-fits-all. Very often SharePoint functionality can be not enough to meet all the needs of a healthcare organization. In these cases, a SharePoint solution can't be efficient enough without integrating with third-party software (OCR, e-signature, etc.).
Customizations. Some SharePoint solutions require deep customization, which is costly and time-consuming. It's especially relevant for a clinical service desk based on SharePoint. So, it's reasonable for healthcare organizations to opt for a SharePoint help desk solution only if they already utilize this platform.
SharePoint and healthcare: a good match?
SharePoint offers multiple capabilities to streamline collaboration, communication, document management, and other processes in healthcare. Since the platform is very customizable, it can be used to create a solution tailored to the particular needs of a certain healthcare organization and its employees. Besides, SharePoint supports adhering to compliance regulations, which is mandatory for this industry.
To be truly beneficial for healthcare organizations, a SharePoint solution should be thoroughly planned and implemented with the help of a professional IT team. Also, to ensure high adoption, relevant training on a new SharePoint solution is required as well as robust support that will ensure seamless operation of the solution in such a demanding and high-pressure environment.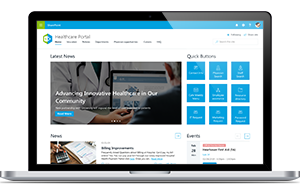 We take up the role of product owner, recommend and implement a SharePoint-based healthcare solution that will meet your business needs.