How ScienceSoft Builds Software with Great UX Design
ScienceSoft is notable for its serious approach to UX design. We will create software loved by your users and consistent with your brand identity.
Our Approach to UX Design Summed Up
We care to spend reasonable time on UX activities, so instead of blindly applying all available UX methods, we focus on the best-fitting ones.
We document UX activities to ensure smooth communication of our research findings, ideas, and test results to your stakeholders and other team members.
If the software is supposed to be feature-heavy, we can create a Minimum Lovable Product. It will have sufficient functionality for the launch, and users will adore it at first sight.
We value the input of front-end developers who help us save time and avoid unrealistic ideas.
We see UX research as a way to improve KPIs: conversions, user engagement, task success rate, etc.
We integrate a unique value proposition and competitive advantages into software design.
Two Extremes in UX Practices ScienceSoft Never Follows
| | |
| --- | --- |
| | Developing software without due attention to user experience may result in a solution that is inconvenient for users and fails to meet the intended goals. By the time the usability problem is evident, the only way out is to redesign the user interface, which increases the cost of software development. |
| | A polar opposite approach to UX design implies performing a strict sequence of activities regardless of the software type and goals. IT companies may upsell extra, unneeded UX activities that increase the cost of services but don't add value to the result. |
What We Do to Deliver Software with Well-Designed User Experience
| | |
| --- | --- |
| | ScienceSoft is a software development company, not a boutique design agency. Yet, we provide the same high-quality UX design services as the latter and, of course, do the programming part. |
| | ScienceSoft incorporates UX activities throughout a software development life cycle. We are well-versed in a variety of methods to anticipate desirable user behavior, design smooth user journeys, test our theories, and try again if needed. For each software, we choose an optimal set of methods based on the type of software, industry, and target audience. |
UX methods:
Field study.
Diary study.
Contextual inquiries.
Remote user interviewing.
Stakeholder interviewing.
Interviewing in focus groups.
Task analysis.
Requirements and constraints gathering.
Competitive analysis.
UX methods:
Personas.
User stories.
Customer journey mapping.
Wireframes or clickable prototypes.
Card sorting.
Testing and evaluation stage
UX methods:
Usability testing.
Web analytics review.
A/B testing.
UX benchmarking.
Accessibility testing.
User surveys.
| | |
| --- | --- |
| | During a UX design process, we have a lot of brainstorming, drafting, and discussions. But we don't overload you with early ideas — we filter out actionable insights and convey them concisely and understandably in deliverables of different formats. |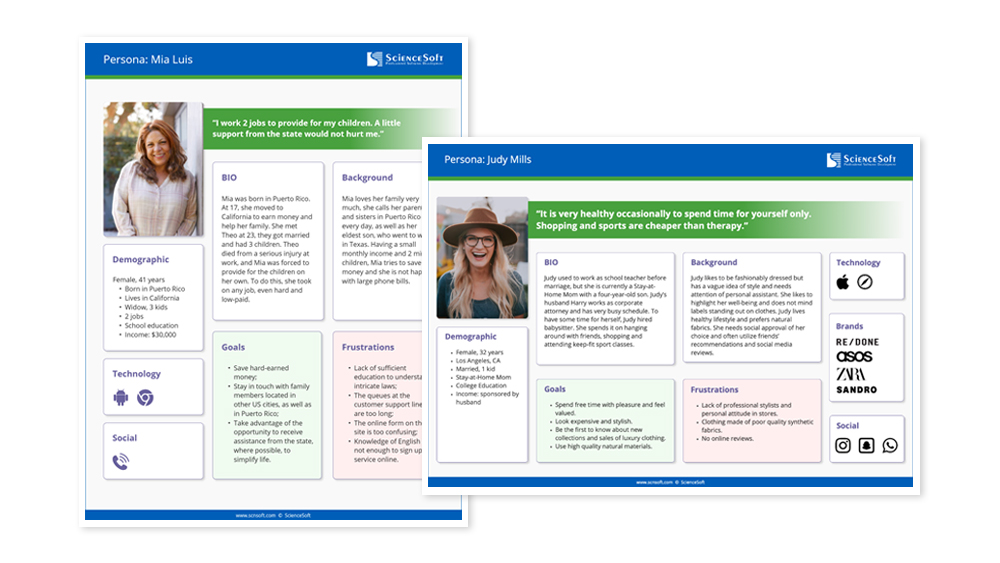 User personas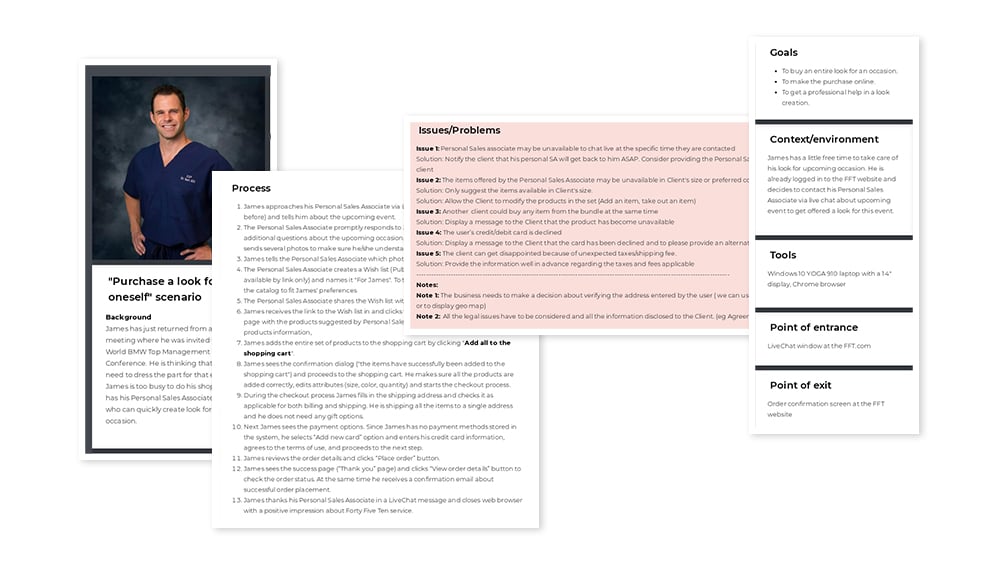 User stories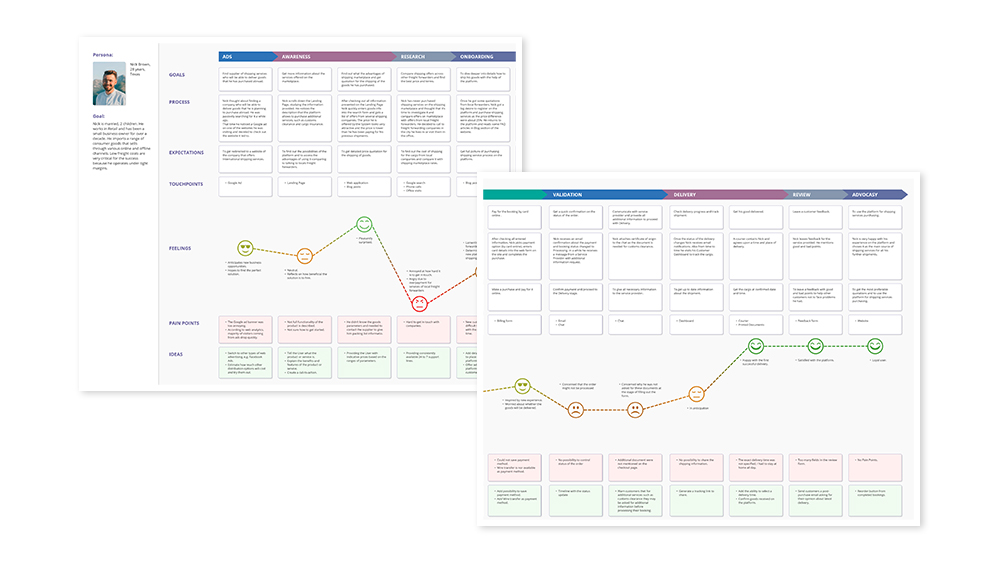 User journeys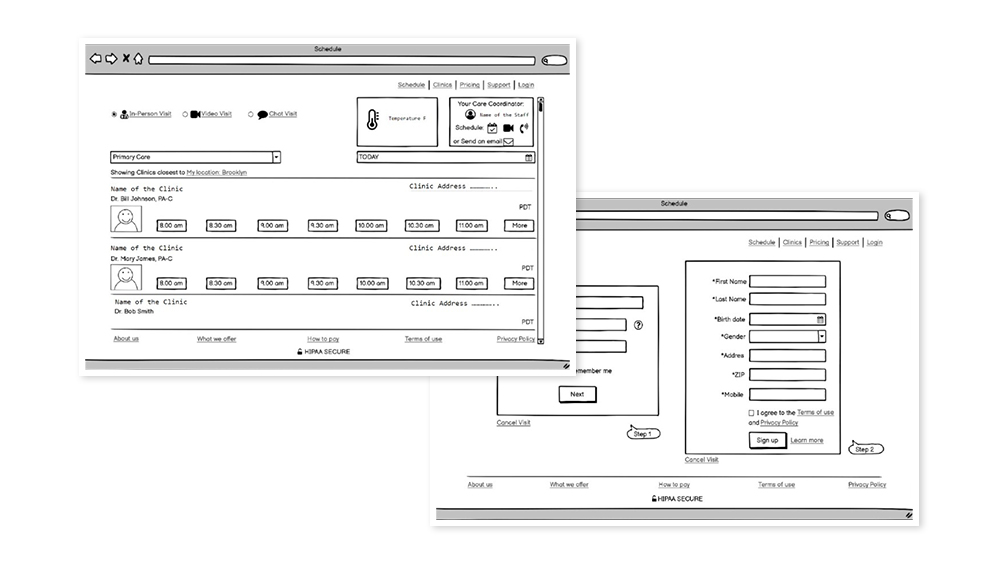 Wireframes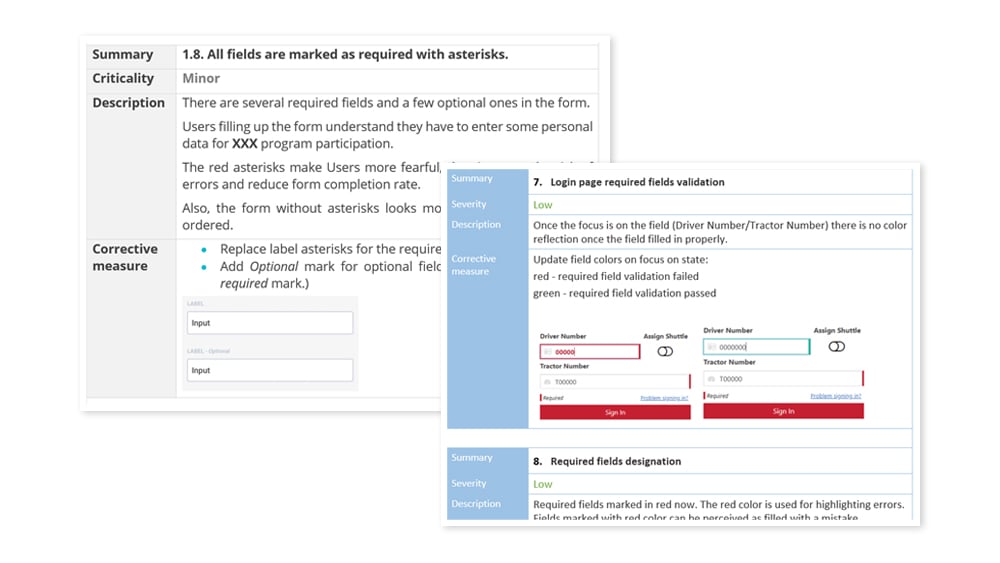 UX audit report
| | |
| --- | --- |
| | For software with rich functionality, we play with different widgets and page elements (like hidden drop-downs, rule-based pop-ups) to avoid feature creep and simplify user journeys. We can also speed up software development without sacrificing the UX by prioritizing the feature delivery based on the target audience's needs and creating a Minimum Lovable Product (MLP). |
| | We participate in brand building and help companies find and realize unique value propositions. We include competitive features in MLP design. |
| | We encourage close cooperation between our UX designers and front-end developers to prevent conflicts between desirable and realistic requirements. |
| | We don't only think about UX when creating new software. We can perform UX research for the software your employees or customers already use and significantly improve their experience. This will translate into users' meaningful interaction with the software, faster task completion, increased conversions, and eliminated churn. |
An Impressive Jump in Conversions after UX Redesign: a Success Story by ScienceSoft
UX Optimization for a US Telecom Company
During the audit of two telecom websites, ScienceSoft spotted and later fixed critical issues with performance, proper functioning of interface elements and mobile viewing. The impact of the changes exceeded the Customer's expectations — the websites' opening rate improved due to much faster loading time (decreased from 2 sec to 0.2 sec), and conversions skyrocketed by 6 times.
Words from Our Clients

Khalid Ahadov
Executive Director
Unibank
The choice of a service provider was especially critical, since a reliable and convenient mobile banking application is strategically important to Unibank as a bank, which strives to employ state-of-the-art technologies to the benefit of our customers. ScienceSoft brought to the table substantial expertise in mobile application development and explicitly customer-centered approach to the application design.

Oisín Curran
CEO
Odyssey Validation Compliance
ScienceSoft's team provided a full cycle of software development service including business analysis, design, development, DevOps and testing. They analyzed our feature requirements and designed the app UI to be user-friendly as well as implementing the app server component. We would like to point out that ScienceSoft's team managed to bring to life our web application with full adherence to the requirements and within the optimistic project plan.
Jeff Campbell

Director of Technology

EdTech Software LLC

Our company was under the pressure of soon-to-end support for Magento 1, and we partnered with ScienceSoft mainly to migrate our web store safely to Magento 2. They did an excellent job during the investigation stage, which saved us from many troubles during the migration. They also improved our user experience via newly implemented design and functionality.

View all customer reviews

<![endif]--> <![endif]--> <![endif]-->