Pros and cons of a SharePoint intranet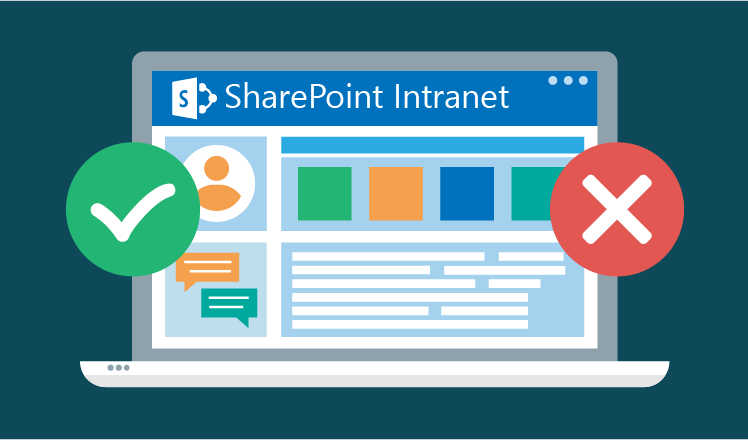 In their Intranet Design Annual, the Nielsen Norman Group put together 10 best intranets of 2017. Six out of ten winning intranets were built on SharePoint (in 2016, the number was even more impressive: nine out of ten intranets were SharePoint-based). The report proves that SharePoint, a Microsoft's platform that celebrated its 16th anniversary this year, is still one of the most popular intranet platforms worldwide.
Jeff Teper, "The Godfather of SharePoint", and his team keep working hard, and their work brings positive outcomes. As a member of Office 365 family, SharePoint has been propelled during the last 2 years and is often praised by its devoted owners. For example, one of Illinois largest hospital systems, Advocate Health Care claims to save over $50 million owing to the increased productivity of their employees collaborating in SharePoint and Office 365.
There's a fly in the ointment, though. If SharePoint participated in Jimmy Kimmel's show, it would get a hefty portion of mockery: sour stories of irritated users, as well as multiple predictions of the upcoming SharePoint's death, voiced by competitors and critics, have poisoned the platform's image. It's no wonder that such polarized opinions on SharePoint often make business decision-makers doubt if it's the right platform for their corporate intranets.
To dispel doubts, we have dived into our SharePoint intranet development practice and analyzed various advantages and challenges that SharePoint brings to is owners. This helped us to put together all the SharePoint intranet pros and cons so that you can decide if it suits your business needs, collaboration patterns and budgeting strategy.
Out-of-the-box capabilities of your SharePoint intranet
What's important: Out-of-the-box features determine default capabilities of your intranet and its potential for further extension and customization.
Pro. You get a rich set of features
Deploying an out-of-the-box SharePoint intranet, you will get a variety of features ensuring document and workflow management, content management, enterprise-wide and team collaboration, task and issue management and more. Using out-of-the-box functionality, you can facilitate various business processes and enable users to fulfill their daily tasks faster and with less effort. All in all, SharePoint frees you from developing essential intranet features from scratch along with letting you decide on your intranet's 'filling'.
Con. Multitude of features can cause a mess
Indeed, SharePoint comes with a variety of built-in features, but it can be hard to choose those fitting your business needs best. Enabling all the available features at once without prioritizing them can result in a messy intranet that hinders users' activities.
To avoid that, you'll have to analyze organizational processes, employees' requirements and collaboration habits to decide on the relevant SharePoint intranet components. Moreover, out-of-the box features aren't customized to your specific organizational needs, so you will have to tailor your SharePoint intranet before making it generally available. That's why you should also consider the customization aspect.
SharePoint intranet customization
What's important: Intranet adaptability determines how easily and how deeply you can change out-of-the-box features to get an optimal solution for your enterprise.
Pro. You can create a unique SharePoint intranet
Companies rarely work with out-of-the-box SharePoint, as it simply can't fit a specific business context. Fortunately, organizations can customize SharePoint intranets quite deeply, adding corporate branding and developing custom add-ins and full-fledged solutions to cover particular activities (HR, project or knowledge management, etc.). In general, one of the biggest SharePoint intranet advantages is that you can build a unique solution covering a variety of processes, which would be impossible if you adopted a ready-made task-oriented solution.
Although cloud intranet customization differs from on-premises intranet tuning and has its limitations, many organizations tweak their cloud solutions successfully. You can see an example of a social care services provider that runs a custom-made SharePoint intranet in the cloud to enable a personalized learning process, an easier interaction between employees, accounting department and HR managers, as well as effective time management.
Con. Customization time and costs
SharePoint intranets are customization-friendly, however, you should keep in mind that the customization will require time and investments. The above-mentioned report shows that the average time of creating a new intranet reduced significantly from 6.2 years in 2011 to 1.4 year in 2017. Still, you should be ready for this 1+ year intranet customization period. As for the customization/price ratio, it's very simple: the deeper you want to customize your intranet, the heavier will be your final bill.
Integration of a SharePoint intranet with enterprise systems
What's important: Integration capabilities determine the place of your intranet among other enterprise systems and influence the quality of collaboration between different departments.
Pro. You can enable cross-department collaboration
By integrating SharePoint solutions that are a part of your intranet with other enterprise systems, such as CRM or ERP, you can ensure enterprise-wide search, team collaboration and continuous business processes. Relying on SharePoint intranet benefits, you can connect employees working in different systems.
We at ScienceSoft, actively use SharePoint-enabled collaboration spaces integrated into our corporate CRM system, which allows sales managers to collaborate with the marketing team, project managers, business analysts and technical leaders involved in the same project.
Con. Integration can require extra development effort
Every integration case has its peculiarities, so if you use a custom ERP system, you will have to create another custom solution to connect your ERP system with a SharePoint intranet. SharePoint integration issues should be considered beforehand: first, because they add time and cost to your project, second, because in case of failure, employees' productivity will be affected.
SharePoint services for your intranet
What's important: Workforce availability determines your SharePoint intranet vitality and flawless performance. This aspect is crucial for companies that don't have their own SharePoint teams and thus have to look for outside SharePoint services.
Pro. You can address multiple service providers
Even if you don't have an in-house team, it won't take you long to find service providers. There are so many companies providing comprehensive SharePoint services including customization, migration and 24/7 support. If you prefer turnkey solutions, you can opt for an Intranet-as-a-Service that will be fully supported by a vendor.
Con. Service quality may vary
If you don't have your own SharePoint team, you will most likely collaborate with different service providers to address various challenges. Service providers' approaches to your SharePoint deployment may vary, and so may vary service quality and prices. To prevent negative outcomes of scattered activities, it will be reasonable to choose one or two permanent partners who will work with your intranet continuously, bringing regular improvements.
SharePoint intranet pricing
What's important: As there are at least three SharePoint deployment models (on-premises, cloud and hybrid) and their pricing models are different, you should plan your investments accordingly.
Pro. You decide on the best pricing model
When SharePoint existed on-premises only, there weren't many options to choose. Initial costs included infrastructure and licenses, then, service costs were added.
Fortunately, Microsoft diversified their offering with multiple cloud plans and introduced various payment schemes to take the financial burden off SharePoint owners. So today companies can also choose among multiple cloud plans to align payments with their budget capabilities.
Con. Your final bill can be heavy
Cloud intranets are gaining popularity and promise SharePoint owners to cut intranet costs substantially. However, there are things to consider in all the deployment options. On-premises intranets require substantial initial investments into infrastructure, licenses and customization, which can make up a huge part of your budget. As for cloud intranets, they allow cutting infrastructure costs but bring ongoing monthly subscription payments. If you choose a hybrid solution, you will have invest in both on-premises and cloud SharePoint.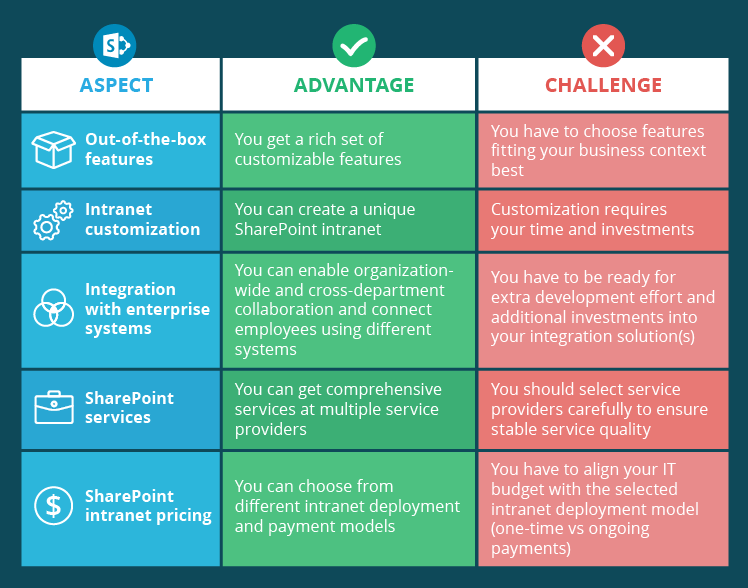 Should you opt for a SharePoint intranet?
As you can see, there are so many aspects to consider before starting a SharePoint intranet implementation. To a great extent, your decision should depend on your business size, collaboration needs and budget. You can also check our SharePoint intranet demo in order to have a better idea of how it can look.
A SharePoint-based intranet is a suitable solution for large and medium-sized companies with multiple teams and diverse collaboration patterns. Moreover, if you already have a developed IT infrastructure, setting up a SharePoint intranet will be relatively easy.
At the same time, if your company is pretty small, SharePoint on-premises won't be your best option, as it can be literally too heavy for your budget and collaboration needs. In this case, better choose a SharePoint Online or Office 365 solution or look for an alternative collaboration tool.