An ecommerce solution is a workhorse of your business that is supposed to:
Automate and streamline part of your time-sapping processes and fine-tune your ecommerce operations.
Reduce transaction processing time.
Improve your sales performance.
Earn you 'six figures' in the long haul.
So, when it comes to the question of ecommerce development cost, you'd better not ask "What's the websites price"? The right question to pose is "How much revenue will it generate for the business in the long run?"
As soon as you have set the priorities, there will be several questions to address.
How long does it take to build a Magento website?
The timing depends on your goals and project scale: whether you are going to use built-in features extensively or want custom functionality, what extensions you need installed and what data you need migrated. But one thing is as clear as day: one week of the development process is not enough.
On average, the design and development of a reliable and professional Magento website that allows you to make systematic changes takes up from 3 to 6 months and up to a year or even more for a complex solution. This term won't sound intimidating if you consider all the numerous aspects related to a complex web development project, such as setting up thousands of products, working on design, third-party APIs and POS integrations, shipping configuration, copywriting and testing, database synchronization regarding prices, stock, promotions, and other project issues.
A full-stack Magento developer or a Magento development service provider?
Let's face it, full-stack developers predominantly specialize in one or a couple of fields rather than all aspects of Magento development. They may be adept at PHP or work wonders in another field of expertise, but they definitely can't be experts in all areas at the same time and surely do not possess the skill-set and capabilities of the whole team of pros.
So, what makes a team a better fit for the project? The answer is the team itself. You do not need to worry in case something goes wrong: a team of experts can settle any issue that may arise throughout the entire development process, so that you may rest assured the development process goes smoothly and with no delay. What's more, you are sure to get a dedicated project manager assigned to your project who will take control of the Magento development process and keep you updated on a project status.
However, prior to deciding to enter a partnership, you should remember that hiring a Magento development company means choosing the other half of the family for the months or even years ahead. Thus, make sure that they are enthused ecommerce devotees willing to get deeply into your business and focus on reliable and long-term partnership, since after-launch and further ongoing support is what you can't do without.
Can a Magento website marry low price and quality?
A responsive, full-fledged and highly optimized website that customers gravitate to and search engine spiders easily crawl and index is something that will unfailingly affect your entire online presence in general and business bottom line in particular. Bet you'll never entrust your sick child to a self-taught pediatrician who formerly practiced as a vet. The same holds true for your Magento website: entrusting its building to some questionable team of developers asking for a suspiciously low price, you run the risk of paying heavily down the line.
Given that Magento is an extremely complex, feature-rich shopping cart, which is a completely different ball game to 3dcart or Shopify, implementing a Magento store requires time, in-depth PHP development knowledge and solid expertise in Magento design and customization. Taking into consideration all the multiple intricacies and complexity of Magento website development, it becomes crystal clear that building a high-quality Magento website calls for a dedicated full-time multi-professional team of experts encompassing Magento consultants to design a solution, front- and back-end developers and designers, marketing and analytics specialists, and a QA team.
To the Bottom Line – How Much Is Your Magento Website Going To Cost You?
We understand that you must be expecting a precise figure but coming up with a price tag is not that simple given how different in scope and complexity ecommerce projects can be. Here, we give rough estimation of two major project types.
A simple project
Configuration of business logic (work with native functionality).
Mature third-party extensions that perform flawlessly and don't cause extension conflicts.
A ready-made Magento theme.
System integrations via Magento APIs.
Average cost: from $20K
A complex project
Advanced customization of business logic (writing or modification of code).
Many extensions, including custom ones.
Complicated UX/UI/retrofits.
Complex integrations via custom coding.
Average cost: from $320K
On a Final Note
The thoughts we give in the article and the estimates we provide are intended to give you a general understanding of Magento development costs. However, it's your business and its goals that will define the cost of your ecommerce project in the end.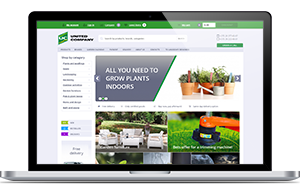 Magento consulting services
From strategy development to auditing an online store, we look forward to consulting you on each step of Magento development to bring you to the top.