Editor's note: Alena talks about the opportunities for telehealth in rural areas and explains how telehealth is beneficial for rural healthcare providers. And if you consider implementing telehealth technology for your business, you're welcome to check ScienceSoft's offering in telemedicine applications development.
According to Statista, about 20% of Americans live in rural areas and face the challenge of geographic distance from developed settlements, lack of public transport, and the acute shortage of healthcare providers. The North Carolina Rural Health Research Program says that 20 rural hospitals closed in 2020. And a shortage of over 20,000 primary care physicians in rural areas is expected by 2025. Telemedicine solutions can help resolve these challenges, with the global telemedicine market expected to reach $396 billion by 2027.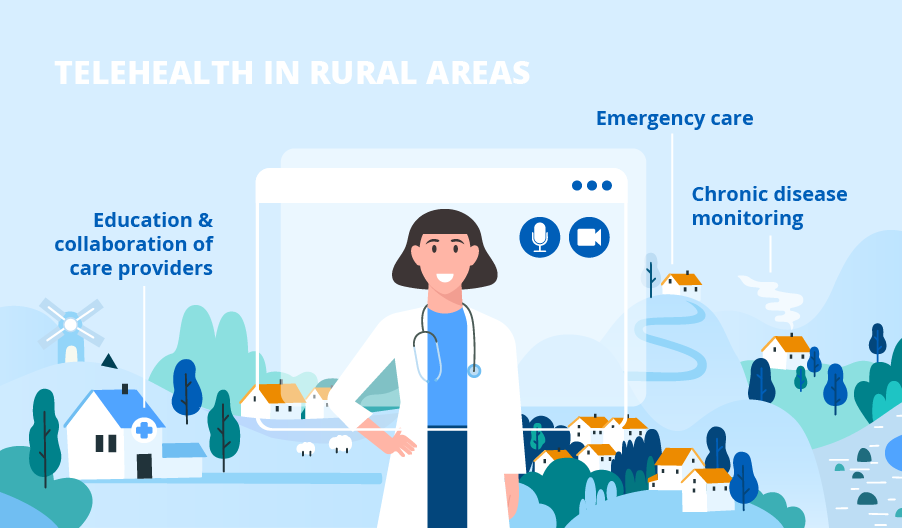 There are two main forms of telehealth – clinical (telemedicine technologies including live interactive videoconferencing, store-and-forward functionality for doctor-patient communication, and remote patient monitoring) and non-clinical (virtual providers' meetings and tele-education). When applied in rural areas, telehealth helps overcome the shortage of medical specialists, saves doctors' and patients' travel times, and increases the overall availability of medical care for patients living in remote areas.
Use cases of telehealth in rural areas
Providing emergency care in rural areas can be challenging due to the lack of specialized providers (e.g., stroke specialists). So, rural healthcare facilities lose income and time by transferring patients to city medical centers. A review of emergency cases in rural and remote emergency departments shows that telemedicine can solve this problem.
Telemedicine in rural areas can improve the effectiveness of chronic disease management for patients who should visit a doctor regularly. It applies to chronic conditions like cardiovascular diseases, asthma, COPD, behavioral disorders, diabetes, etc. Сhronic diseases' management generally doesn't require immediate medical intervention, and mostly involves vitals monitoring (glucose level, heart rate, etc.) or adjusting the dosage of the prescribed drugs. These activities can be performed remotely using cloud-connected biosensors worn by patients and telehealth applications. The app receives data from biosensors in real time, analyzes it, makes it available to a medical provider, and enables the communication between a patient and a doctor via videoconferencing, instant messaging, etc.
Often, rural primary care providers and specialized doctors from large medical centers can work as a team to share knowledge and manage patient care. Here are a few examples of successful medical community collaboration programs that leverage telehealth technology.
Project ECHO (Extension for Community Healthcare Outcomes) assists in developing and monitoring patients' treatment plans and provides remote case-based training and mentoring to primary care staff.
RUDi (Rural Urgent Doctor in-aid) physicians are available 24/7 by Zoom and phone to consult rural healthcare providers if a patient's diagnosis requires further analysis.
TelehealthVillage offers a variety of educational programs, such as virtual courses for doctors on applied care for patients with diabetes (interpretation of continuous glucose monitoring data, diabetic retinopathy screening training (DRS) and diabetes self-management education & support (DSMES).
Time to improve the quality of your healthcare services with telehealth
Telehealth has already become an integral part of the medical industry. The use of telehealth in rural communities reduces patient transportation risks, provides specialized care, and improves the quality of chronic disease management. If you want to know how to use telehealth technology to improve your healthcare services or need to implement a high-quality telehealth solution, you're welcome to turn to ScienceSoft's healthcare IT team.
Get Consulted
Not Sure What Functionality Will Benefit Your Telemedicine App?
ScienceSoft's healthcare IT experts will consult you on developing a high-quality telehealth solution with the feature set just right for your healthcare organization.