According to a research by XpertHR, the main HR challenges are as follows:
Searching for high-quality applicants.
Increasing employee engagement, morale and satisfaction.
Improving employee retention.
Managing performance and providing professional development opportunities.
To support the strategy aimed at meeting these challenges, many organizations have already empowered their HR departments to use such HR solutions as human resource information systems (HRIS) or human resource management systems (HRMS). These solutions help to streamline employee management processes, such as recruiting and applicant tracking, performance management, time and attendance, benefits management, and training tracking.
Based on our experience in delivering SharePoint-based portals, we share our view on this particular type of HR tools. We've developed these solutions for companies of different sizes and industries, for example, an HR portal for a construction company. So, we are going to highlight general benefits they bring to businesses and analyze whether the SharePoint platform can be the right choice for supporting HR activities, specifically in companies that already use it.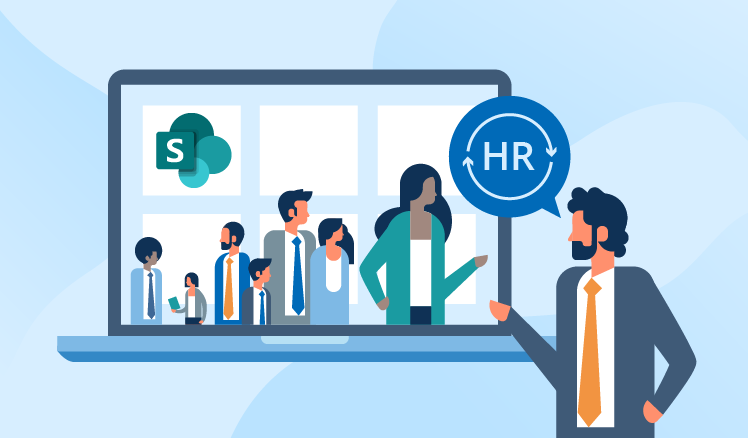 An HR portal can be suitable to meet the needs of organizations of various sizes:
Enterprises.

An HR portal can add efficiency to HR processes in an enterprise with high staff turnover. Also, it can be helpful for an enterprise that opens new branches in different locations and needs a solution that will become a central source of corporate information and a central point for employees' digital tools.

Midsized businesses.

If a midsized business wants to implement only several HR features or integrate HR processes into their intranet, a standalone HR system can be too expensive or excessive for this purpose. So, an HR portal can become a good alternative to it.

Small businesses.

A small company may grow very quickly, and massive recruitment can lead to a twofold increase in the number of employees within a year. In such a situation, employee onboarding can become difficult to manage, and an HR portal can help to coordinate the related activities of HR, IT, procurement, and finance departments.
Organizations that already have SharePoint and want to streamline HR processes can leverage the following benefits of a SharePoint HR portal:
Cost efficiency and increased ROI.

With a SharePoint environment already in place, there is no need to purchase third-party HR solutions. Besides, the subscription plans start at $5 user/month, which is usually affordable even for a small company, while HRIS costs start at $40 user/month and can be as high as $300 user/month.

One stop shop.

A SharePoint HR portal provides a centralized storage for templates, documents, forms, and policies. Employees can easily access them without asking an HR team for assistance.

Customizability and integration friendliness

. These capabilities allow for creating a portal tailored to a company's HR needs.

UX consistency.

Single sign-on with other Microsoft products makes using the portal convenient.

A single search engine

. Due to the enterprise search feature, employees don't have to choose which site to search — HR or other sites of the corporate intranet. They can obtain search results from the company's whole digital environment, including integrated tools.
A SharePoint HR portal can support recruiters in a wide range of activities. If you want to see a SharePoint HR portal in action, you can check our interactive demo. And in this article, we have a look at its most common use cases:
To support the recruiting and onboarding/offboarding processes, a SharePoint portal can enable:
Creating an application database

to facilitate finding a resume that matches a particular position. The database can be located right in SharePoint or resumes can be pulled from a central vacancy database integrated with the portal.

Tracking

task completion

under checklists generated by HR, IT and other departments. For example, IT tasks before day one include preparation of a computer, creation of an email account and access configuration.

Monitoring onboarding progress

both by new hires and an HR team through real-time dashboards.

Generating

automated emails

with interview invitations, welcome and farewell emails and relevant notifications and reminders, for example, for signing a non-disclosure agreement.

Reporting

on candidates and gathering interview statistics.

Setting workflows

on approving candidates.

Creating

a knowledge base

with all the necessary information for new hires (organizational chart,

job responsibilities, company mission,

guides, an employee handbook, benefits, e-forms, training materials, a list of current openings).
SharePoint HR portal: Organizational chart
A SharePoint portal can facilitate managing employee-related content and operations, including:
Tracking changes

in employee-related documents like an employment contract or a job description due to versioning.

Protecting employees' private information

due to data encryption, access control, control over document downloading.

Generating

alerts

about attempts of unauthorized access to employees' private information.

Providing

communication between the HR team and employees

through employees' personal pages (profiles).

Payroll management

, including tracking and approving salary changes.

Monitoring

employees' working hours and absences, vacation and sick leave accruals, job contract terminations in a particular organizational unit and more.

SharePoint HR portal: Employee worktime

Scheduling shifts

for employees through calendars.

Approving and registering

vacations and sick leaves.

A manager receives a vacation request and approves it.

Enrolling

to training courses, such as leadership training.

An employee enrolls to a training, which is immediately reflected in the event calendar.
To evaluate employees' work and track performance, a SharePoint HR portal offers employers the following capabilities:
Reports on task fulfillment, overall performance, and training results.
Tests to check employees' knowledge and skills after they finish training.
Feedback on employee performance by their managers.
Surveys to measure employee satisfaction.
Certification of employees and reminders for necessary renewals.
Competency analysis of employees based on self-assessment questionnaires.
SharePoint HR portal: Self-assessment questionnaire
A SharePoint HR portal can offer ticketing capabilities to help HR teams to handle employees' requests related to:
Vacation approval.

Travel arrangement.

Benefits like holiday bonuses, fitness reimbursments, medical insurance.

An employee status change, for example, as a result of a promotion.

Training and development.

Documentation (contracts, certificates, job descriptions).
SharePoint HR portal: Employee ticket management
One of the main tasks of an HR team is making sure that an organization is compliant with all employment-related federal, state and local laws and requirements and employees are compliant with the internal policies of an organization. A SharePoint HR portal can enable compliance tracking through:
The centralized storage

of policies and procedures, associating them with certain regulations (GLBA, SOX, GDPR, etc.).

Dashboards

that show a policy status (new, approved or pending), active and expired certifications and more.

Compliance acknowledgement,

which means that employees confirm that they have undergone training or read a policy and are obliged to abide by the relevant regulations.

An employee receives a new policy and acknowledges its receipt and understanding.

Scheduled notifications

about the need to review policies to keep them up to date or reminders of a certification that is about to expire.

Compliance training

that can be arranged via SharePoint, as the platform supports various types of training materials (audio, video, graphic), and policy knowledge tests and quizzes.
SharePoint HR portal: Policy dashboard
To promote the corporate spirit, increase employee loyalty and engagement, a SharePoint portal can offer:
Media galleries that contain videos and pictures from corporate events.
Communities for employees that can unite people with such interests as sports, music, travelling, charity, etc.
A list of employee benefits like corporate discounts.
A classifieds section for employees who want to sell, buy or exchange items, for example, a car.
News and announcements from social networks due to integration with social media.
Gamification features: giving employees points, gifts or new statuses (for example, Expert) for achievements, announcing challenges and contests (for example, completing a certain amount of projects within 6 months), introducing leaderboards to encourage friendly competition among employees.
SharePoint HR portal: Social and gamification features
Despite its rich functionality to manage HR-related processes, SharePoint has a number of limitations to take into account:
Complex configuration. SharePoint requires significant configuration (metadata, access permissions, etc.) that can be done only by a qualified SharePoint specialist. A company will need to outsource SharePoint configuration or hire a SharePoint consultant.
High overall costs. A SharePoint HR portal can be costly due to mandatory expenses on the license, implementation of a solution by SharePoint professionals and follow-up support of the solution.
User adoption challenges. Such issues as navigation inheritance and hidden breadcrumbs can make SharePoint not intuitive for users. So, not only administrators of an HR portal but also end users will need comprehensive training on SharePoint.
Insufficiency (one size doesn't fit all). To be tailored to a company's needs, a SharePoint HR portal may require customizations (complex non-linear workflows, branding, etc.) or integrations (ERP, an asset management system, e-signature software, calendars, and other tools), which require additional expenses and implementation time.
Why choose an HR portal?
Unlike standalone HR solutions, an HR portal is an operational system that can connect an HR team with all departments dealing with human resources. This makes an HR portal a cost-effective solution that supports consistency of the digital workplace across a company.
A SharePoint-based HR portal can be a good option for companies that already use SharePoint and want to leverage its functionality for automating HR processes. With a SharePoint HR portal, an HR team can track employee requests, manage information, policies, and certification, arrange recruiting and onboarding, conduct training and more. However, a SharePoint HR portal is a sophisticated solution that demands the involvement of skilled SharePoint professionals to ensure its flawless implementation, high user adoption, and effective support.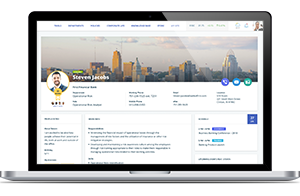 Having delivered custom SharePoint solutions for over 12 years, we build portals to streamline all your HR processes from recruiting to off-boarding.