Digital Transformation in Procurement
A Comprehensive Guide
Since 1989, ScienceSoft helps midsize and large enterprises design and implement custom strategies for smooth digital transformation of procurement.
Key project steps: analysis of the as-is business situation, designing the strategy for digital transformation in procurement, IT infrastructure modernization, upgrading the existing procurement software, developing new procurement solutions, integration, quality assurance, and user training.

Timelines: 12–24 months on average.

Cost: $700K–$3M+, depending on the complexity of a digital procurement transformation project.

Team: a business analyst/a digital transformation consultant, a project manager, a solution architect, a UX/UI designer, a DevOps engineer, a front-end developer, a back-end developer, a data scientist, a QA engineer.
ScienceSoft can design a procurement digitalization strategy, handle the transformation of your procurement processes end to end or implement the optimal solutions to address your specific challenges.
Our ability to maintain sustainable long-term collaboration and bring added value to each digital transformation project has earned us the presence in the prestigious Global Outsourcing 100 listing by IAOP.
You don't have to balance the risks of stockouts against overstocking. Get valuable insights from the historical procurement patterns and real-time supply chain situation to forecast demand with 99% accuracy and precisely plan how much, when, and from whom to buy.
Minimize operational, financial, and reputational risks due to the AI-based selection of the best-performing suppliers. Run e-tenders and e-auctions hassle-free and benefit from 5-45% procurement cost savings due to obtaining the most competitive prices.
Procurement spend management
Harness the power of artificial intelligence to proactively identify saving opportunities and achieve up to a 40% reduction in procurement spending.
Automate 80%+ of purchasing processes – and drive up to a 90% increase in the procurement workflow speed and team productivity.
Supplier relationship management
Introduce the tech-backed collaboration experiences to build a stronger connection with suppliers, eliminate redundant efforts, unlock mutual financial benefits, and mitigate risks for both parties.
Employ sophisticated big data analytics and data visualization techs to get real-time visibility of all essential procurement metrics and intelligent recommendations on the proper steps to optimize procurement performance.
Procurement data management
Embrace the elegance of modern data architectures and the efficiency of an integrated IT ecosystem to eliminate data silos and the need for manual data collection across disparate systems.
Procurement document management
Get centralized, scalable storage for your procurement-related documents to enjoy the convenient information search and navigation and the ease of collaborative document creation and management.
A Roadmap to Digital Transformation in Procurement
ScienceSoft knows that each enterprise has unique procurement processes and needs and tailors the strategies and methods to achieve digital transformation to each client's specifics. However, we understand it's crucial to have a general picture of how your project may look before getting to details, so, for your convenience, we have compiled a sample roadmap.
Consulting on digital transformation in procurement
Creating a detailed procurement digitalization strategy aligned with your ambitious business goals.
Consulting on using advanced techs (AI and ML, cloud, blockchain, etc.).
Designing an optimal architecture, feature set, and tech stack for procurement software.
Preparing a plan of procurement software integrations with the required systems.
Consulting on security and compliance.
Delivering a roadmap for digitalization in procurement, including cost and time estimates and a risk mitigation plan.
Go for consulting
Implementation of digital transformation in procurement
Conceptualizing each digital transformation initiative.
Architecture design for procurement software.
Developing new procurement software and/or modernizing existing procurement tools.
Integrating procurement solutions with the required internal and third-party systems.
Quality assurance of procurement software.
User training.
Support and evolution of procurement software (if required).
Go for implementation
Why transform procurement with ScienceSoft
Since 1989 in IT.
Vast experience in working with large enterprises, including Fortune 500 companies.
Competencies in advanced technologies: AI and ML (since 1989), cloud (since 2012), big data (since 2013), image analysis techs (since 2013), enterprise blockchain (since 2020).
Practical knowledge of 30+ industries, including manufacturing, healthcare, retail and wholesale, public sector.
In-house project management office to lead complex digital transformation projects with distributed teams and multiple vendors involved.
A mature quality management system and customer data security backed up by ISO 9001 and ISO 27001 certifications.
Business Analyst/Digital Transformation Consultant
Analyzes the business background, assesses the IT infrastructure and procurement processes, sets up and prioritizes digital transformation goals, creates a detailed procurement digitalization strategy.
Plans the procurement digitalization project (goals, timeline, budget), prioritizes the scope of work and monitors its execution, coordinates the project team(s), reports the progress to the stakeholders.
Designs the architecture of the procurement IT ecosystem and specific solutions, including integration points with the required internal and third-party systems.
Designs the UX and UI of procurement applications tailored to various user roles.
Configures the IT automation environment (container orchestration, CI/CD pipelines, cloud automation, etc.).
Delivers the UI of procurement software and fixes the defects reported by QA engineers.
Delivers the back end of procurement software (including APIs) and fixes the defects reported by QA engineers.
Designs, trains, and tunes procurement analytics models powered with advanced ML techs, including deep learning.
Creates a test strategy, a test plan, and test cases to perform functional and non-functional testing.
Selected Success Story by ScienceSoft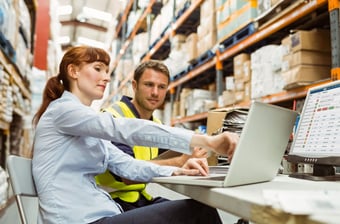 Digital Procurement Transformation for 1,700-Store Retailer
ScienceSoft helped innovate procurement processes for Auchan, the world's 11th largest food retailer that runs 1,700+ hypermarkets and supermarkets across 16 countries in Europe, Asia, and Africa.
Particularly, our team:
Designed and built a comprehensive e-collaboration platform for Auchan's purchasing teams and multi-tier suppliers.
Implemented automation across the core procurement processes.
Developed integration APIs to facilitate the platform's connection to the suppliers' systems.
Delivered convenient role-based UI to streamline the platform adoption.
Advanced Technologies We Use to Digitally Transform Procurement
ScienceSoft helps select the best-fitting cutting-edge technologies for each particular business case to accelerate procurement innovation and boost procurement performance.
Cloud computing
Robotic process automation
Natural language processing
Image analysis
Big data
Machine & deep learning
Artificial intelligence & data science
Blockchain
| | |
| --- | --- |
| | |
| | From ScienceSoft's experience, a digital procurement transformation project for an upper-midsize company may cost $700K–$3M. Large enterprises with complex procurement processes should expect to invest $3M+. |
| | |
Below, we outline the major factors that affect the cost of implementing digital transformation in procurement:
The number and complexity of procurement processes covered by solution/solutions (procurement planning, sourcing, document management, etc.).
Requirements for the modification and evolution of the existing procurement software.
Implementation of advanced techs (AI and ML, big data, blockchain, etc.).
The depth of transformation of the existing IT infrastructure.
The number and complexity of procurement software integrations with the required internal and third-party systems.
The number of user roles for procurement software.
Uniqueness and complexity of UX/UI design of procurement apps.
The complexity of procurement analytics.
Availability, performance, security, latent capacity, and scalability requirements.
Regulatory compliance requirements.
About ScienceSoft

ScienceSoft is a global IT consulting and software development company headquartered in McKinney, Texas. We provide end-to-end digital transformation services to help enterprises drive improvements across their procurement processes with the help of robust procurement software and advanced techs. In our digital transformation projects, we employ mature quality management and data security management systems backed by ISO 9001 and ISO 27001 certifications.

<![endif]--> <![endif]--> <![endif]-->