SharePoint Employee Portal Development for a Telecom Company
Industry
Telecommunications
Technologies
SharePoint, Office 365, React.js
Customer
The Customer is an international telecommunications and media company with $10 billion in assets.
Challenge
The Customer's employee portal was based on a third-party platform. The portal had unattractive design and not user-friendly interface. Also, it didn't support language localization. So, after subscribing to the Office 365 suite, the Customer decided to develop a new employee portal in Office 365.
Solution
ScienceSoft's team developed an employee portal on SharePoint Online according to all requirements of the Customer. The team implemented custom layout of the portal pages' with the help of tiles (web parts) and in line with group permissions. The available tiles included Upcoming Events, Career Opportunities, News Carousel, Top Communities, etc. Some of the tiles were designed to be manually controlled by Community Managers (Upcoming Events) or a Global Community Manager (News Carousel).
ScienceSoft's team also created the Actions button on the portal's home page. This button opens a drop-down menu that allows creating a document, a survey, an event, a community, etc.
Our specialists developed three levels of navigation for the employee portal:
SharePoint navigation panel. As the employee portal was deployed in Office 365, it gives access to all other Office 365 applications. This panel also provides access to user profiles, inbox notifications, and SharePoint settings.
Employee Portal navigation panel. This panel includes such areas as People, Communities, and more. It helps employees to locate and navigate to key spaces or registered users.
Useful Links tile. This tile navigates users directly to key pages of the employee portal.
Our SharePoint specialists also created the three-level system of automated notifications that differed in their purposes and distribution channels:
Low level notifications inform users about the company's activities, for example, upcoming events and are distributed via email.
Medium level notifications inform users about actions they should do or actions that were done in relation to them, for example, a new comment on a blog followed by a user. This kind of notifications is distributed through the employee portal inbox.
High level notifications inform users about mandatory actions, for example, attending compliance training. Such notifications are distributed both through the portal inbox and email.
To improve user adoption, our team also created user manuals intended for two groups of users:
All users. This user manual contains the information about the portal's layout and navigation, content management, notifications, etc.
Community managers. This manual explains how to add tiles to the portal pages, edit visual content, and manage blogs.
Our SharePoint experts provided control over a user's country location through Active Directory. Thus, the intranet can identify users by their country location. Depending on it, the employee portal can display the navigation either in English or in Spanish, as well as the localized content. Besides, users can change the main navigation language manually or via language settings in their user profile. What's more, a built-in translation capability relying on the Bing application functionality was introduced into the employee portal. It can be used for translating blogs, news, comments, etc. The supported languages are English and Spanish.
Results
The Customer got an employee portal deployed in Office 365. The flexibility of the employee portal based on SharePoint Online allows updating news or other information easily and freely adding or changing the tiles according to the Customer's needs. The three-level navigation simplifies moving around the employee portal and Office 365 applications.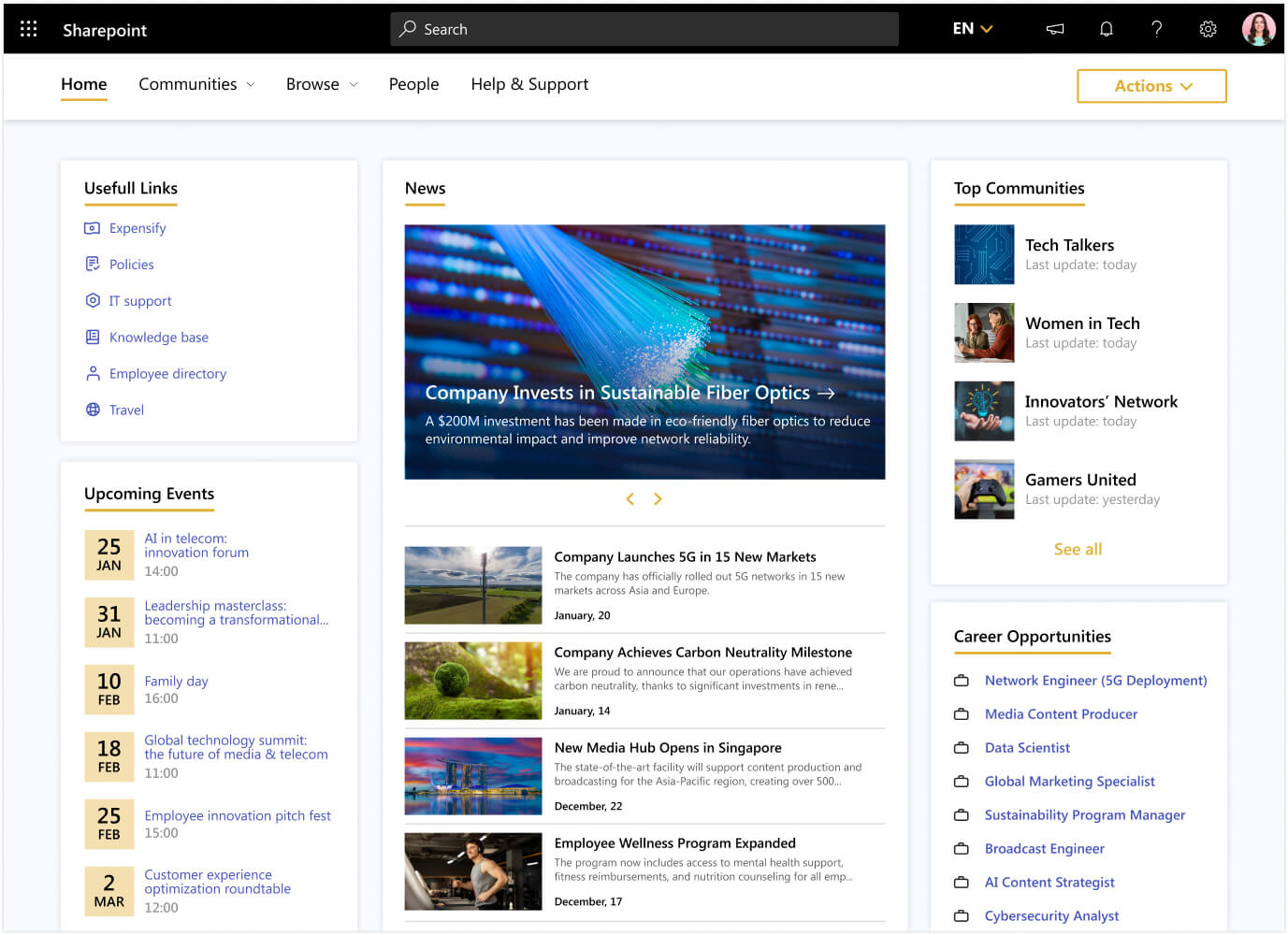 The new employee portal helps to enable effective formal and informal employee communication and collaboration. The portal keeps the Customer's employees updated on the company's policies and latest news and notifies users about all the events and activities related to them.
The employee portal is convenient to use by both English and Spanish speaking employees due to the automatic choice of the language depending on a user's location and the built-in translation capability.
Technologies and Tools
SharePoint Online, SPFx, Azure App Service, Azure Cognitive Services, Azure WebJobs, React JS.

Need help with a similar project?

Drop us a line, and our rep will contact you within 30 minutes to arrange an initial discussion.

<![endif]--> <![endif]--> <![endif]-->