Contract management software provides centralized storage and contract life cycle automation that help to quickly create, approve, retrieve and share contracts and associated documents. For small and medium-sized businesses, it helps to improve business productivity. For example, implementing e-signature can increase an org's productivity by 60%. For large ones, this software helps to reduce time on contract creation, search and finalization, enforce contract execution as well as improve and support regulatory compliance.
Today, many companies, both large and small, choose SharePoint contract management solutions deployed in the cloud as cloud-based contract management software is easy-to-use, mobile-friendly, flexible and scalable.
Let's see whether the SharePoint Online platform can become a good choice for contract management.
Contract management based on SharePoint Online. It can automate a contract's life cycle from creation to finalization just like any specialized contract management software due to such components as:
Contract templates. SharePoint Online allows creating, storing and reusing templates for various contract types, which makes preparing standard contracts like an NDA a matter of a couple of minutes.
Guided creation. In SharePoint, it's possible to partially automate contract creation due to special questionnaires. Answers to contract-related questions trigger adding certain fields and clauses to a contract draft. This helps to maintain legal term consistency and, consequently, improves risk management.
Contract co-authoring. SharePoint Online supports simultaneous creation and modification of a contract by several users. The changes are visible to all the authors due to color marking.
Approval workflow. SharePoint contract management software can automatically route a contract to a group of people (e.g., a sales rep, a lawyer, an accounting manager, a CEO) for approval and notify them after a contract is finalized. By the way, you can see the approval workflow in action in our interactive demo. SharePoint supports creating approval workflows of any complexity and number of stages. The workflows are usually rule-based. For example, a domestic contract can have a simpler approval workflow with fewer participants as compared to a contract with other states.
Contract search. SharePoint Online has a powerful search engine. It provides intelligent search by keywords, metadata or full text and offers ranking and filtering search results. SharePoint also supports searching contracts through many resources such as portals, other document management systems, etc.
Alerts and notifications. A SharePoint contract management system enables users to preschedule automatic alerts and notifications about a contract's status and its milestones, for example, payment or expiration dates. This feature also allows avoiding unwanted automatic renewal, which is quite common for purchasing contracts.
Reporting. SharePoint Online offers real-time or scheduled reports on contract-related user activities, the most frequently accessed contracts, access time, checked-out contracts and workflow status.
E-signature integration. SharePoint contract management software integrates with e-signature tools like DocuSign, which helps to eliminate the need for wet signatures or in-person meetings. Thus, managing a contract's life cycle becomes fully digital with a contract remaining legally binding.
Parent-child hierarchy. This feature allows linking contracts that are in the parent-child relationship, which helps to maintain the consistency of all the contract documents. Thus, any change made to a master contract, for example, of an expiry date, will be automatically made to all subordinate contracts.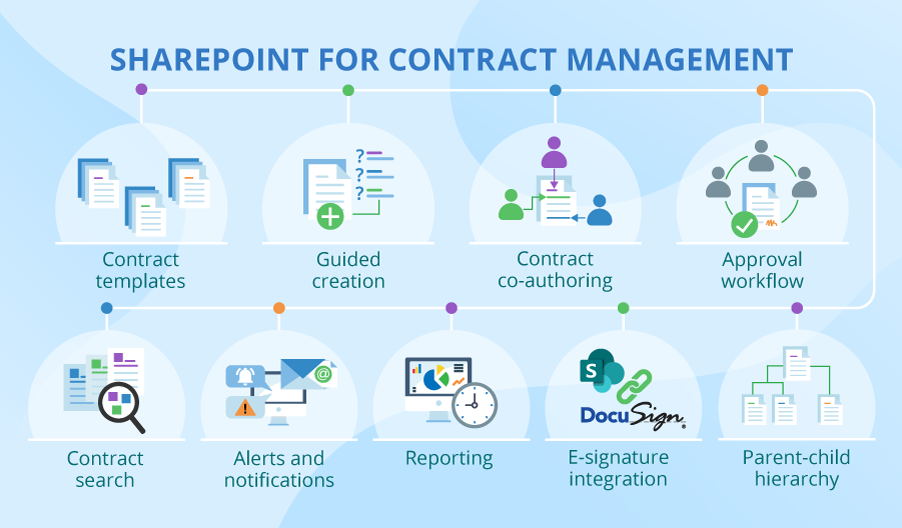 The described extensive functionality of SharePoint contract management software lays the basis for generating the following universal benefits that are relevant for small, mid-size and large companies alike:
Convenience. If a business already uses SharePoint Online for project management or collaboration, choosing contract management software based on the same platform is a logical decision. Thus, businesses can achieve greater cost efficiency than spending on another platform.
User-friendliness. SharePoint Online has an intuitive and easy-to-use interface. It requires minimum training, and there are many training tools and guides provided for users. Consequently, companies can focus on the business itself instead of spending time on mastering new software.
Scalability. SharePoint Online is a scalable platform that can be adjusted to an increasing number of documents.
Integration. SharePoint Online supports out-of-the-box integration with the Office 365 suite. It also integrates with enterprise systems like CRM, ERP, ECM, BI, OCR software and more. For example, in case of integration of SharePoint contract management software with CRM, contracts stored in SharePoint can be opened in CRM, which spares sales reps from switching between the two systems.
Security and compliance. SharePoint Online has an advanced security model. Such features as multifactor authentication, encryption of data at rest and in transit, data loss prevention, automatic anti-malware protection, make a contract management solution based on SharePoint Online suitable for handling sensitive contract information, for example, in healthcare contracts. SharePoint Online also provides a full audit trail showing who viewed, modified, deleted or shared contracts, which facilitates adhering to federal and state compliance regulations like HIPAA, SOX, GLBA, and GDPR.
Affordability. SharePoint Online keeps to a subscription payment model, which allows businesses to plan their expenses. The subscription plans for SharePoint Online range from $5 to $35 user/month (as part of the Office 365 suite) depending on the package, which is affordable even for small businesses. In comparison, Contract Advantage software costs about $100 user/month.
Afterthought
SharePoint Online can help businesses to implement robust contract management due to built-in tools for contract authoring, reviewing and negotiating, first-class security and privacy control, and scalability. The available features make the platform a good choice for businesses of all sizes. Small businesses may consider SharePoint contract management as they are usually looking for inexpensive but effective solutions. Enterprises may appreciate such advantages as strong search and compliance support and integration-friendliness that enables connecting contract management with other enterprise systems and create a common collaboration environment.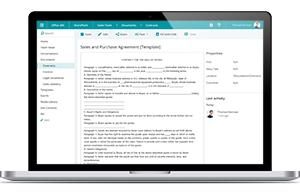 Have problems with tracking a contract's path through your company? With over 100 successful SharePoint projects, we know how to bring full visibility into managing your contracts.