SharePoint-based solutions cover well companies' needs in content management, communication, and collaboration, which makes users often think that SharePoint capabilities are limitless. But although the platform is flexible and has rich customization capabilities, it can't be number one in everything. In other cases, the use of SharePoint remains impractical even after massive customizations as the platform is easily outcompeted by specialized solutions.
In this article, we analyze business applications in terms of SharePoint suitability for building them. We've divided these use cases into three groups: friendly, tentatively friendly and absolutely unfriendly for SharePoint.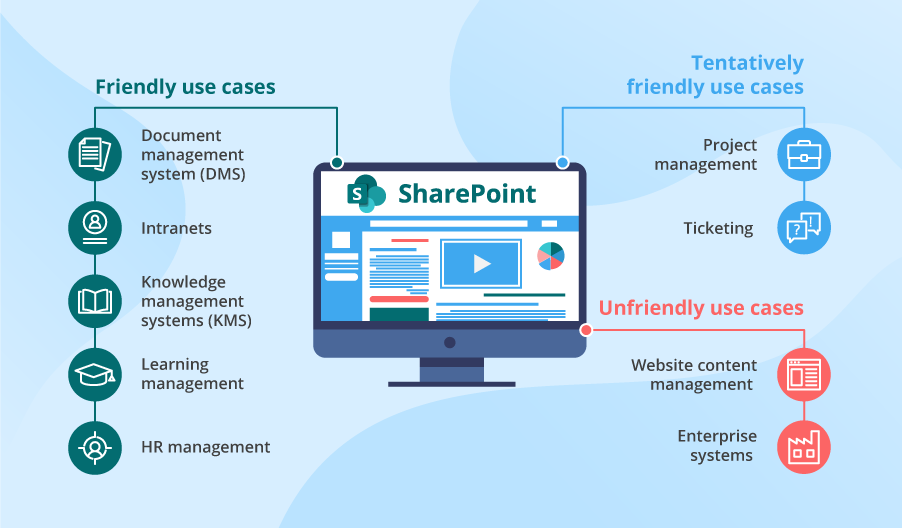 The platform's out-of-the-box functionality is rarely enough to be taken to make efficient solutions. To meet the majority of business needs, SharePoint requires configuration or customization, but not to a great extent. Among such use cases are:
The platform ensures easy creation, secure storage, fast search, and retrieval of any types of documents, including 3D models and files with rare extensions (.odt, .ods, .xlsb, etc.). Such features as enterprise search, real-time collaboration, and automated workflows help businesses increase productivity. Integration with OCR and e-signature software allows the platform to ensure full automation of the document life cycle from scanning a paper document to its signing and archiving. Optionally, SharePoint can be integrated with enterprise systems like CRM and ERP to help an organization maintain business continuity and avoid duplicating documents across the digital environment.
You can have a look at our interactive DMS demo to see the document management capabilities of SharePoint Online in action.
The platform is apt to create appealing, easy-to-use, and effective collaboration solutions with communication and productivity tools, employee profiles, news, and other features. Via team sites, SharePoint provides isolated collaboration spaces for an organization's units. There, they can work on projects, share files and knowledge, schedule meetings, initiate discussions, and more. SharePoint Online intranet functionality can be extended due to integration with Office 365 apps like Teams, Yammer, and others. SharePoint also provides multiple social capabilities for intranets, including gamification components, communities and media galleries, which help increase employee engagement and motivation.
To get a better idea of SharePoint intranet capabilities, check our article with vivid intranet examples and see an intranet guided tour.
SharePoint can be used to create a simple wiki-based knowledge base or a robust knowledge management solution with a well-defined structure where several sites and subsites are devoted to a specific knowledge area. The platform offers advanced search functionality, which enables users to easily find specific content for solving a specific problem. SharePoint allows searching content by a file name, keywords, and metadata as well as rating search results by relevancy. When enriched with AI, the platform can extract text from images and video files, which makes them searchable. In a SharePoint-based KMS, users can not only present or view content via blogs, catalogues, and manuals but also initiate discussions though discussion boards, forums, and commenting.
SharePoint is good for creating, storing, and presenting learning content, including images and videos. It offers mechanisms for knowledge assessment like tests and quizzes as well as surveys that help get feedback from trainees. SharePoint is a popular platform for microtraining as it's suitable for creating bite-sized learning content that people can learn from on the go using their mobile devices.
SharePoint helps automate HR processes and procedures, including recruiting, onboarding, professional training enrolling, introduction to corporate policies, and more. SharePoint facilitates various administrative activities of an HR team, for example, scheduling and approving vacations, approving employment contracts, payroll management, managing shifts, registering sick leaves. Also, SharePoint provides tools for employee performance evaluation, certification and competency analysis.
To build robust SharePoint solutions for the following use cases, you'll need extensive customizations and integrations.
As regards project management, SharePoint has a lot of competitors. But with the platform, you can leverage the Office 365 suite that offers specialized project management tools like Planner, Project Online, and To-Do. And SharePoint itself provides several relevant features:
SharePoint Task Lists.

This tool allows for creating tasks and showing them on a project timeline. It also enables users to manage tasks (for example, assign them) and present them in various views like Gantt charts. Customization will allow bringing several timelines together and enable reporting, which is a must-have feature for large projects.
SharePoint project site.

A project site allows users to communicate, collaborate on documents, post news, and more. It also provides team calendars, a project documentation repository, and task-tracking web parts.
With slight customization, SharePoint allows creating request forms, attaching files and signatures to a ticket, tagging employees, prioritizing tickets, and more. Such functionality is enough for basic ticketing, for example, ordering office supplies. With deep customization, the platform can enable users to merge, group, reassign and forward tickets, automatically generate notifications about new tickets, changes in them, SLA breaches, and more. Regulated industries like healthcare and finance that prioritize data security usually opt for such advanced ticketing features.
This group unites use cases that are too complex for the platform without massive customizations, and specialized solutions still perform much better in these situations.
SharePoint UI is not suitable for making public websites. It's not user-friendly and requires a lot of development work. And although there are successful examples of SharePoint-driven websites, they usually belong to large enterprises with big budgets and extensive internal use of the platform. This use case is so unpopular that Microsoft even terminated the support of SharePoint websites in the cloud. However, the situation may change in the future. Announced this year, SharePoint Home sites follow the logic of public websites. Together with the modern user experience, they can help SharePoint website development come back.
SharePoint lacks relevant functionality to make a successful enterprise system like CRM or ERP. For example, SharePoint can't create relationships between various data (one to one, one to many, and many to many) out of the box, as compared to Microsoft Dynamics 365, which is critical for CRM as well as for ERP. To comply with the requirements for enterprise systems, SharePoint-based solutions need complex, lengthy and costly customization. And it doesn't make sense as there are many specialized cloud-based solutions that are inexpensive and easier to implement. Moreover, highly customized SharePoint solutions require continuous post-deployment tuning and support, which also incurs additional expenses.
Consider SharePoint for Your Business Application?
Before deciding to implement a solution on SharePoint, turn to our experts for a comprehensive consultation. Our team will analyze your business needs, infrastructure, and budget, map them to SharePoint capabilities and conclude whether the platform is the right choice in your particular case.
Get a consultation on SharePoint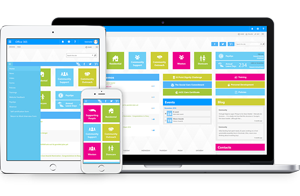 Do you face any SharePoint or Office 365 challenges? We are always ready to help and share our hands-on expertise with you.