When it comes to a platform for smooth employee communication, collaboration and robust content management, SharePoint seems to be a clear leader with 80% of Fortune companies and more than 200 million people using it. SharePoint has numerous advantages like easy integration with other collaboration and productivity tools or extensive customization capabilities (custom document management workflows, web parts, etc.). However, competition has grown in collaboration software, and one can find many SharePoint alternatives that are worth consideration.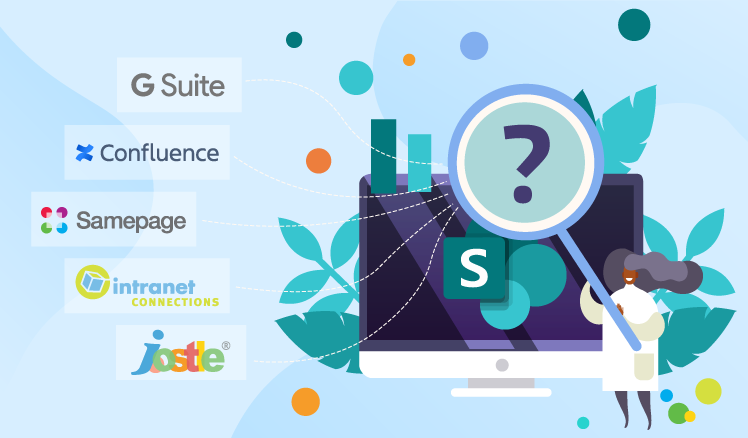 In this article, you can find the most relevant SharePoint competitors we've encountered in our practice. We highlight several platforms and tools that can substitute the popular platform in bringing the powerful digital workplace to companies. We focus on software that is as close as possible in functionality to SharePoint. Thus, we don't consider such communication and project management solutions as Slack or Trello, as their functionality only partially overlaps with SharePoint.
Companies that already use SharePoint, for example, for document management often opt for SharePoint to cover other needs like collaboration (e.g., an intranet), which is a feasible choice as it helps them to reduce costs on third-party solutions. Besides, the system is already familiar to users, which facilitates user adoption. Those, however, who don't have a SharePoint subscription, often refrain from purchasing the license due to the following disadvantages of the platform:
High total cost of a solution. Although subscription plans for SharePoint Online start at $5, the total cost of a SharePoint solution includes expenses on implementation, data migration, integrations, customizations, which can be quite expensive. The cost of collaboration solutions like intranets may often exceed $200,000. This is often the case with the on-premises deployment as companies need to significantly invest in the IT infrastructure.
High maintenance costs. Maintenance and support of a SharePoint solution can be expensive, as it requires qualified SharePoint specialists. It can be achieved through profound training, hiring SharePoint experts or IT outsourcing.
Feature overload and complexity. SharePoint has many built-in capabilities that provide the potential for building various solutions on its basis: document management, learning management, project management, policy management, ticket management systems and more. But if a company is not going to use many of them, a SharePoint solution can become messy. For example, document management features (storage, retention and deletion, capture, metadata, search and more) are of top priority for a law firm, while social features like blogs and communities are excessive and useless for it. Unneeded features can clutter up on SharePoint pages and make navigation and search not user-friendly.
SharePoint alternatives
If you think that SharePoint is too expensive and complex for you, have a look at our list of SharePoint competitors. The list describes the pros and cons, pricing considerations and potential use cases of popular SharePoint alternatives.
G Suite is a web-based platform that includes numerous collaboration and productivity apps. The core feature of G Suite is the email service (Gmail) but the platform also offers the following capabilities: document storage (Google Drive), process automation (Google Forms and Sheets), team collaboration (Google Sites), communication and messaging (Hangouts), and other tools.
Cost: G Suite offers the following subscription plans: Basic ($6 user/month), Business ($12 user/month), and Enterprise ($25 user/month).
Pros: G Suite enables real-time commenting, unlimited document versions and unlimited storage (Business and Enterprise editions). It also offers such advanced features as eDiscovery (identifying and capturing electronic information to utilize as evidence in legal cases) and email archiving. The mobile device management feature offers high information security as it allows remotely locating mobile devices and erasing its data in case of a device's loss or theft.
Cons: Importing data and documents from external sources like CRM can be slow.
Suitable for: Companies of all sizes, regulated industries.
Confluence is collaboration software that supports creating, sharing and editing various types of information: notes, images, project plans, multimedia attachments, and more. Its main features include document and project management, workflows, shared calendars, and real-time commenting on documents.
Cost: Businesses that have up to 10 users pay for the cloud deployment a flat monthly fee of $10. For the first 100 employees, the price is $5 user/month, for the next 150 users - $3.50 user/month and for each additional user over 250 users - $1.10 user/month. The on-premises deployment offers two payment options. For example, an organization with 500 users can make a one-time payment of $19,300 for Server or pay $12,000 annually for Data Center.
Pros: Confluence is easy to set up and has intuitive UI/UX. It has many pre-made templates (images, tables, grids, etc.). It integrates with other Atlassian products (JIRA, HipChat) and third-party collaboration software like Slack. Confluence supports advanced search features, for example, custom search filters like Creator or Date Range that can be configured by any user. The platform's REST APIs offer rich customization and automation possibilities.
Cons: The main disadvantage of Confluence is its high cost. Also, many common add-ons like team calendars are costly and not included in the main package. Besides, there are big price gaps between different plans, so if you hit the threshold of the number of licenses, the price can immediately jump from $500 to $1,000.
Suitable for: Enterprises that have enough budget to afford Confluence together with add-ons, customizations and user support. Also, the pricing model makes Confluence quite affordable for very small teams.
Samepage is collaboration software that helps teams co-author documents, share files, manage tasks and calendars, workflows, draw diagrams, edit spreadsheets and more. Its group chat and video calling capabilities allow users to see the team, conversations and content they are working on together in the same collaboration space. Samepage can integrate with customer support (Salesforce Service Cloud), file storage (Google Drive), process automation (Zapier) and other tools to let users easily access all relevant information in one place.
Cost: The Pro edition costs $8 user/month (billed annually) or $9 user/month (billed monthly). The price of the more advanced Enterprise edition is not publicly disclosed.
Pros: Creating an account and starting Samepage use is easy enough even for non-technical people. The interface is very simple, and all communication is literally on the same page. So, there's no need to learn its navigation, which cuts the learning curve.
Cons: Samepage can get inconvenient to use because of feature overload on one page. It offers only 3 very generic page templates. And while Samepage features version control, it doesn't allow rolling back to a previous version of a page easily.
Suitable for: Companies and teams of any size.
Intranet Connections is intranet software designed to help organizations streamline communication and collaboration, manage policies and documents, e-forms and workflows, information sharing, e-learning and onboarding, and more.
Cost: The pricing model is quote-based and depends on a required feature set, customizations and other factors.
Pros: Intranet Connections requires a one-time licensing fee, which is more convenient as compared to the subscription model as it allows planning the budget. Besides, it allows adding as many users as you want without extra charges.
Cons: Intranet Connections is overloaded with built-in features that are not helpful to users and can distract them, so it still requires customization.
Suitable for: Organizations of any size and in any industry, including regulated ones with strict compliance requirements.
Jostle is a cloud-based collaboration and social networking solution that helps businesses share information and align teams. It is a full-fledged intranet that provides business and social features with an emphasis on employee engagement and recognition.
Cost: The price scales as the number of users grows. In a company of up to 50 employees, the Essentials edition is $7 user/month and the Complete edition is $10 user/month. And in a company of 1,000 users, the plans will cost about $2 and $4 user/month accordingly.
Pros: Jostle allows sharing a company's news and videos. It is also available as a mobile app.
Cons: The solution doesn't allow customization. File libraries are not easy to navigate.
Suitable for: Jostle can be used for companies from 20 to 10,000+ employees.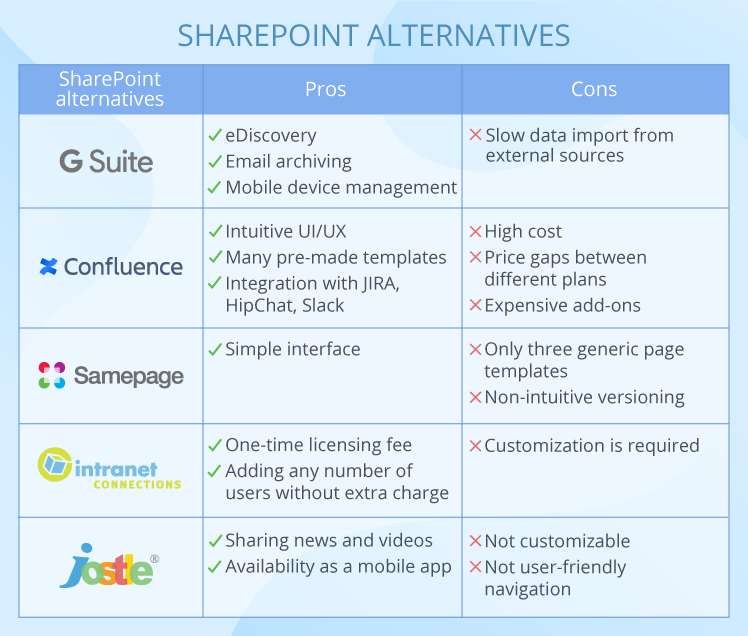 On a final note
Although SharePoint is a very popular platform for building digital workplaces, there is a number of similar collaboration solutions on the market. The choice will depend on the cost, the number of users, the required functionality, including integrations and customizations, and other factors.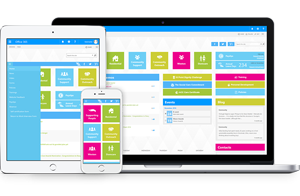 Do you face any SharePoint or Office 365 challenges? We are always ready to help and share our hands-on expertise with you.