Editor's note: Sales Cloud consultants help customers increase sales rates, speed up long sales cycles and solve the like sales challenges with Salesforce CRM. If you face similar issues, you can turn to ScienceSoft's Salesforce consultants to make your Salesforce CRM a valued helper for your sales team. And in the article below, we show what it takes to have your own certified Sales Cloud consultant in the team.
Sales Cloud is one of the leading CRMs on the market, which keeps growing its popularity and customer base. Consequently, there grows the need for certified Sales Cloud consultants able to address customers' business issues with CRM's functionality. In this article, we show how Salesforce administrators and developers can get certified as Sales Cloud professionals and how it helps both employees and the companies they work for.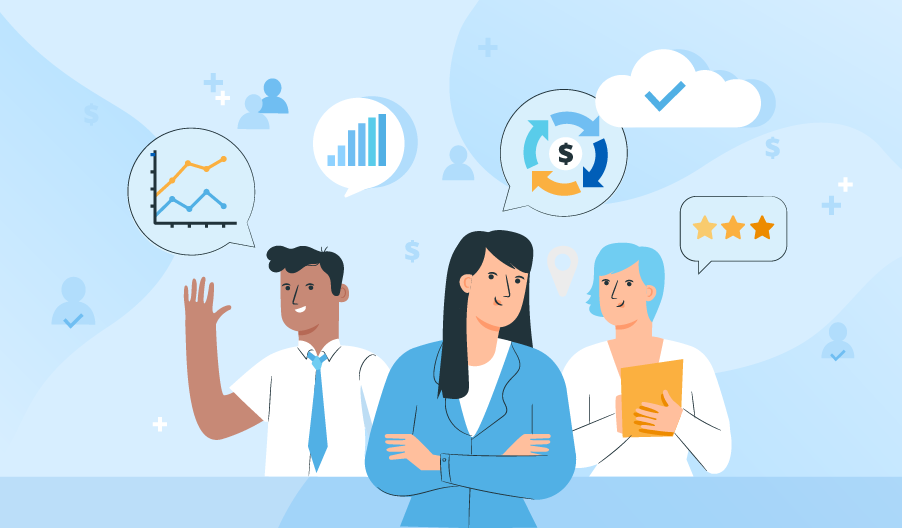 What Sales Cloud certifications exist?
Currently, there is one Sales Cloud-focused certification for consultants. Although there are other Salesforce experts that can work with Sales Cloud (e.g., administrators, developers, and architects), Salesforce certifications for these job roles aren't bound to Sales Cloud specifically. Still, obtaining a Salesforce administrator's credential is a prerequisite for getting certified as a Sales Cloud consultant.
Is getting the Sales Cloud certification difficult?
To get certified as a Sales Cloud consultant, an applicant needs to complete the Sales Cloud Consultant practice exam. It consists of 60 multiple-choice exam questions and 5 unscored exam questions to answer in 105 minutes either in a testing center or in the online proctored environment. The passing score is 62%. The exam verifies the applicant's capability of planning Sales Cloud implementation with a view to KPIs. Other tested skills include determining an appropriate solution design according to a customer's requirements, identifying key features for better sales productivity, etc.
Those who have passed the exam and share their stories on the internet, name the exam "challenging" and "the most difficult out of other Salesforce certs". People who shared their thoughts online blamed the exam on the "abstract and non-specific questions" and the need to pick the option, which is considered Salesforce best practice or requires fewer resources to implement out of multiple technically correct answers.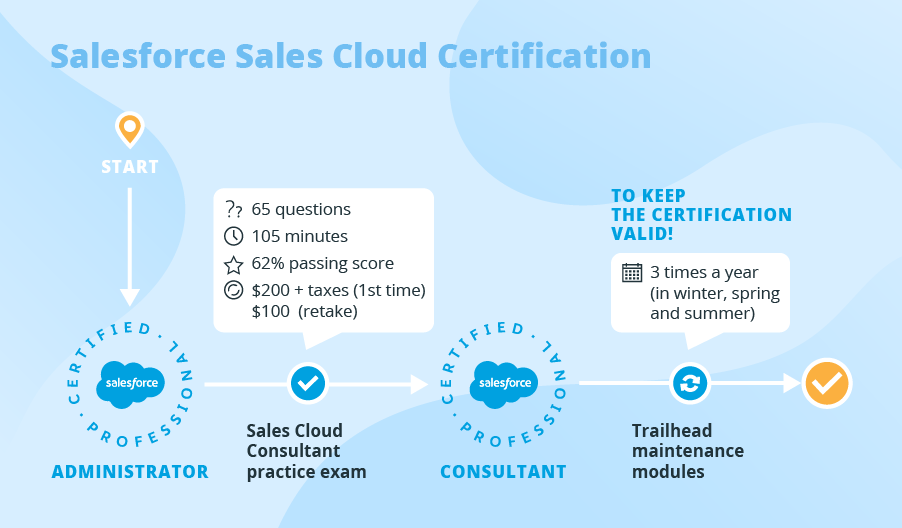 How much does the Sales Cloud certification cost?
The cost of the Sales Cloud consultant certification is $200 for the first attempt and $100 for the retake. Within one release, the certification's owner has 3 chances to take the same certification exam (the first attempt and two retakes). In addition to the cost of the certification itself, it may also be necessary to pay applicable taxes. The taxes are charged depending on the country the applicant selects in their profile while registering for the exam.
How long is the Sales Cloud certification valid?
Since Salesforce releases system updates three times a year (in winter, spring and summer), the Salesforce Sales Cloud consultant certification is valid up to the next release. To keep the certification valid, its owner should update it by passing Trailhead maintenance modules. According to Salesforce, the release module correspondent to the Sales Cloud consultant's job role is the Administrator Certification Maintenance module.
What happens if the Sales Cloud certification expires?
The Sales Cloud consultant certification goes outdated, if its owner hasn't completed maintenance modules on Trailhead by the required date. Generally, certification owners have a few months after the release date to complete the maintenance modules. If the certification owner fails to complete the maintenance module in time, they will lose their Sales Cloud consultant credentials and have to retake all the necessary exams to regain them. For the Sales Cloud consultant's job role, they will be Salesforce Administrator and Sales Cloud Consultant exams.
What are the benefits of having the Sales Cloud certification?
For IT service companies, having certified Sales Cloud consultants on board means serving their customers' needs better as they can deliver Sales Cloud services with a customer's business and industry specifics taken into complete account. A certified consultant becomes a person that brings exceptional value to customers, ensures efficient CRM use and provides timely guidance on the CRM's ongoing evolution. Finally, a certain number of certified consultant-level Salesforce experts in an IT service company is a necessary condition for gaining a particular Partnership Value Score and being assigned one of the partner tiers. For example, for getting a Registered Salesforce Partner tier, a company should have at least 2 certified consultant-level employees. The benefits an IT company gets from the Registered partner tier include free online training from Salesforce, 15%-discount on instructor-led Salesforce training, 2 consulting certification exam vouchers, and more.
As for employees, the Sales Cloud consultant certification brings more job offers, accelerates career growth, and guarantees a substantial pay rise.
What certification programs do Salesforce's competitors have?
By comparison, Microsoft Dynamics 365 CRM offers basic-level and advanced-level certifications. Candidates must have 2 years of prior working experience with Microsoft Dynamics 365 products to apply for advanced certification. There is an opportunity to leverage free online learning resources as well as organize an instructor-led training course for deeper knowledge and higher involvement into the learning process. You can check the full Dynamics 365 certification list and grab more details if you are interested to get Microsoft Dynamics 365 certification.
Make the most of Sales Cloud consultants' help!
Quality Sales Cloud services that address your specific business are a cornerstone of successful Sales Cloud use. ScienceSoft's Salesforce team is ready to provide full-cycle Sales Cloud services, including:
Consulting

Implementation

Migration

Customization

Integration

Support and evolution
To learn more about our Sales Cloud service offering, click the button below.
Check Our Sales Cloud Services' Scope
Do you need to get an expert opinion on your Salesforce solution? Our consultants will analyze your current Salesforce capabilities and offer an optimal solution to meet your business needs.