Headlines all over the Internet talk about miracle tactics to skyrocket online sales or offer killer ways to stand out from the competitors. Indeed, armed with the heavy artillery of discounts and special offers, merchants can see an instant surge in activity on their ecommerce websites. But choosing a seemingly short way to success, they risk seeing sales going up during promotions and falling down in between. To engage soft-sell marketing, they need to pay attention to a powerful, though time-consuming, tool – high-quality content. With this in mind, merchants might start with exploring the Content Management System (CMS) component of the ecommerce platform they use.
Knowing that Magento is one of the leaders among ecommerce platforms and relying on our Magento consulting experience, we take on the task to cover the topic of Magento CMS capabilities from A to Z. Let's start with the question that appears to be confusing for retailers.
Is Magento a CMS system, after all?
To answer correctly, we need to get clear on what a CMS system is. The primary purpose of such a system is creating and publishing digital content (text, images, video, audio and more). When thinking of a typical online shopping journey, you easily recall pages with product descriptions or a press release page with company news and announcements – this is exactly the web content we are talking about. Though it proves that Magento does employ content management, this aspect is only one facet of the available functionality. Designed first and foremost to serve ecommerce needs, Magento has its signature power in running several front ends from the same back end, managing product catalogs and customer information, processing orders and setting ecommerce promotions to name a few core functions. Understandably, seeing Magento as ecommerce, rather than only CMS, software gives a more comprehensive picture of its use case.
Content management in ecommerce: expectations…
Effective content marketing contributes to brand building, engages customers and helps earning their interest and trust. It is a fact that both B2B and B2C companies already rely heavily on content marketing to reach out to customers. But while content strategies of online retailers may vary, their requirements to content management functionality boil down to two key aspects: a page builder and available content formats. Let us explain.
As a rule, an effective content strategy implies more than giving customers standard ecommerce information about products, prices or delivery terms. Increasingly, retailers target at diversifying shopping experience by providing additional value – they use information to educate, inform or inspire. For that, they need far more than creativity – they need a technical solution to translate their ideas into blogs, lookbooks, customer stories and any other content formats they choose. Besides, retailers are not UI designers or programmers – they want an easy way to build new pages without compromising on their look.
… And the Magento reality
When talking about the CMS component of Magento, we need to build our story in 'before-after' style. The matter is that the Magento team bets big on providing a robust default functionality and delivers some important improvements to content management in the version Magento Commerce 2.3 (the latest one at the time of publishing the article).
Before Magento Commerce 2.3
What retailers have out of the box
Though providing Magento services for quite a time and advocating this powerful ecommerce platform, we can't but admit that historically, its CMS functionality lagged behind. Judge for yourself:
Magento limits content formats to fundamental ecommerce pages (like catalog and product details) and core default pages (Home, About Us, Customer Service, Privacy Policy, 404 Not Found, Enable Cookies and Service Unavailable).
With the interface similar to Microsoft Word, the default WYSIWYG editor suffices for creating simple information pages. Whenever retailers want to stand out with a complex layout and an eye-catching design, the proficiency of HTML and CSS comes to the fore. Because of the special expertise required, many Magento admins struggle to develop engaging content.
The name of WYSIWYG editor might be misleading as retailers expect the content they enter to look the same in a web store. In practice, it doesn't work this way. For example, when adding a widget with a product list, they see only product links in the editor and an actual result on a published page.
Limitation
All-in-all, earlier Magento versions lack efficient content management. They surely cover basic needs but fail to deliver a convenient page editor and diverse content types. Luckily, marrying strong ecommerce and CMS components is achievable for Magento-based businesses.
Overcoming the limitation
Retailers have several ways to go for more effective content management. Guided by their current needs and available budget, they can decide upon an optimal one.
Magento application upgrade to the latest version is the shortcut to better content management. Generally speaking, Magento progresses with each new release to help retailers deliver on consumer expectations and manage their business effectively. Not only improved content management but security and performance advances, functional fixes and introduction of new features are the reasons to keep pace with releases and upgrade regularly.
In their corporate IT infrastructure, companies may have two separate systems delivering ecommerce and content management functionality. Given that the first one is Magento, the second one should be full-fledged CMS software allowing for effective page editing. Having a Magento-Pimcore integration project in our portfolio, we have seen firsthand the idea in action.
Having chosen Magento once, retailers must already know where to go to find extra functionality for their web stores – the Magento Marketplace. For example, when looking for CMS solutions, we have found DragDropr Visual Content Editor as an alternative to Magento native page editor and Advanced Content Manager as a solution for diverse content types.
After Magento Commerce 2.3 release
What retailers have out of the box
In preparing for the next system upgrade, the Magento team has addressed retailers' concerns and improved so far one CMS aspect. We believe this is only the start, though.
A convenient drag-and-drop page builder succeeds the WYSIWYG editor. In truth, the page builder capabilities had long been outlined in the Magento roadmap. To accelerate the roadmap delivery, the team acquired the technology behind Bluefoot CMS & Page Builder plugin and added it to the Magento Commerce 2.3 release. On the plus side, working with a new editor doesn't require technical skills – content managers choose a page layout and build a page by dragging content blocks (like headings, banners, media), filling them in with information and arranging them on a page. They can easily switch between editing and previewing to ultimately achieve the desired page look and feel. A drag-and-drop page builder gives ecommerce teams freedom to focus on creative vision, rather than some kind of programming expertise, when employing a content manager. There is also work for Magento developers as the Bluefoot editor comes with unencrypted code making it possible for developers to extend its functionality.
In terms of content formats, Magento Commerce 2.3 remains the same: standard ecommerce pages come by default, others are available as custom solutions.
Limitation
The license cost of Magento Commerce Edition starts at $22K and goes up to $125K as a company's sales gross revenue grows. Ecommerce companies with smaller revenue may naturally find both the price and functionality excessive. So, Magento Commerce is a go-to choice for medium-to-large businesses.
In terms of CMS functionality of the current Magento Commerce version, a single inconvenience stands between ecommerce companies and effective content management – inability to create diverse content types.
Overcoming the limitation
Retailers can avoid complex solutions like integrating Magento with a full-fledged CMS system and opt for a cost-effective one – installing a relevant plugin. Depending on how diverse they expect their content to be, retailers can either go for an all-in-one plugin offering to create diverse content types, or decide upon specific functionality they lack (for example, a blog only) and choose a relevant solution.
What about content management in alternative ecommerce platforms?
It's hard to understand if Magento offers little or much in terms of CMS capabilities without analyzing the alternatives. Our analysis is based on a company size. We don't aim to give a detailed description of content management functionality in other ecommerce platforms, rather to catch some peculiarities.
We have thought of SAP Hybris Commerce for medium-to-large companies. Its content management module, SmartEdit, employs a drag-and-drop principal for creating pages. Along with a convenient page builder, it offers a strong competitive advantage – content personalization capabilities. Users can create customer segment rules and target content accordingly within the editing tool. Let's say a company has a loyalty program and wants to launch discount campaigns for different loyalty levels – bronze, silver and gold. With SmartEdit, they can show a relevant promotional banner on the home page to each of these customer segments. The preview option makes it possible to see the resulting page from the perspective of different customer groups.
Unfortunately, general information concerning the solution cost is unavailable as the company offers a quote-based licensing plan where the final price depends on the outlined business requirements like system complexity, development model, integration points and on.
Largely, small-to-medium companies start with Shopify. In general, its page management functionality is analogous to that of Magento in versions prior to 2.3 – pages are created in the WYSIWYG editor. That is no doubt inconvenient for users, especially if they have tried an alternative way of building a page from content blocks. But here comes good news – Shopify does a really good job by offering a built-in blogging engine so that retailers can start a blog without any customizations or third-party integrations.
Shopify offers three pricing plans. Starting and managing a Shopify-based online store will cost retailers $29, $79 or $299 per month depending on the functionality and number of user accounts provided.
Time to draw conclusions
An excellent soft-sell tactic, high-quality and diverse content is even more important now that ecommerce businesses focus on the overall buying experience rather than on the selling aspect alone. Understanding this, merchants look for the most convenient ways to create content-rich websites. The CMS capabilities of an ecommerce platform set the tone here.
Talking about Magento, we must admit that Magento Commerce 2.3 turned out to be a game changer in terms of its CMS functionality. Whilst the former WYSIWYG editor called for programming skills and substantial time to create and edit pages, the new drag-and-drop page builder allows achieving the intended result much faster and with less effort. The only issue to address is adding custom content formats to a web store. But it's for a reason that Magento is praised for its extension ecosystem – retailers can find ready solutions to their CMS needs there.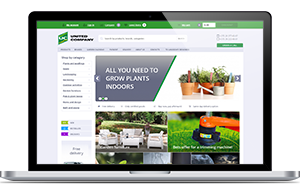 From strategy development to auditing an online store, we look forward to consulting you on each step of Magento development to bring you to the top.