Internal Collaboration Portal Development
Industry
Information Technology
Customer
ScienceSoft Inc. is an international IT company, an expert in design, development and delivery of custom software solutions, IT consulting and IT outsourcing services.
ScienceSoft has the status of an Oracle Partner and the status of a Nokia Qt Recognized Partner, it has attained a number of Microsoft competences. The Company has been an IBM PartnerWorld member since 2010.
The global client base exceeds one hundred companies, from small businesses to Fortune 500 multinationals in 30+ countries.
Challenge
The Company needed an innovative integration solution that could resolve some recently faced obstacles, such as: low integration between departments, lack of communication within the project teams, absence of corporate knowledgebase and etc.
The main reason of this need was peculiarity of modern IT business that requires a company to be pro-active and constantly search for more effective and innovative solutions. Therefore, it is crucially important to provide quicker responses and decisions, collaborate closely with customer and deliver high quality solutions
Solution
The modern flexible platform MOSS (Microsoft Office SharePoint Server) was chosen to integrate all company's business processes into one enterprise portal. The portal was named BOSS (Business Operation System of ScienceSoft) and it was widely promoted inside the company.
For each project there was a workspace organized within the BOSS. These workspaces integrated all project activities. In order to support most important business processes (RFP processing, hiring and training of new specialists, various reporting, etc.) the workflows were created within the BOSS. All these components provided correlation and accessibility of information between departments. In other words, top management, marketing or sales personnel can easily and quickly find required reports, plans at different projects with predefined access to required information. Domain security settings ensured controlled access to private information at projects.
In order to organize corporate knowledge base Library, wiki and blogs were created at BOSS. The other administration systems issues such as time tracking, corporate news and technical support help desk were integrated into BOSS as well.
Results
After implementation of BOSS the Company has got impressive results: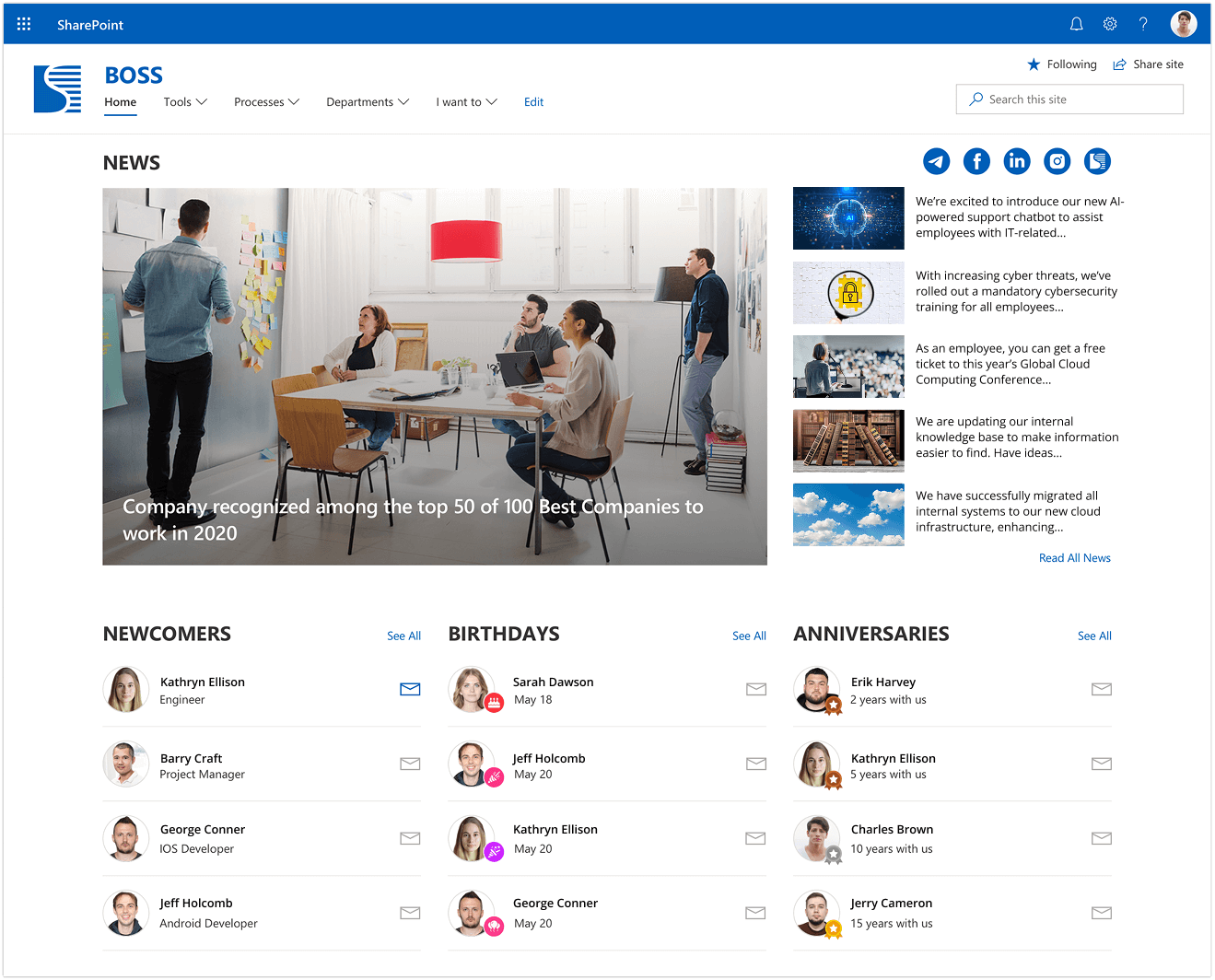 the important business processes went faster
quality of delivered services has risen
the annual ISO 9001:2000 audit was performed fast and easy because of optimized document storage and process management
corporate standards, processes, procedures, templates and style were integrated at all corporate levels.
Need help with a similar project?

Drop us a line, and our rep will contact you within 30 minutes to arrange an initial discussion.

<![endif]--> <![endif]--> <![endif]-->