Development of Software for Online Bond Portfolio Management
Customer
An information agency that specializes in financial markets. The agency operates in the following areas of business: maintaining and developing information websites, holding thematic conferences and financial markets exhibitions, running publishing activities.
For over 10 years the Customer has been providing market professionals with such information as bond databases, quotes, indices, market news, comments and research results.
Challenge
The Customer has an information web service for financial and investment professionals from diverse companies investing in bonds. All these companies have a bond portfolio that has to be managed to get valuable data. For portfolio management the companies used diverse tools with a low level of automation, which resulted in higher risks, less visibility, lost opportunities and time-consuming processes.
To streamline and automate the portfolio management process the Customer decided to create a service for investors for tracking the latest information on their bond and Eurobond portfolios.
Solution
ScienceSoft together with the Customer's team created a fully integrated tool for bond portfolio management that helps investors:
organize the process of buying bonds/Eurobonds
get the information about the current portfolio condition
build statistical reports
To start buying, investors can view and specify instrument quotes on selected trade floors, issue parameters, key values (yields and their changes, duration, ACI, etc.), country, industry and sector, bond currency.
With the help of the created tool investors get access to a rich information base. Reports display the following company information: full portfolio cost as a sum and a progress history over different time periods; the distribution of investments in securities by country, sector, branch, emitents, repayment and lombard; a report on the past purchases, purchase history with detailed information about operations.
The portfolio management web service was created as a database of bonds that are available for purchase. Companies can find plenty of information about offerings, including yield effect and duration. They are also alerted when the yield level of available bonds reaches a high point.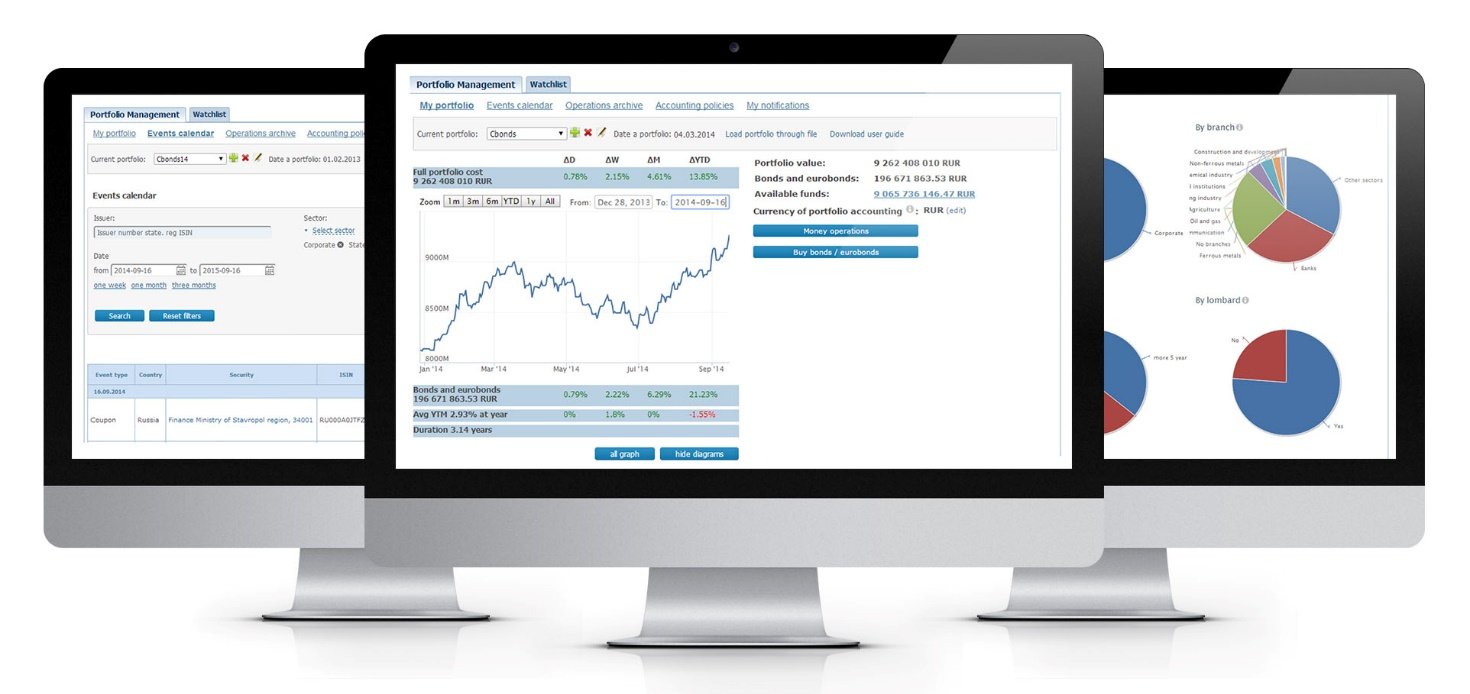 In addition, there is an events calendar where companies can find a database with further securities events and additional info about it. An operations archive, that is also available, collects all the performed actions that can be filtered by diverse parameters.
Results
ScienceSoft created a web-based tool for financial information provider that is fully integrated into the existing web service. With such a tool the Customer offers financial and investment professionals an automated service for tracking their activities with bonds as well as acquiring reports for successful operating on financial markets.
With the bond management tool the Customer expands functionality of its informational web service and makes it more convenient for users thus increasing their satisfaction level.
Now the bond portfolio management service is in the demo-testing stage with a limited amount of users to ensure that everything operates at the highest level.
The Customer was fully satisfied with ScienceSoft's custom web app development services.
Technologies and Tools
Zend Framework, MySQL, Ajax, PHP 5, jQuery, Memcache, Highcharts

Need help with a similar project?

Drop us a line, and our rep will contact you within 30 minutes to arrange an initial discussion.

<![endif]--> <![endif]--> <![endif]-->