Editor's note: Poor UX efforts often result in poor customer acquisition and retention. An ardent supporter of user advocacy, Anastasia explains how this practice easily justifies your investments. For even more details about user advocacy, don't hesitate to check out our UX services offer.
When performing business analysis for cases of customers who come to ScienceSoft after their product's flop, our team often realizes that their reasons for failure are closely connected to user experience. Wrong targeting, insufficient user testing, solving a non-existent user problem or not solving the users' problem at all – these premises for commercial failure could have been avoided with UX processes established from the start.
After they learn the reason, customers often ask: how to make sure my UX efforts are good enough? How to know my time and money investments will be justified? How to gain real and valuable user insights that I can put my trust in? Below, I will address these questions and will hopefully help you find the answers.
First, let's look at the three most popular options of improving a product's UX.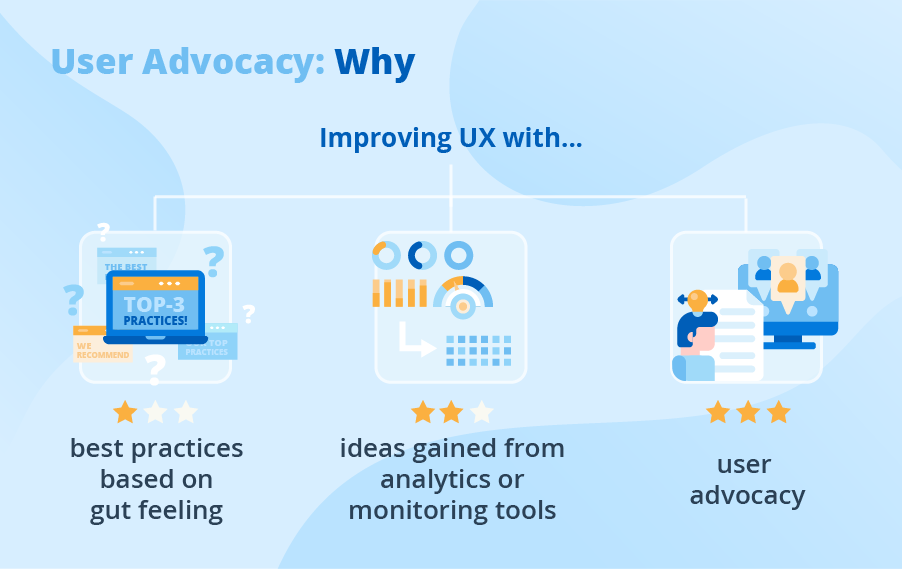 The cheapest and the easiest way to try and upgrade your user experience is to find generalized UX tips and best practices online and then implement those that you think would satisfy your users without adjusting them to your market and product specifics.
In over 10 years of UX design practice, ScienceSoft's experts have never seen this approach bring stable and effective results. Wild guesses can point you at the right as well as a completely wrong direction and they will hardly let you understand the important intricacies of user-software interaction that good UX is always based on.
By opting in for web analytics tools or application performance monitoring features, you can collect session time data, user actions, as well as errors that your users encounter. This is valuable information about how your users interact with your software, but you still need to decipher this information before you can understand what exactly frustrates your leaving customers and how you should fix it.
Deciphering is, yet again, mostly about your guesses and assumptions. When our customers tried to adopt this approach before turning to us, they failed because even though the data they gained allowed them to focus on a specific feature, they were still just experimenting with the improvement attempts. In short, without professional help this option may drain your budget but won't necessarily give you the improvements you want.
At last, the option ScienceSoft always suggests to our customers. User advocacy implies close-knit cooperation with real users of your software, which allows receiving real and clearly-defined feedback. This feedback is carefully analyzed, verified with different test groups, and then reshaped into personas and scenarios that lay the basis for detailed user journey maps.
Only by using these maps a designer can create wireframes that, in the end, truly answer all the needs and interests of the user base. At ScienceSoft, we apply this practice to both from-scratch projects (like in this UX design based on full 15 personas) and redesign cases (like in this in-depth UX audit of an existing web solution) and always get positive results.
Having been practicing user advocacy for 10 years now, ScienceSoft is strongly convinced of its effectiveness. However, sometimes clients, who aren't sure about investing in professional and comprehensive UX design and bring up the challenges they see in this approach.
Here, I'd like to openly address the three most popular challenges that confuse clients and explain why you shouldn't worry about them.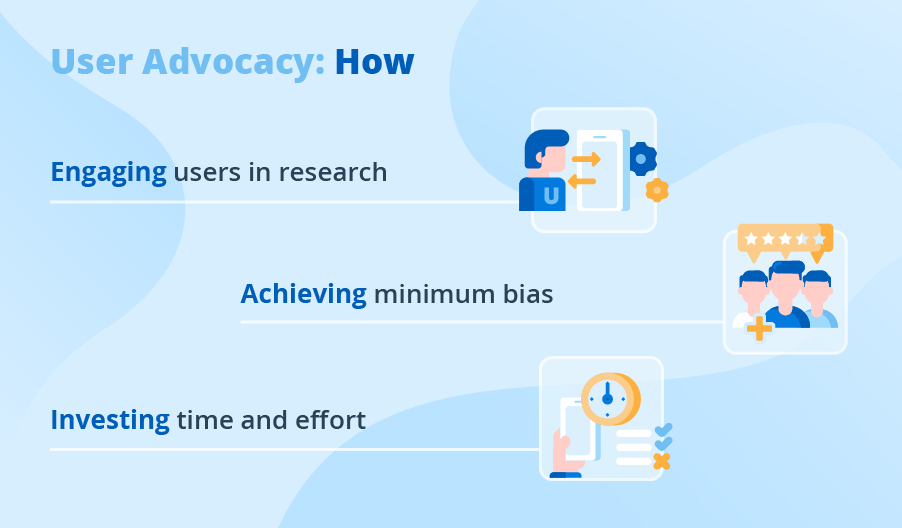 Dreading the perspective of searching for the participants of a UX research, some of the companies ScienceSoft works with think it might be better to substitute the users with QA specialists. As we always try to explain it, testing specialists and actual users have different intents and mindsets: the former have to test the product, the latter need to use it. Simulating the users' genuine personal necessity to solve a meaningful problem is next to impossible.
It's not impossible, however, to motivate a number of users to participate in your UX testing sessions. Depending on whether your product is already out there or is only scheduled for release, it's good to offer either discounts for using your product, or give out a few weeks of free trial/premium version to those, who agree to provide their feedback. ScienceSoft's team often takes advantage of the 'Landing page' strategy to help you get the feedback on your product before writing even a single line of code for it.
Many product companies see the advantages of user advocacy but don't have UX specialists on board and doubt that their development team will be able to stay unbiased while practicing the approach. Although some companies are able to maintain an unbiased, user-focused vision, many ended up mixing in their personal view on the product at one point or another.
There are two alternatives here: bring in the people outside of the product project for an objective assessment or rely on external user experience teams. The first option is seemingly cheap and helpful but may be troublesome if your company has only a few extremely busy teams, as by cross-involving participants of different projects, you may fall behind your release schedules and eventually lose a lot of money. Hiring external UX teams requires a budget per se, but secures your schedules. Naturally, the quality of professional UX services is higher, too.
User advocacy implies a great scope of tasks: feedback collection (often with multiple sessions and rounds), data analysis, persona and scenario creation. These tasks will sure require more effort than the first two options requiring guesswork. Still, unlike those two options, every design effort with the user advocacy intent is backed up by clearly-defined user input and is aimed at producing the result that would truly resonate with the audience.
In other words, your investment with user advocacy is larger, but so are your chances of making a product that will satisfy your users.
Besides, ScienceSoft had clients who spent 10-15 months on trial-and-error methods before they turned to user advocacy and uncovered the real reasons for user abandonment in a single month. So, even if you think you choose less time-consuming approaches now, you may end up wasting more time trying to make them work.
Invest in real user data, not assumptions
Although user advocacy comes at a cost, it brings you real and effective results faster than any other method of UX improvement. If you want to create a product that will quickly get a loyal and ever growing customer base or promptly find and fix an issue in the existing software – user advocacy is the surest way to do so. If you still have some questions or maybe some other doubts – reach out to my colleagues on the UX team to discuss them.
View our offering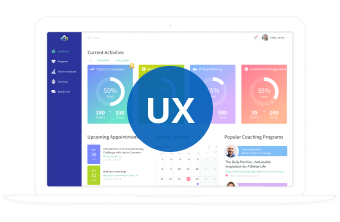 UX Design Services by ScienceSoft
ScienceSoft's intuitive UX design makes for fewer user errors, higher dwell time, and an increased conversion rate.