Editor's note: To help you decide which payment model is safer for your outsourcing initiative, Nick overviews two popular outsourcing payment models in this article. And when you're ready to look for a vendor to take up your project, feel free to check our outsourced development offer.
In software development outsourcing, the choice between payment models – fixed price and time and material (T&M) – is not only about economic benefits and risks. It largely shapes the nature of your cooperation with a vendor and the project's flow.
I believe there's no universal truth on which model is better, as it depends on the context of your project. Below, I structure the information we usually discuss with ScienceSoft's customers to help them decide on the outsourcing payment model. You are welcome to apply it to your project as well as to make a choice.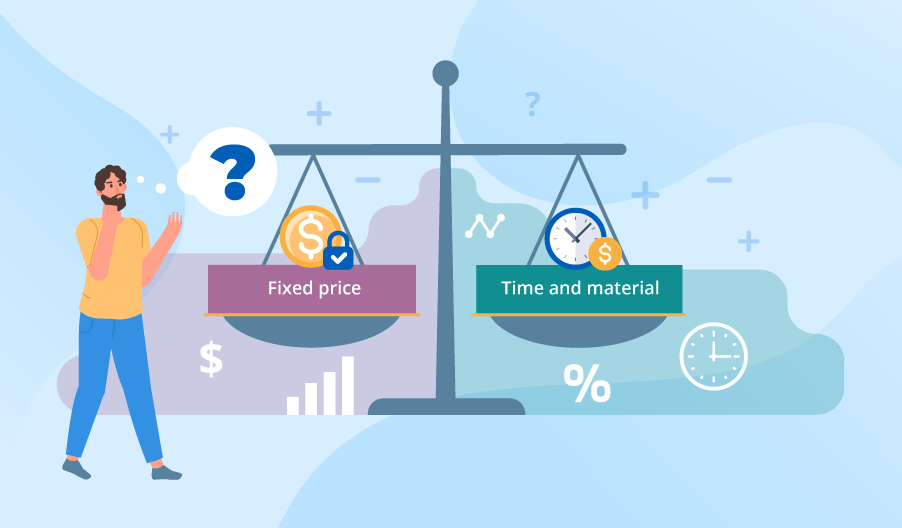 For a fixed price project, a vendor prepares a project quotation that defines a complete scope of work and the cost and timelines for its delivery upfront. The fixed price contract naturally aligns with the Waterfall project methodology, where each stage follows after the previous one is finished. You pay the cost in installments as the project unfolds, with the payment schedule usually dictated by the project's milestones and duration.
Budget and timeline transparency. You know from the start how much you'll need to pay and when the project is to be finished. The predictability of a fixed price contract is helpful if you have a strictly limited budget and/or rigid timelines (say, in governmental projects).
Clarity on the project outcomes. You have an elaborate understanding of what your software will be capable of right at the beginning of the project, so you have time to make it a thought-out part of your business strategy (for example, estimate its influence on business processes, prepare a plan on adopting software and integrating it into your employees' workflows).
Little management efforts. Your contribution is the most intense at the planning stage. After the project begins, you get your resources freed up and can narrow your involvement down to scope compliance checks, which is convenient to do having the precise specification and timeline in hand.
Slow project launch. As the pre-condition for a fixed price project is to have a very detailed software specification, the time to create it can take several weeks or even a month depending on software complexity.
Hard to near impossible to make alterations. Any changes you may want to introduce further in the project (for example, driven by shifts in market conditions or your business strategy) would require separate negotiation and payment and can stall development.
Inability to try software before it's delivered. Although you control the progress of the software development team, you can't actually see software in practice before the last development stage and ensure it fully aligns with your expectations. And correcting any inconsistencies at the final stage would be a costly process: a lengthy adjustment of a testing process can come up as a whole new project in some cases.
I recommend the fixed price contract for small- and mid-sized fully outsourced projects that don't exceed 1-3 months of duration. At ScienceSoft, we also apply this model for PoCs and MVPs as it allows businesses to field-test software concepts or check a new vendor's experience in action with minimized budget risks.
With a time and material contract, you're charged for an actual time spent on development by an hourly rate of each outsourced specialist involved. Some factors that can add to the rates are described by ScienceSoft' CTO in the article on software development costs.
The projects based on the time and material model are Agile-oriented. As a rule, a vendor issues monthly invoices accompanied by reports to give you an integrated insight into the work completed.
Adaptability. Together with a vendor, you agree on a project roadmap and set related milestones, but the scope of work remains dynamic and can be changed as you see fit. You can make informed decisions on the next steps of development, drawing on the outcomes of the previous ones (end-user feedback) and the analysis of the latest market tendencies.
Fast project launch. The planning stage is shorter compared to a fixed price project as a software specification doesn't need to be as detailed, so you can start the active work on software development earlier.
Continuous quality assurance. T&M-based development goes in hand with continuous testing to verify the implementation of requested changes and new features, so software gets honed to perfection throughout multiple project iterations.
Uncertain budget and deadlines. The final cost can go beyond the expected budget. The same applies to the release dates. One way to add some clarity is to measure a team's progress with KPIs that help predict and plan the scope of work more precisely over time (such KPIs are team velocity, lead time, and cycle time). For more information, you can refer to our CTO's article on the project health KPIs.
Increased management efforts. Although the T&M model allows controlling the deliverables, you still need to allocate enough resources to collaborate with a vendor and provide prompt feedback to keep a steady development pace.
I suggest using this model for mid- and large-size fully outsourced projects with flexible requirements. The customer's involvement can vary, though, from regular approval of the next iteration plan to intense collaboration on determining this plan.
The time and material model also suits well other outsourcing collaboration models – IT staff augmentation and dedicated teams. The reason is that you can get the exact number of outsourced specialists and adjust their workload (and your expenses consequently) on a daily/weekly basis. If you're interested to know more about these types of engagement with a vendor, you can refer to another article written by ScienceSoft's CTO on outsourcing models.
Weighing your payment options
To choose the right payment model, you need to evaluate the following factors:
Time and budget you can dispose of (strictly fixed or relatively flexible).
Your software vision (clear or vague).
The scope of the project (small-, mid- or large scale).
The level of involvement you want and can afford (periodic check-ups or deep collaboration).
If you want to verify your decision with an outsourced development provider and discuss related outsourcing opportunities, you can always get in touch with ScienceSoft' team.
Looking for an outsourcing partner to take over your software development project or the entire pipeline of projects? ScienceSoft is ready to support your business growth and digital transformation initiatives.