For enterprises, it's quite easy to lose an important document in the boundless sea of electronic documents generated by daily business operations. Thus, a full-fledged document management system (DMS) is an absolute must for the enterprises that want to automate, streamline and optimize document-driven processes and make work of their employees more productive (try our live DMS demo to see such a document management system in action).
SharePoint document management streamlines the creation, structured and secure storing, powerful search and easy sharing of documents. Such features as co-authoring, integration with other enterprise systems and the automated approval workflow create visibility into the document life cycle and help to accelerate document-driven business operations.
In this article, we'll consider how to use SharePoint DMS effectively to meet enterprises' business needs. We'll also have a look at the main elements of a typical SharePoint DMS implementation project as well as some alternative document management solutions that can be relevant for companies that don't have SharePoint in use.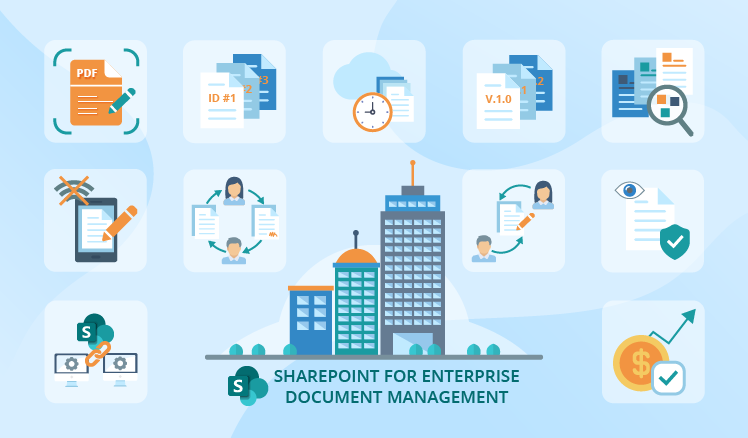 Let's see what electronic document management features are especially important for enterprises and how they are realized in SharePoint.
Storage space and document types
The storage capacity of SharePoint is enough to meet an enterprise's needs. It is 1 TB per organization with additional 10 GB per license purchased and up to 25 TB per site collection or group, and this storage space can be additionally extended if needed. SharePoint DMS can accommodate document diversity that is typical of enterprise document management. It supports not only the most common file types (.docx, .pdf, .pptx, .zip) but also rare file extensions, such as .odt, .ods, .xslb, .ppsx and 3D models.
Capture and validation
Enterprise documents can be stored in different image or modeling formats, for example, TIFF, JPG or various CAD format types, which can't be searched by their content. If combined with optical character recognition (OCR) software, SharePoint DMS allows converting documents like pictures or drawings into the uniform format of readable and searchable PDF files. Besides, SharePoint has built-in validation rules that are applied during recognition. This enables automated comparing characters against the image of the corresponding field, spotting incorrectly recognized characters and correcting them. All this helps enterprises to accelerate internal sharing of documents and external transactions.
A user uploads a DWG file into SharePoint and converts it into a readable and searchable PDF file.
Indexing and metadata
SharePoint indexing can help enterprises to categorize, archive, find and retrieve their multiple documents quickly and easily. SharePoint DMS allocates a unique ID to each document, so confusion due to the same or similar names of 2 or more documents is avoided. Also, the system supports creating many metadata fields for each document, which simplifies document classification, storage, and search. For example, common metadata for a contract may include such fields as business area, contract type, contract title, contract value, effective date.
Versioning
Any time a user edits a document in SharePoint, the system stores a new version, while keeping previous versions (up to 50,000 major versions and 511 minor versions for each document) also available for reviewing and comparing with the current one. Thus, the versioning capability of SharePoint DMS can help enterprises to restore any document that was accidentally saved with unwanted changes or all text deleted from it.
A user modifies a document and saves the changes, which makes a new document version automatically appear in the version history.
Search
SharePoint provides powerful search based on file names, content, and metadata. It also supports result ranking and allows users to influence it by using various query rules, which helps to facilitate interpreting results from queries that return 1,000+ documents. SharePoint DMS offers federated search, which means that one search query triggers simultaneous search across an enterprise's systems integrated with SharePoint, such as departments' document management systems,portals, and search results are presented in a single integrated list.
Workflows
SharePoint has many standard built-in workflows such as collecting approvals, feedback or signatures. SharePoint DMS allows creating workflows of any structure and any number of steps. For example, a budget approval workflow may move vertically and horizontally, include such stages as budget request, basic budget development, basic budget review, budget modification, budget submitting, etc. and have the following participants: preparer, reviewer, analyst, coordinator and executive board. Also, SharePoint supports rules-based workflows, for example, the workflow of a $1,000 invoice may have a more simple structure and miss some steps required for a $500,000 invoice.
Security and compliance
Many enterprises are required to adjust their internal and external policies to ensure regulatory compliance. For example, the Sarbanes-Oxley Act (SOX) demands to secure customer data and the Health Insurance Portability and Accountability Act (HIPAA) – patient-related information.
To help enterprises to maintain data security, integrity and regulatory compliance, SharePoint offers them such features as at-rest and in-transit encryption, access control, data loss prevention, and two-factor authentication. It also provides a complete audit trail of all document-related activities during a document's entire life cycle: who edits, retrieves, copies, prints out, emails or deletes it. What's more, SharePoint DMS supports document retention and deletion policies, and it allows scheduling the automatic elimination of unnecessary files after a certain period.
Integration
It's a common case when single DMS can't meet all sophisticated document-driven business needs of enterprises. As a result, they need integrating their DMS with other tools, which can help to reduce the total cost of ownership for their IT infrastructure and use the full functionality of document management and the systems like ERP, CRM, BI, etc. And SharePoint DMS offers such an opportunity - the system can be integrated with intranets, project management systems, HR systems, business intelligence, accounting systems, ticketing and e-signature systems, and more. SharePoint shows good compatibility with other Microsoft products and no SharePoint customization is usually needed for such integration.
Customization
SharePoint is a customization-friendly platform that can be used to create DMS tailored to the particular needs of an enterprise. SharePoint can help to create a unique look and feel for an enterprise's DMS due to the branding capability. Branding covers editing and replacing any design features of SharePoint sites like logos, styles, colors, master pages, and page layouts. SharePoint DMS customization can also help to add advanced functionality like AI capabilities to it and migrate SharePoint DMS to a newer SharePoint version or the cloud.
In this section, we'll consider the stages, duration, and costs of a typical SharePoint DMS implementation project.
Stages
Usually, a SharePoint DMS implementation project involves:
1. Discovery.
2. Business analysis and specifications.
3. Architecture design.
4. Workflow analysis & design.
5. Workflow development or customization.
6. Configuration (processes, applications, services, UI).
7. Solution deployment (including data mapping and migration).
8. Testing.
9. User acceptance testing.
10. UI and UX improvement.
11. Support in the production environment.
The duration of a DMS implementation project depends on a company's size, the amount of content to manage, integrations, customizations, compliance needs and more.
Example #1. A small retail company mostly deals with files in Word, PDF and Excel and simple linear workflows. So, the out-of-the-box functionality of SharePoint can fully satisfy this company's needs in terms of document management. In this case, DMS implementation may take about 1-1.5 months.
Example #2. A large engineering company handles many drawings, construction plans and 3D models in the formats like DXF, DWG, STL, OBJ, etc. It also has complex non-linear workflows and several integrations (with ERP, CRM, BI, HR). In this case, implementation may take as much as 6-12 months.
Example #3. A pharmaceutical enterprise needs a robust document management system, including approval workflows, easy search integrated only with ERP. In this case, implementation may take up to 5 months.
The total cost of SharePoint DMS implementation depends on the required functionality. Below are examples of approximate cost estimations, which include such services as discovery, development, and full configuration and testing but exclude continuous support that can take additional $10,000-15,000 annually.
Example #1. $40,000–60,000 is the implementation cost for SharePoint DMS with such features as search, file management, document workflows, email notifications, taxonomy management, permission control, collaboration with internal users, department sites, and several integrations with third-party systems.
Example #2. $60,000–80,000 is needed for implementation of DMS that includes all features from Example #1 plus security, audit trail, compliance management, and data loss prevention.
Example #3. $80,000–100,000 is the implementation cost for SharePoint DMS with features from Example #1 and Example #2 plus data retention policies, analytics, image recognition.
SharePoint DMS is not the only document management solution. Companies that don't have SharePoint in use may as well consider other solutions to process their documents. Let's have a look at some popular alternative solutions for enterprise document management their pros and cons, and subscription costs. The total implementation costs of these alternatives will depend on desired customizations, integrations, the number of users and other factors.
Pros. The tool is mobile-friendly and has an intuitive interface. eFileCabinet also has a widget (SideKick) that creates a desktop icon, which enables instant access to the eFileCabinet system in one click. Due to open API, eFileCabinet can be integrated with any application, so it can easily blend with an enterprise's digital environment.
Cons. There is a lack of training materials on the web apart from a number of useful articles provided on the website of the solution's vendor. The cloud version was intended primarily for small and medium businesses, and it is not suitable for enterprises out of the box.
Cost. eFileCabinet subscription plans:
Basic - $15 user/month.
Advantage - $30 user/month.
Business - $50 user/month.
Enterprise - upon request.
Pros. Laserfiche integrates with Active Directory, which simplifies managing security attributes for documents. The tool is user-friendly and very customizable. Laserfiche forms (employee hiring and onboarding, travel requests, purchase orders, expense reports, etc.) are easy to design, use, and configure quickly on the web.
Cons. Using Laserfiche for more complex forms may require essential JavaScript coding. Laserfiche is a large platform that offers extensive capabilities and depending on the required functionality, it can become a costly solution.
Cost. The Laserfiche's Cloud plans start at around $60 user/month.
Pros. SpringCM allows users to create customized attributes to code their documents, which makes it easier to search and categorize them. It also offers an e-signature workflow, which accelerates document lifecycle management. What's more, SpringCM provides rich reporting capabilities: it enables making reports and visual charts on such metrics as document activity, distribution, files sent and uploaded and active users.
Cons. SpringCM requires manual setting up of reminders, which leaves room for human error.
Cost. SpringCM plans for enterprise:
Enterprise Plan Basic - $59 user/month.
Enterprise Plus - $79 user/month.
Pros. Worldox offers strong search functionality. It enables adding various filters to every document to simplify its search. Also, Worldox provides preview options for the search results. The solution is integration-friendly.
Cons. Worldox has the outdated design. The loading speed is low, technical issues like crashes and glitches are very common. They can lead, for example, to an inability to save a document or attach an email.
Cost. Worldox Enterprise user license is $495 per user one-time with an annual support and maintenance fee of $110.
Due to the platform's flexible architecture, SharePoint can be equally effective for both a company with 10 employees and a 100,000-employee enterprise. SharePoint DMS for enterprises will be consistent with their document management specificity, integrate with other systems and tools like intranets, CRM, and ERP, provide handling documents accurately, effectively and quickly. Thus, SharePoint DMS can ensure the smoothness and continuity of multiple and complex business operations, which improves enterprises' performance. If an enterprise hasn't used SharePoint before, it makes sense to weigh implementation costs and duration against the expected benefits and consider alternatives.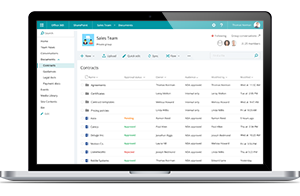 Overwhelmed by documents scattered randomly through your enterprise? We will show you the way to productive document management!