Can a small business rely on SharePoint for contract management?
Contract management software provides centralized storage and contract lifecycle automation, which helps to quickly create, approve, retrieve and share contracts and associated documents. It saves a lot of time, and time is crucial to small businesses that have a lot of work but not so many workers. Also, contract management software is a must for small businesses striving for more, as it makes a good basis for growth of a contract management system and, as a consequence, for expansion of a business itself.
It's not an easy task to find a contract management solution perfectly suitable for small businesses, as they need the software to be user-friendly and affordable. At the same time, this solution should ensure flawless contract lifecycle management.
It's logical for small businesses to choose contract management solutions deployed in the cloud as today, cloud-based contract management software is affordable to even the smallest of companies. Their costs are minimized because small businesses just need to pay for a subscription without investing into IT infrastructure.
Office 365 SharePoint Online platform deployed in the cloud can become a good choice for small business contract management. Let's see why.
SharePoint Online as contract management software
Office 365 provides extensive opportunities for internal and external collaboration, task and project management, file storage, emailing, analytics, etc., which makes it almost a universal environment for office tasks. However, it can offer solutions specifically for contract management that are based on SharePoint Online. It can automate a contract's lifecycle from creation to termination and retention just like any specialized contract management software. It's possible because SharePoint Online has all the main components required for contract management: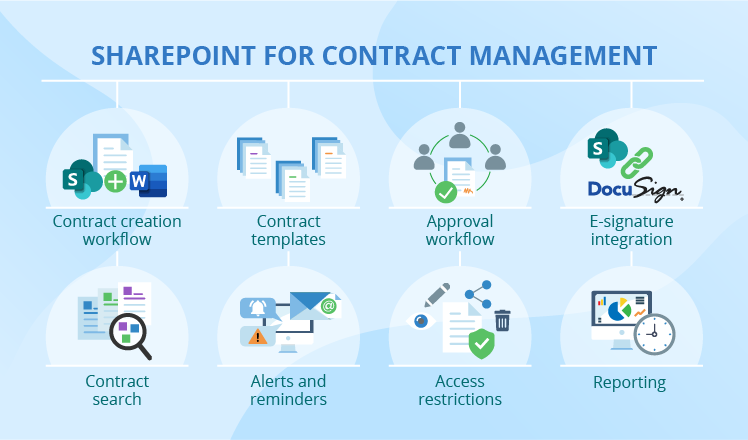 Contract creation workflow
SharePoint Online can provide effective interaction between the contract manager and legal and financial staff during the contract authoring through intranet discussion boards or comments. Also, it's easy and fast to create and store a contract in SharePoint Online as the platform is already integrated with Word.
Contract templates
There's no need in creating contracts from scratch in Office 365 environment. SharePoint Online allows creating, storing and reusing templates for various types of contracts. Thus, standard contracts such as non-disclosure agreements can be created within seconds as they don't require many modifications from a relevant template. SharePoint also makes it possible to store and reuse contract fields (e.g. legal addresses) and clauses (e.g. force majeure). This maintains business consistency and improves risk management due to using the same previously approved legal terms in all contracts and associated documents.
Approval workflow
SharePoint Online supports vertical and horizontal approval workflows of any complexity and number of stages. As any other SharePoint built-in types of workflows, approval workflows are usually rule-based. For example, a domestic contract can have a simpler approval workflow with fewer participants as compared to a contract with other states. The workflow automatically routes a contract to relevant persons (a lawyer, CFO, CEO) for approval and special dashboards reflect the contract's current status: new, pending or approved. When the approval process is finalized, the contract manager receives an automated notification that the contract is approved.
E-signature integration
SharePoint Online can be integrated with e-signature software such as DocuSign. Such integration eliminates the need for wet signatures or in-person meetings. Thus, the contract lifecycle becomes fully digital but the contract itself remains legally binding. As a result, closing a deal becomes even faster.
Contract search
Due to its powerful search engine, SharePoint Online provides an intelligent search by keywords, metadata or full text. SharePoint also supports searching contracts through many resources such as portals, other document management systems, CRM, BI systems, etc. Search results in SharePoint Online are returned in one ranked list with links to the item and metadata.
Alerts and reminders
SharePoint Online enables users to preschedule automatic alerts and reminders about a contract's status and its milestones, for example, payment or expiration dates. Thus, when a certain important date approaches, users will receive an email notification. This feature also allows avoiding unwanted automatic renewal, which is quite common for purchasing contracts.
Access restrictions
SharePoint Online supports access control to ensure security of contract data. Access is based on various permission levels granted to individual users or user groups. Thus, SharePoint Online protects contracts and associated documents against unauthorized viewing, editing, sharing or deleting.
Reporting
SharePoint Online provides real-time or scheduled reports on contract-related user activities, the most frequently accessed contracts, access time, checked-out contracts and workflow status.
Benefits for small businesses
Now we see that SharePoint Online has basic contract management features. But does it make this platform suitable for small businesses? Are there any benefits over other cloud-based solutions designed specifically for contract management (Gatekeeper, Contract Advantage, etc.) that make this platform stand out in a crowd? It seems there are:
Convenience. If a business already uses Office 365 and SharePoint Online for project management or collaboration, choosing a contract management solution based on the same platform is quite logical. Thus, businesses can achieve greater cost efficiency than spending on another third-party platform.
User-friendliness. SharePoint Online has intuitive and easy-to-use interface. It requires minimum training and there are many training tools and guides provided for users. Consequently, small companies may focus more on the business and spend less time on mastering new software.
Scalability. SharePoint Online platform has high scalability. It creates a favorable environment for a contract management system's growing and, consequently, for growing of a business itself. It's important for small businesses that are planning to expand.
Integration. SharePoint Online is compatible and supports out-of-the-box integration with entire MS Office including Outlook, Word, Excel, PowerPoint. Also, SharePoint Online can be easily integrated with CRM. It's an important benefit for small businesses, as their highest priority is to increase sales and they widely use CRM systems such as Salesforce, Dynamics 365 and Zoho CRM. This kind of integration ensures that data in contract documents and CRM systems are always in sync and can be easily found.
Security. Office 365 and SharePoint online have an advanced security model. Such features as multifactor authentication, encryption of data at rest and in transit, data loss prevention, automatic anti-malware protection and more make a contract management solution based on SharePoint Online a strong tool to handle sensitive contract information. SharePoint Online also provides a full audit trail showing who viewed, modified, deleted or shared contracts, which facilitates adhering to federal and state compliance regulations.
Cost. Office 365 keeps to a subscription pricing model, which allows small businesses to plan their expenses. Moreover, there are no hidden costs in Office 365 and SharePoint Online, as all updates are provided free of charge. The price for SharePoint Online starts from just $5.00 user/month and $12.50 user/month for the whole Office 365 suite, which is affordable for small businesses. In comparison, Contract Advantage costs about $100.00 user/month.
Afterthought
The importance of contract management for small businesses can't be exaggerated. Diligent and intelligent contract management ensures proper obligation management, which contributes to the increase in sales, gain of more profitable contract terms and better compliance, as well as the improvement of customer-vendor relationships. Office 365 SharePoint Online, in turn, is inexpensive, easy-to-use and integrating well with other software, which is crucial for small businesses. Also, the platform ensures effective contract management due to built-in tools for contract authoring, reviewing and negotiating, first-class security and privacy controls, as well as scalability, making it a perfect solution for small businesses.