Editor's note: Andrew explains the value of marketing automation and presents the top 5 platforms for marketing automation. If you are looking to implement a fitting solution to meet your marketing needs, feel free to check ScienceSoft's marketing automation services offering.
80% of marketers claim that marketing automation has helped their companies succeed. Indeed, the automation of a marketing team's routine tasks like sending emails, social media messaging, etc., provides for streamlined lead generation, improved lead conversion rates, and increased marketing ROI.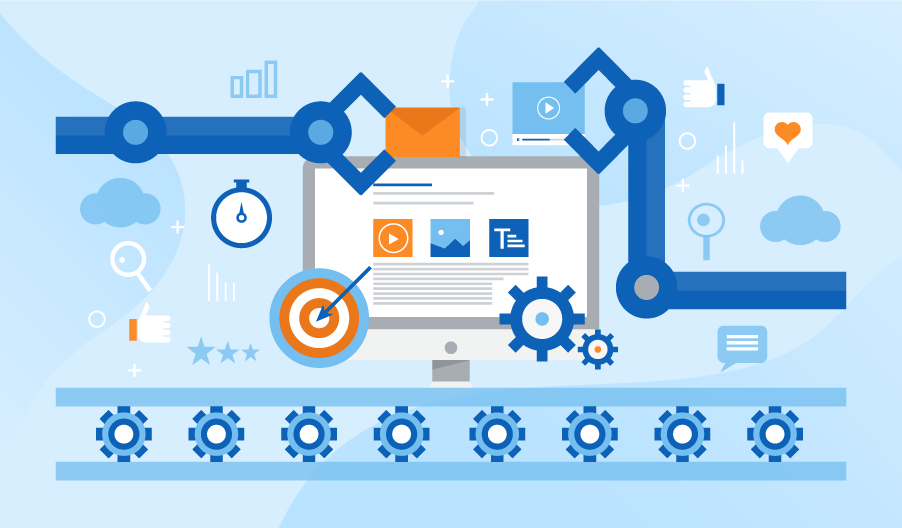 Why consider implementing marketing automation software
According to the research, the marketing automation software industry, which is worth $6.1 billion, will double by 2023. Today, the key marketing automation component on offer is email functionality, with 64% of marketers claiming email automation to be the most popular marketing automation type. Other important capabilities of marketing automation software include:
Multi-channel campaign management.
Content management.
Customer journey personalization.
Top marketing automation platforms to choose from
Hallmark features:
Customer segmentation – advanced customer segmentation based on certain factors (demographical, territorial, behavioral data, etc.) for targeted marketing.
Multi-channel campaigns – launching automated email campaigns, creating dynamic landing pages, SMS, social media campaigns.
Event management – automatically capturing event-related information (attendee registration, event broadcasting and final analytics, ROI evaluation) and demonstrating all the event-related information in the form of dashboards.
Analytics – tracking KPIs of all marketing activities and providing insights into customer behavior.
Limitations: Limited number of integrations with third-party products.
Pricing:
As a standalone app – $1,500 per user/month for 10,000 contacts.
As an add-on to the suite of Dynamics 365 apps – $750/user/month for 10,000 contacts.
More about Dynamics 365 Marketing
Hallmark features:
Audience Studio – automatically capturing customer data across various touchpoints (emails, social media, phone calls, etc.) to enable customer segmentation.
Interaction Studio – providing automated recommendations to marketers on the best actions based on the acquired data.
Email Studio – customizing email templates, launching targeted email campaigns, performing A/B testing, email analytics, etc.
Social Studio – developing a successful social media profile by creating engaging content, communicating with customers, and launching automated promotion campaigns.
Limitations: Separate pricing packages for marketing automation tools.
Pricing:
Email, Mobile, and Web Marketing suite starts at $400 per org/month for the Basic edition (billed annually).
Social Studio starts at $1,000 per org/month for the Basic Edition (billed annually).
Audience Studio starts at $18,000 per org/month for the Basic Edition (billed annually).
More about Salesforce Marketing Cloud
Hallmark features:
Email marketing management – creating automated email marketing workflows in the drag-in-drop editor, executing A/B tests to determine which message has a better reach and conversion strength.
Landing Page Builder – creating landing pages that automatically change the content based on customer behavior, without development efforts.
Social media management – composing and scheduling posts, using HubSpot's recommendations on the best time to publish the posts, measuring customer engagement on social media.
Limitations:
The limited number of customization capabilities.
The limited number of event management features.
Pricing:
Starter Edition starts at $50/month.
Professional Edition starts at $890/month.
Enterprise Edition starts at $3,200/month.
Hallmark features:
Email management – customizing email templates via drag-and-drop builder, creating targeted email campaigns, etc. Send Time Optimization feature (AI-powered tool determining when your contacts are most likely to engage) allows you to automatically send emails and monitor their open rates and clicks.
Creative Assistant – AI-powered design tool, which can create a selection of designs based on your brand colors, fonts, etc.
Next Best Action – AI-powered tool comparing marketing campaign performance with other businesses of similar size, industry, etc. It automatically provides suggestions based on this comparison to improve marketing campaign performance.
Subject Line Helper – an ML-powered tool to automatically recommend subject lines that can increase open rates and engagement.
Limitations:
Designed for small businesses only.
Lack of event management features.
Pricing:
Essential Edition starts at $9.99/month (for up to 50,000 contacts, 3 audiences included).
Standard Edition starts at $14.99/month (for up to 100,000 contacts, 5 audiences included).
Premium Edition starts at $299/month (for 200,000+ contacts, unlimited audiences).
Hallmark features:
Predictive Audiences – AI-powered Adobe Sensei helps track prospects similar to your best customers, predict what audience members are likely to unsubscribe, etc.
Email management – building targeted email campaigns using a visual editor, sending automated emails triggered by customer actions, analyzing email campaign performance, etc.
Predictive Content – displaying dynamic content in emails and on websites to leads based on specific user interactions or a customer segment.
Event management – planning and organizing a live event, promoting it via various channels (email, social media, etc.), tracking event attendance using the Check-In app, providing automated post-event reporting to make necessary improvements to future events.
Limitations:
No free trial.
Lack of report customization capabilities.
Pricing: Contact the vendor to get information on pricing plans.
Start your marketing automation journey
77% of companies saw an increase in conversions after using a marketing automation platform. If you need assistance in choosing the right platform among the vast number of vendors and tailoring it to your business specifics, you are welcome to contact ScienceSoft's team.
As a marketing automation provider, ScienceSoft will help you optimize marketing processes with platform-based or custom marketing automation software.