Editor's note: Boris defines the essence of IoT in the oil and gas industry, unveils its benefits, and describes how oil and gas companies use IoT solutions to their advantage. If you need expert help to implement an advanced IoT solution for your oil and gas business, don't hesitate to contact ScienceSoft's Internet of Things (IoT) team.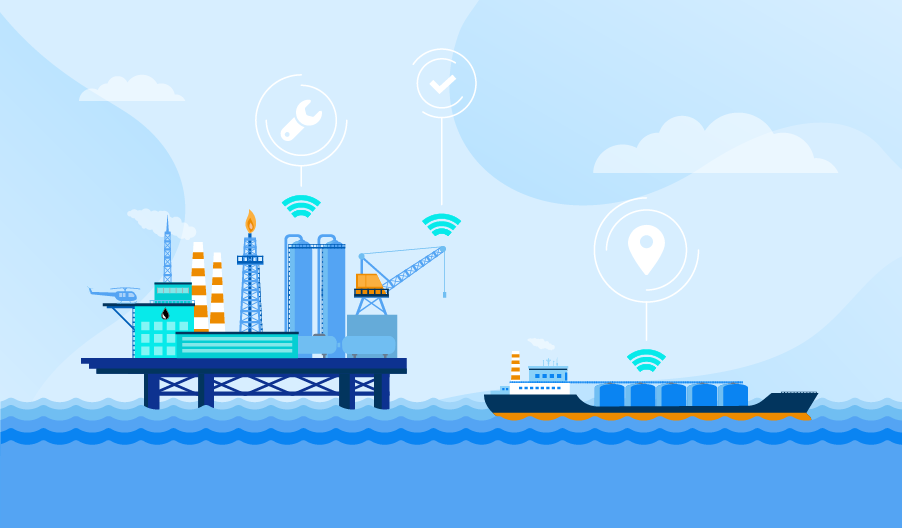 The Internet of Things (IoT) is used in the oil and gas industry to collect, transfer, and analyze raw data in real time to get a clear picture of processes at the facilities, improve operational efficiency, reduce energy consumption, and drive profitability.
IoT solutions cover all key industry segments:
Upstream operators use it to enhance drilling and extraction management and reduce non-productive time.
Midstream operators improve fleet management as well as pipeline and storage maintenance.
Downstream businesses leverage IoT for optimized oil and gas processing and distribution.
Fleet management. IoT solutions enable real-time monitoring of tanker and vessel location and condition, idle time, cargo status, etc. to optimize carrier use and facilitate preventive maintenance. This feature can be further advanced with IoT-enabled geo-fencing. Oil and gas companies can set routes and boundaries for each carrier to minimize fuel consumption and make sure that their tankers follow the chosen route and reach the destination on time.
Euronav, the world's largest independent crude oil tanker company, employs a centralized IoT-based platform called FAST (Fleet Automatic Statistics & Tracking) that captures data from ships for real-time analysis. With this solution, the company managed to reduce fuel consumption and waiting time, implement predictive maintenance, improve vessel-shore communication, etc.
End-to-end connected pipelines ensure safe and cost-effective oil and gas transportation through IoT-enabled monitoring of pipeline parameters like temperature, flow, pressure, etc. The collected data is used to detect abnormalities and helps optimize human efforts and avoid accidents caused by equipment failures.
Shell launched an IoT solution called Digital Oilfield to enrich Shell Nigeria's pipeline facility with advanced capabilities such as remote pipeline surveillance and wellhead monitoring, field data analysis, automation, etc.
Seismic exploration sensors help map subsurface drilling sites optimize the process of oil exploration. A network of connected sensors collects seismic wave data and transfers it to remote servers, which process the data and provide an image of the subsurface site. The sensor-based system accelerates site selection data analysis and drives informed decision-making.
The data provided by IoT solutions is also used to create digital twins – virtual replicas of physical assets that represent their processes, states, and lifecycle. If a failure occurs, a digital twin is used to study it, understand the root cause, and develop a repair plan. It helps improve asset management and performance and enables comparative performance analysis across assets – as evidenced by Petrobras, a Brazilian oil company that uses virtual copies of its refineries to assess and adjust their performance in near real-time.
Make Your Oil and Gas Business Smart with IoT
Over the past decade, the oil and gas industry has embraced IoT technologies to optimize workflows across the stream, improve the safety and control of the work environment, and boost productivity. From minimizing manual maintenance, to automating error-prone complex tasks, to reducing environmental impact and preventing hazards – the capabilities of IoT for oil and gas are vast. If you want to know how your business in the domain can benefit from IoT, ScienceSoft's IoT team is eager to study your specific needs and offer an optimal solution. Reach out to our specialists now!