Editor's note: Sergey explains how businesses can benefit from a corporate LMS. If you are interested in implementing a custom corporate LMS to provide tailored cost-effective training to your employees and external users, feel free to consider our custom LMS consulting and development offer.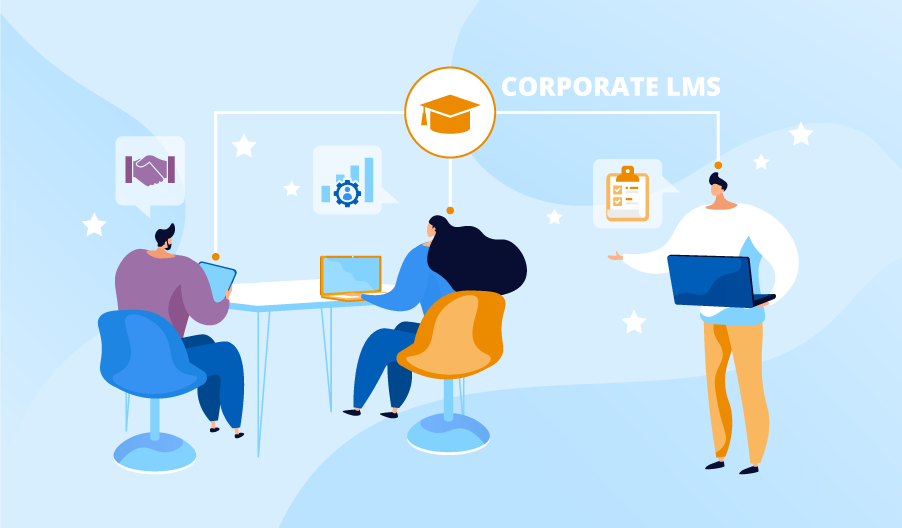 As the COVID-19 spread globally in 2020, many organizations had to switch to remote work and revise their concept of corporate training. Corporate eLearning solutions provide companies with capabilities to maintain high efficiency and performance of their employees in a completely remote environment. In 2021, 79% of organizations will continue to shift their budgets from instructor-led training to online learning. Being accessible, flexible, scalable and cost-effective, learning management systems (LMS), used by 84% of organizations, currently remain the dominating segment on the eLearning market.
A corporate learning management system is eLearning software designed to help organizations provide personalized flexible training to their employees, customers, and external partners. A corporate LMS acts as a centralized system hosting learning content, enabling access to it regardless of learners' location and automating the learning process (you can check our interactive demo to see the key capabilities of a corporate LMS). Companies use corporate LMSs to manage employee professional development, deliver onboarding and compliance training to employees to ensure they remain competitive and compliant with up-to-date industry-specific regulatory requirements.
Reduced employee training costs via remote, automated training and learning content reusability.
Reduced employee turnover. 94% of employees say they would stay at a company longer if it invested in their learning and development. A corporate LMS can help businesses increase employees' motivation by providing upskilling and reskilling for career promotion, thus increase employees' job satisfaction and reduce employee turnover.
Streamlined onboarding. A corporate LMS enables creation and delivery of induction courses, which helps companies simplify and speed up employee onboarding.
Ensured compliance. By delivering relevant compliance training to employees, businesses ensure their staff keeps up with industry-specific standards and regulations, which helps reduce the risk of potential penalties for non-compliance.
Increased training coverage. Using a corporate LMS, large international businesses can provide consistent training for employees spread across multiple locations all over the world.
Authoring custom training content using built-in or third-party tools.
Creating and managing assignments and personalized learning paths for employees.
Providing training on regulatory compliance (e.g., GDPR, HIPAA, SOX, GLBA).
Tracking the learning progress and reporting on the learning performance of individual employees, departments and company branches.
Incorporating branding elements, such as logos, messaging, and color schemes, into LMS pages, templates, and reports to promote brand awareness.
Integration with CRM, HRIS, social media, collaboration tools, learning content management systems (LCMS), and more.
TalentLMS
A cloud-based LMS that serves businesses of all sizes. It provides customization capabilities, for example, to create a branded look of learning portals. TalentLMS enables creation and maintenance of the knowledge base to provide learners with additional materials for self-learning. The course creation form goes with built-in YouTube and SlideShare search functionality. TalentLMS has native integrations with BambooHR, Salesforce, GoToMeeting, and Shopify.
Adobe Captivate Prime
Providing AI-powered personalization and training recommendations, this learner-centered LMS can be especially helpful for organizations focused on individual employee development. It enables easy content authoring with built-in and third-party tools. With the embedded Fluidic Player, Adobe Captivate Prime supports multiple multimedia file formats. This LMS software offers both online and offline access for employees, which promotes learning flexibility.
LearnUpon
A cloud-based LMS designed primarily for large enterprises, training companies, and software companies. Its customizable learning environment with branding and white-labeling capabilities helps create unique learning portals for any audience. The software offers a range of communication tools, including built-in messaging, custom emailing, and chatbots. Due to seamless integration with Degreed LXP platform, LearnUpon can provide access to both formal corporate training and informal learning resources, such as articles, videos, or podcasts, thus enhancing employee engagement.
SharePoint LMS
A highly customizable LMS built on the SharePoint platform. SharePoint provides rich functionality to create an LMS tailored to specific training needs, including custom reporting, compliance training management, and extended learners' collaboration. The SharePoint LMS is SCORM compliant, which allows the software to create, store, and deliver SCORM content. For companies already using SharePoint or Office 365, a tailored SharePoint LMS can be the best solution.
Tailor eLearning to your business needs with a custom LMS
With so many corporate learning management systems on the market, it can be challenging to choose a suitable ready-made solution that will meet your specific learning needs. For many organizations, a custom industry-specific LMS (e.g., healthcare LMS) can become a far better option to take corporate training to the new level.
If you need help with creating and implementing a tailored corporate LMS solution with extensive functionality, reach out to ScienceSoft's team for custom LMS consulting and development.
Having experience in LMS solutions since 2015, we ensure successful implementation of LMS with optimal functionality, maximum ROI and high user adoption.