Top сall center automation software
Editor's note: Andrew shares the benefits of call center automation software and presents the list of top 5 platforms for call center automation. If you are interested in taking your call center or contact center to a whole new level, consider ScienceSoft's call center consulting services.
Automated call centers and contact centers for customer service help manage customers' requests submitted over the phone (a call center) or through multiple communication channels (a contact center). Modern solutions for call center or contact center automation focus on delivering quick and personalized customer support as 52% of customers are likely to change a company if it does not provide personalized communication.
What makes call center automation so essential?
An automated call center bases on the following functionality:
Automatic call distribution.
Computer telephony integration.
Interactive voice response and outbound dialers.
This functionality helps lift the burden off your agents' shoulders, reduces wait times and makes issue resolution faster. Among the main benefits of implementing call center automation software are the following:
Improved call center KPIs, including First Response Time, Average Handle Time, Average Time in Queue, etc.
Increased customer satisfaction and loyalty.
Top 5 call center automation software
Overview
Dynamics 365 Customer Service offers advanced features for call/contact center automation, including automated call record creation, routing a call to the right agent, automatically suggesting a similar case or a knowledge article to resolve a customer's issue quicker, and more.
Unique features:
Voice channel integration (starting from the first half of 2021) – automatically routing a call to a suitable agent, transcribing it, recommending a knowledge article or a similar case to help the agent resolve a customer's issue, and providing post-call sentiment analysis.
Power Virtual Agent – creating, testing, and launching chatbots that can resolve standard issues of call center or contact center customer using speech recognition capabilities.
Limitations: Limited number of integrations with third-party services.
Pricing:
Professional Edition - $50 user/month.
Enterprise Edition - $95 user/month.
Virtual Agent - $1,100 tenant/month.
More about Dynamics 365 Customer Service
Overview
Salesforce Service Cloud can be used as an all-in-one contact center solution that offers CTI (computer telephony integration), tools for call queueing, routing and transcribing, AI-powered suggestions for agents, and allows tracking agents' performance.
Unique features:
IVR (interactive voice response) – gathering information on a customer's issue and routing it to an agent.
Automatic recording and transcribing of a call.
AI-powered system for listening to a customer-agent dialog and suggesting the best solution for the agent to provide.
CTI for automated call logging, agents receiving screen pops with customer information before answering a call, calling a customer in a click right from Salesforce.
Einstein Bot – creating, editing, and launching a chatbot with a built-in natural language processing and voice recognition system to resolve common questions without human-agent interaction.
Limitations: No possibility of on-premises implementation.
Pricing:
Essentials Edition - $25 user/month (billed annually)
Professional Edition - $75 user/month (billed annually)
Enterprise Edition - $150 user/month (billed annually)
Unlimited Edition - $300 user/month (billed annually)
More about Salesforce Service Cloud
Overview
Zendesk Talk is an easy-to-use call center solution built into the Zendesk omnichannel ticketing system.
Unique features:
IVR – answering incoming calls automatically, routing a customer to the right agent or department, and providing recorded responses for common issues.
Callback – allowing customers to choose between waiting on hold or booking a place in a queue and hanging up (the first available agent will automatically call them back).
Call recording transcription – automatically transcribing voicemail recordings and overflow calls.
Call blocking – automatically blocking a phone number so that blacklisted callers are disconnected when they call.
Limitations: No possibility of the on-premises implementation.
Pricing:
Free version
Team Edition - $19 user/month
Professional Edition - $49 user/month
Enterprise Edition - $89 user/month
Overview
Bitrix24 offers contact center features that are integrated into CRM so that that your customer data and call information are transferred directly to CRM. Moreover, it provides real-time communication tools like video call, video conference, etc.
Unique features:
Automatic dialer – calling your selected customers from a CRM contacts list.
Intelligent call routing – identifying a caller by going through your CRM records and connect them to an assigned agent.
Major social networks and messengers integration – automatically transferring customers' messages from Skype, Slack, Instagram, etc., to your Bitrix24 chat, then returning agents' responses to a corresponding messenger; creating chatbots within these networks to resolve common customer issues.
Limitations: Suitable for small businesses and enterprises only.
Pricing:
Start+ Edition - $24 user/month for 2 users
CRM+ Edition - $69 user/month for 6 users
Project + Edition - $69 user/month for 24 users
Standard Edition - $99 user/month for 50 users
Professional Edition - $199 user/month for an unlimited number of users
Overview
CloudTalk offers more than 50 call center features like voicemail, personalized greetings, call queuing, etc., to improve customer experience and increase their satisfaction. It can be integrated with all major CRM platforms.
Unique features:
Predictive dialer – automatically dialing customers from a contact list and passing the call to an available agent.
Power dialer – creating campaigns with call scripts for agents to follow and surveys for agents to collect customer answers, then automatically calling numbers from a campaign.
Callback – automatic calls to a customer who hasn't picked up.
Automatic outbound caller ID – automatically identifying which country your customer's phone number belongs to and dialing them using a local SIM card.
Limitations:
No possibility of the on-premises implementation.
Lack of compliance management.
Pricing:
Starter Edition - $15 user/month (billed annually)
Essential Edition - $20 user/month (billed annually)
Expert edition - $35 user/month (billed annually)
What is call centers and contact centers' future?
As customer interactions become more complex, call/contact center automation becomes a must rather than an option. AI gains popularity in call/contact center automation solutions, saving agents' time spent on customer identification and call routing and providing them with appropriate solutions. If you consider call center automation for your organization, ScienceSoft can help you choose a suitable platform, decide on the features that would meet your call needs, as well as implement and support your call/contact center automation solution, just let us know.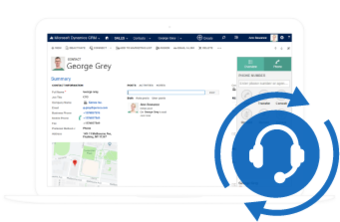 Get your call center processes automated to increase agents' efficiency.