Have you ever wondered how cooks create new recipes? They must be experimenting with ingredients and their proportions for quite a time to achieve a perfect balance. This idea is echoed in ecommerce where merchants struggle to develop their own recipe for excellent customer service. They try different versions of one feature to understand which one resonates with customers better. Known as Magento A/B testing, this marketing technique paves the way to a higher conversion rate.
But reading numerous praises all over the Internet, we wonder – is this method 100-percent effective or are there hidden pitfalls one should know? We have questioned our Magento consultants about their experience of A/B testing a web store and now are ready to create a truer picture with all pros and cons summarized and analyzed.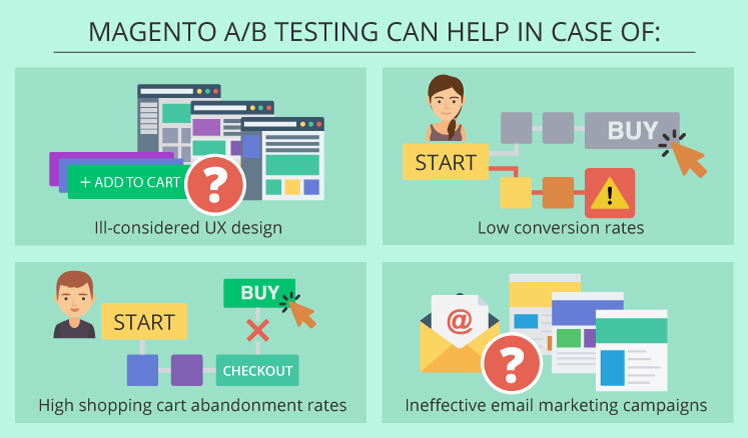 Magento A/B testing as a conversion helper
Magento A/B testing is largely seen as a good way to understand customers. Merchants may have a hypothesis of what is better for buyers and test it until they reach an expected result. This technique can really help in case of:
1. Doubts in UX design
What is the best color for call-to-action buttons? Is the current page layout a winning solution for a website? Let's face the truth – merchants can't answer such questions accurately relying on their own perception. Trying various options and seeing the response of customers, they can achieve a better UX design.
2. Low conversion rates
A logical outcome of good user experience would be an improved conversion rate. The more intuitive a customer journey across a website is, the more likely they will press a Buy button.
3. High shopping cart abandonment rates
Knowing about harsh 70% of shoppers abandoning the process at the checkout, sellers must take measures. A/B testing will help understand what is critical for customers at this last stage of a shopping process.
4. Ineffective email marketing campaigns
Many merchants use email marketing to keep in touch with customers and inform them about interesting updates. But by no means all of them succeed. Trying different variants of a subject line, length, content, visuals, CTA buttons and personalization tactics of an email, sellers can achieve better opening and click-through rates to develop more effective customer communication. To automate and improve email marketing in their company, retailers may use advanced tools like MailChimp or Remarkety – both offer A/B testing as a part of the functionality.
Still, nobody is perfect
So far, it all sounds great – merchants see what works best for their customers and improve their web store accordingly. Now, let's take a deeper look into possible inconveniences.
Magento A/B testing is a lengthy process.
The idea behind A/B testing is to see the influence of a specific feature on customer behavior (click-through or conversion rate). Therefore, one needs to test one feature at a time for fairness. Given how many page types and elements a typical ecommerce website has, reaching a perfect combination for customer-friendly experience can take ages. And once you have reached it, you can start again as website optimization is an ongoing process.
Let's not rule out the possibility of a coincidence.
In Magento A/B testing, merchants draw conclusions basing on the results of a time-limited experiment. Let's say, they have monitored the behavior of a certain percentage of visitors. Though allowing to identify some behavioral patterns, it doesn't guarantee the same result with the whole audience. Thus, there is always a chance that the findings are random.
A/B testing of a promotional campaign can fail due to time frames.
In general, defining the duration is critical for a testing experiment. It is all the more important when one needs to test a promotional campaign. Not only do they set time frames for playing with different elements (e.g. a position and color of a banner), they must have time to implement changes while the campaign is still on.
It is easy to get lost in options.
It would be perfect if merchants knew for sure what website element ruins their conversion. But let's face it – it is far more likely that they will have to go through a great many tests to achieve more or less tangible results. Therefore, it makes sense to conduct a preliminary analysis of the pages where potential customers tend to leave not to take stabs in the dark and to define an A/B testing strategy clearly.
So, what is the conclusion?
If you could ask your customers what website version they find more convenient and appealing, would you miss this opportunity? We strongly doubt. The same is with Magento A/B testing. The technique is unique in terms of seeing a real response of customers to website changes before implementing them permanently. Forewarning merchants against possible inconveniences, we by no means aim to discourage them to try. We just strive to emphasize that having a fair picture, they are more likely to develop a smart strategy.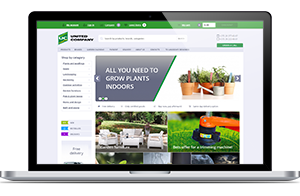 From strategy development to auditing an online store, we look forward to expertly support your each step in Magento development to bring you to the top.