BI Implementation for Management Consultancy
Industry
Consulting, Professional Services
Technologies
MS SQL Server
Customer
The Customer is a B2B management consultancy from the New York State, advising their clients on strategy, finance and marketing perspectives of their businesses. They help companies to transform into robust partners beyond being service providers, as well as improve their value proposition to succeed on the market.
Challenge
The Customer needed a business intelligence solution to process their clients' raw data, transform it into valuable insights and create thorough reports.
Solution
The system is based on a MS SQL Server data warehouse and includes an OLAP cube with 40+ dimensions to allow the Customer to form a holistic view of their clients' processes.
The Customer accesses the solution via a web portal based on Kyubit BI technology. The Home screen offers an overview of previously created and saved reports (for example, by geography, by industry, by region and individual companies, etc.), which can be instantly modified according to the Customer's current needs, for example, by adding more KPIs or excluding a few measures.

According to the Customer's requirements, ScienceSoft composed the following dimension groups to drill down and drill through the data:
Companies
Company by region
Company by sector
Countries
Dates
Top companies filtered by market capitalization
Top companies filtered by net income
Top companies filtered by revenue
Top companies filtered by TEV
Top companies filtered by total debt
Industries
Stock exchange
The measures include the following financial values:
Gross profit
Revenues
Net income
NTA
NWC
PPE
TCA
TCL, and more
Right from the Home screen the Customer's analysts can start a new analysis, create a new folder to group up certain reports, delete an analysis, move the current analysis to another folder or clone it.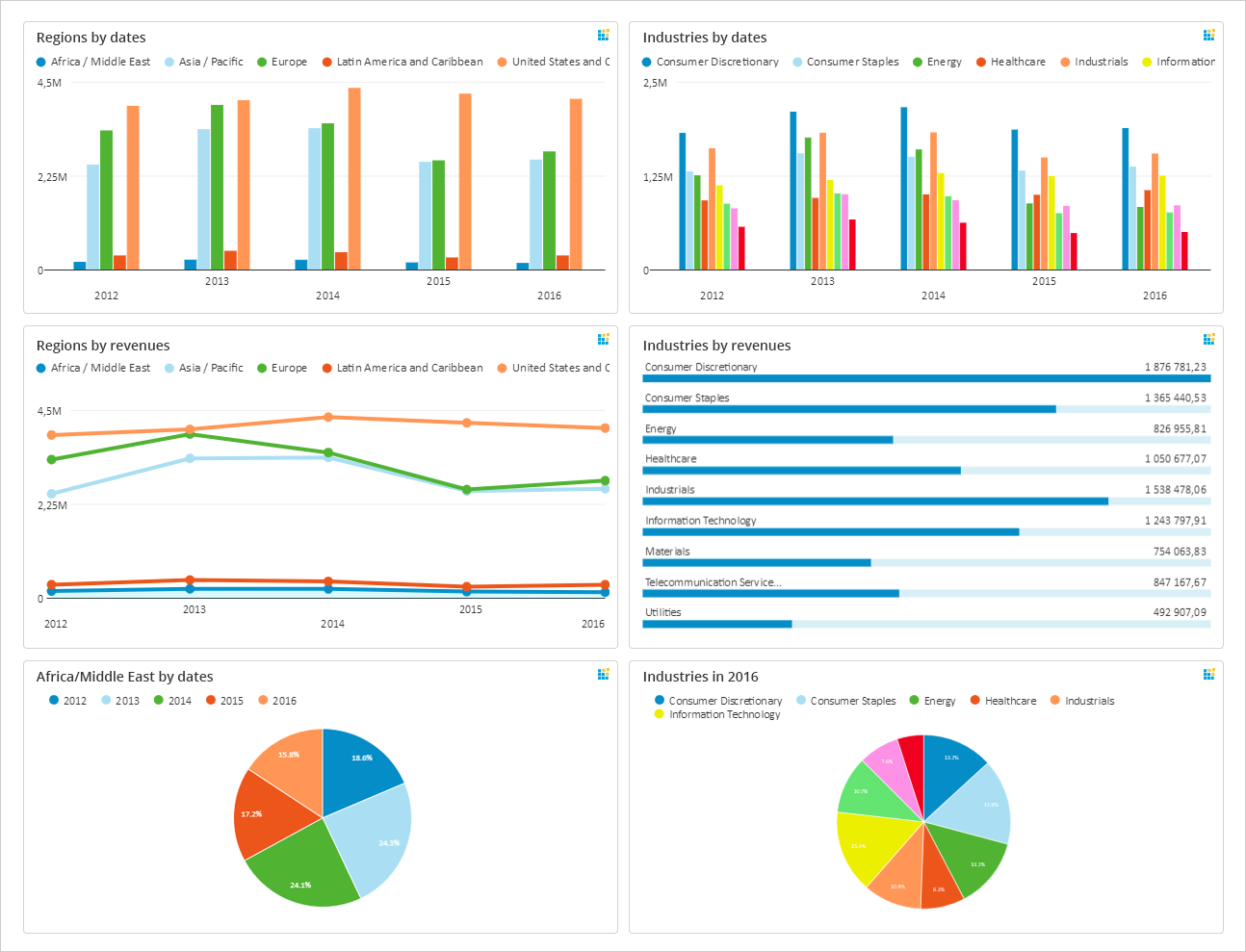 The report's visualization has a wide range of chart types, color themes and palettes, supported by 3D setting options to make analysis more informative.
The Customer can also print out reports, convert them to Excel and PDF, as well as share them with clients via a generated URL.
Results
ScienceSoft delivered a thorough BI solution according to the Customer's requirements. It consists of a wide range of dimensions and KPIs to allow analyzing different industries in various economic conditions. The Customer now uses this solution to offer advanced consultancy on their client's strategic development.
Technologies and Tools
MS SQL Server, MS Analysis Service, MS Integration Service, Kyubit BI

Need help with a similar project?

Drop us a line, and our rep will contact you within 30 minutes to arrange an initial discussion.

<![endif]--> <![endif]--> <![endif]-->