We all know that a top-notch custom web application is the ticket to digital success with consumers. In search of the provider, you browse through numerous services offers to find the one that meets your challenges and fits in your budget. For a long time, we have been providing web application development services, and our pricing approaches differ from those of young design studios. By following general strategies, we help our clients manage the budget and build dynamic partnership relations with the service provider. Now, we will share with you some web app design and development pricing ideas.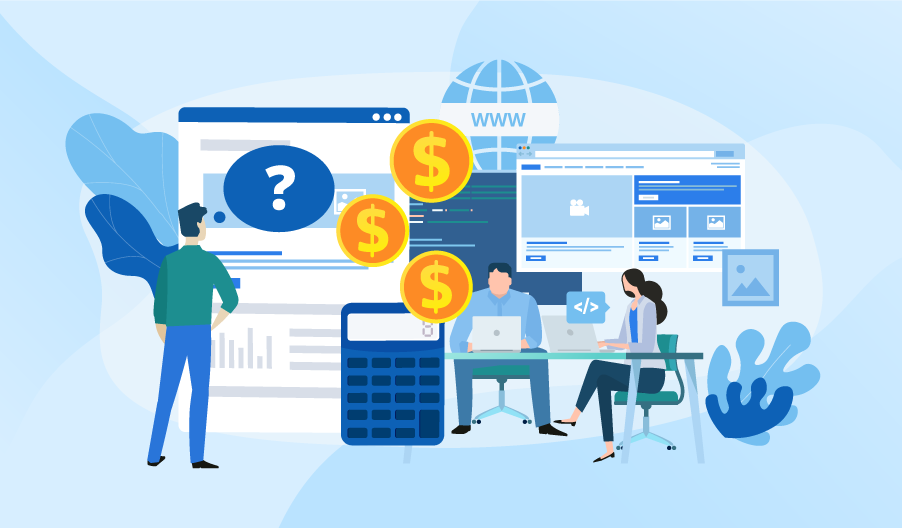 Free design proposal
When you turn to us for advice, the first thing our consultants offer you is a free design proposal. No doubt, design constitutes a mere part of the entire project, and the initial design concept is no more than 40% of all the UI/UX issues. But it is the approved design that allows you to clearly envision the final project, so all you need is to concentrate on tactical steps to achieve it.
We often came across the projects that required attracting investments. The design concept was the first step on the way to the embodiment of such information concepts. Therefore, our startup proposal by default includes the design package that our customers can get for free under certain conditions.
The lowest possible price
So, you have the approved budget for your project. Some Web development companies offer you the minimum price or a standard web development package. However, such approach doesn't allow creating robust web applications. It seems impossible to meet all development requirements within the constraints of standard product proposals for web applications.
We adopt a flexible approach to web application budgeting. Our clients contact us for consulting and project estimation, with business tasks of any size, from a single-page application to a corporate solution.
The way to fix the price
Practically every client asks us to work fixed-price, i.e., to estimate the project and guarantee its development within the budget. This strategy is safe for business. However, "fixed price" can be agreed in case the following conditions are met:
We have a detailed business specification describing the application operation logic, principles of interaction with users, and other issues
There is a system specification
These documents allow our experts to provide detailed and accurate budget estimation for further development. But they are often excessive since many project details don't require an accurate specification (various frameworks are used in the development process, which considerably saves time).
You as a customer should also bear in mind the cost of specification development. It is developed by the most qualified specialists and cannot be provided to a client for free. It is also possible that the cost of project specification can exceed the project development budget.
Therefore, our consultants scrutinize the specifics of each project and offer the most fitting business model for the development. For instance, Agile development allows us to deliver a project with minimum documentation.
Is there the way to get the exact price without all this chatting?
Yes, absolutely! Software development agencies strive to provide comprehensive information to their customers. In the situations listed below, the development cost can be accurately calculated for you.
You forward a detailed specification for assessment. The system specification is not necessary: a simple description of business logic will be enough for many projects. Attach a couple of user interface sketches – and experienced business analysts will be able to understand and estimate your future application.
There are similar solutions in the company's portfolio. This is probably one of the most reliable methods to calculate the exact budget. But you shouldn't rely on developers in figuring out the exact price of a particular project you see in the portfolio. This is commercial information owned by another client, and it cannot be disclosed. Instead, you should describe in details the reasons you are interested in a particular case-study, its similarity and difference from your project.
You have a small-scale project. Experienced analysts can quickly and accurately estimate costs of small-scale projects. What is really important is not to cross the line where the project becomes too complex for "express estimation".
Take these tips – get a discount
Discuss the possibility of placing reviews and recommendations for future customers on your behalf. In case you agree on the interview for such review platforms as Clutch.co, the final project price may vary.
Ask for extra QA. It may seem that QA resources are redundant and drive the price higher. In fact, if there is a QA expert involved in the project, the vendor undertakes additional warranty obligations, whilst the customer can considerably save on support expenses.
Approve the portfolio publication. Allow posting the description of your project in the public portfolio.
Ready to upgrade your current website and drive user engagement with a web application? ScienceSoft is here to help.