With 85% of Fortune 500 companies using SharePoint, no wonder the demand for SharePoint professionals in the IT sphere is on the rise. In fact, there more than 65,000 offerings for SharePoint-related positions on LinkedIn alone. The six most popular SharePoint roles include an administrator, a developer, an architect, an engineer, an analyst, and a consultant.
At ScienceSoft, we have 20+ Microsoft-certified SharePoint experts on our team. As an experienced provider of Office 365 and SharePoint solution and managed SharePoint support, we know that Microsoft certifications are a competitive advantage both for the candidates and for the company to win new customers. In this article, we'll give an overview of currently available Microsoft SharePoint certificates and related exams as well as describe their benefits for professionals and businesses.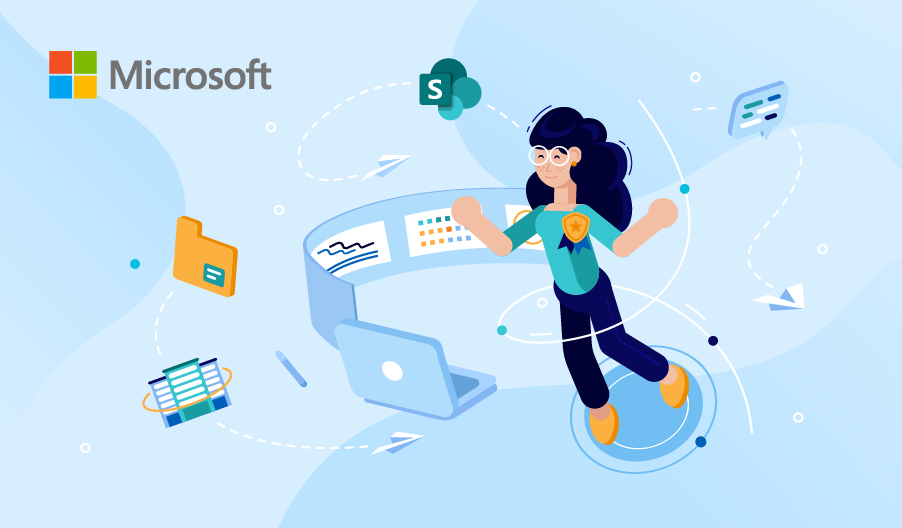 A Microsoft SharePoint certificate brings various benefits to both technical specialists and IT companies that hire them.
Benefits for specialists
Proof of skills and expertise. SharePoint certificates of the Associate and Expert levels guarantee that their owners have at least two years of comprehensive experience of working with SharePoint and have gained relevant skills that employers recognize and respect.
Competitive advantage. According to Microsoft, 86% of hiring managers prefer job applicants with an IT certificate, and 64% of IT managers prefer Microsoft certification to certification from other training institutions. Thus, certified SharePoint specialists have stronger chances to be hired.
Higher salaries and positions. Certified professionals earn 15% more than non-certified ones. Also, certified professionals are more likely to get hired for senior positions.
Benefits for businesses
High credibility. SharePoint certificates are very easy to verify. An HR manager can ask a candidate for their unique access code and view the candidate's record on the Microsoft certification site.
High productivity. 63% of hiring managers say certified individuals are more productive than their non-certified counterparts. And Microsoft certified developers are 90% more productive.
Microsoft partnership status. Some Microsoft competency partnerships demand a business to have a certain number of Microsoft certified professionals. For example, to become a Microsoft Gold partner in Collaboration and Content, a business needs to have at least 4 individuals who have passed SharePoint certification exams.
SharePoint certification lies within the Modern Workplace Microsoft career path, and they are divided into three levels:
Fundamental. An initial level aimed at individuals who make their first steps in SharePoint Server or SharePoint Online or think about changing their career.
Associate. This level assumes 2 years of comprehensive working experience with the platform. The Fundamental level is optional for individuals who opt for the Associate level.
Expert. The level assumes 2-5 years of deep technical experience in SharePoint. And it is obligatory to gain the Associate level prior to getting the Expert level.
Below we provide an overview of SharePoint certificates and the exams to obtain them.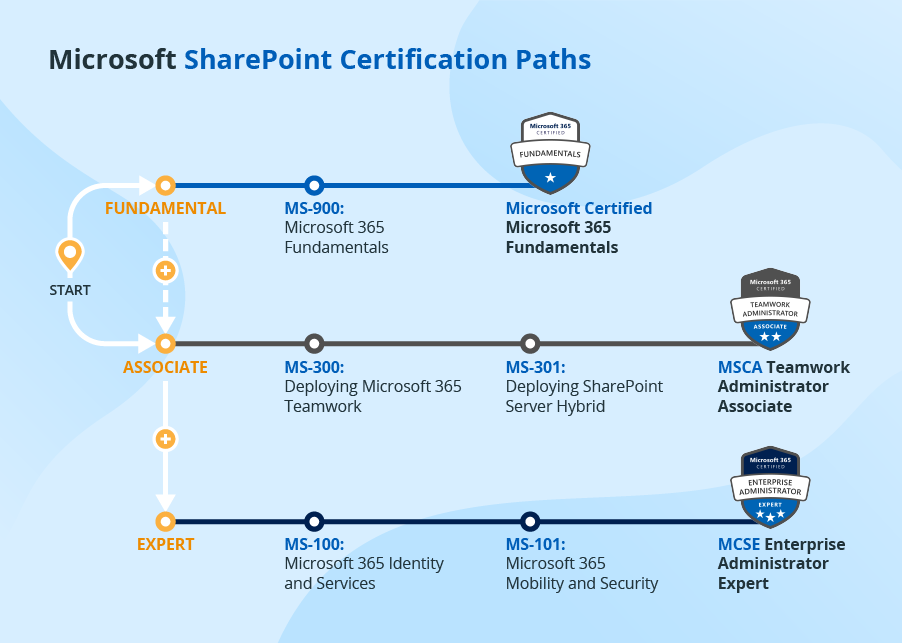 This certificate proves a specialist's comprehension of the benefits of the SaaS cloud model and implementing Microsoft 365 cloud service. To earn this certificate, they have to pass Exam MS-900: Microsoft 365 Fundamentals that measures the understanding of:
Cloud concepts (IaaS, PaaS, SaaS, Public, Private, and Hybrid scenarios of Microsoft 365, benefits of using cloud services).
Core Microsoft 365 services (Windows 10 Enterprise, Exchange Online, SharePoint Online, Teams, etc.) and concepts (effective collaboration with Microsoft 365, enterprise mobility, device management, application management).
Security, compliance, privacy in Microsoft 365 (identity protection and management, unified endpoint management, security usage scenarios and services, etc.)
Microsoft 365 pricing and support (subscriptions and management options, licensing and payment models, bill management options, etc.).
This certificate means that a specialist can configure, deploy and manage Office 365 collaboration apps, such as SharePoint (Online, On-premises, and Hybrid), OneDrive, and Teams. To get this certificate, one needs to pass 2 exams:
MS-300: Deploying Microsoft 365 Teamwork that measures configuring and managing skills related to:
SharePoint Online (site collections and hub sites, customizations and apps, managed metadata, guest access, search, etc.).
OneDrive for Business (users and groups, sharing and security, etc.).
Teams (guest access, identity, and authentication)
Workload integrations (integration with Office apps: Flow, PowerApps, Yammer, Stream, etc.)
MS-301: Deploying SharePoint Server Hybrid that measures the following skills:
Configuring and managing SharePoint on-premises (farm topology, profile synchronization, workflows, site collection architecture, customizations, taxonomy, search, etc.).
Configuring and managing hybrid scenarios (hybrid configuration and topology, hybrid taxonomies and content types, hybrid OneDrive for Business, etc.).
Migrating to SharePoint Online (data preparation, migrating tools and strategies, blocking issues that prevent migration).
This certificate covers such skills as evaluating, planning, migrating, deploying, and managing Microsoft 365 services. To get this certificate, 2 exams need to be passed:
MS-100: Microsoft 365 Identity and Services that measures the following skills:
Designing and implementing Microsoft 365 services (domains, on-premises infrastructure tenancy and subscription, migration of users and data).
Managing user identity and roles (identity strategy, identity synchronization security and compliance roles, etc.).
Managing access and authentication (multifactor authentication, application access).
Planning Office 365 workloads and applications (hybrid requirements, migration strategy for workloads).
MS-101: Microsoft 365 Mobility and Security that assesses skills in:
Implementing modern device services (mobile device compliance and security, mobile application management, Windows 10 deployment).
Implementing Microsoft 365 security and threat management (cloud app security solution, security reports and alerts).
Managing Microsoft 365 governance and compliance (data loss prevention policies, data governance, auditing, eDiscovery).
Note: There are two ways to prepare for these exams: Microsoft Learn (free microtraining modules) for self-paced learning and paid personalized instructor-led training.
The cost of a certification depends on the number of exams required. One exam costs $165. Thus, the price of the Microsoft 365 Fundamentals certification is $165 and it is $330 for MCSA and MCSE as they involve 2 exams. Also, the exam cost covers only one attempt and retakes are paid for additionally. Microsoft provides exam packages that include retakes with a price advantage. For example, the Certify with Confidence package includes one exam and two retakes and costs $230, which is applicable to the Microsoft 365 Fundamentals certification.
Leverage SharePoint certification
Microsoft certification in SharePoint is beneficial for both IT companies and individuals who want to build up career around this platform, for example, developers. It makes such specialists competitive candidates who are more valued in the eyes of employers and can claim higher positions and salaries. For IT businesses, having certified SharePoint professionals means effective teams, high productivity and good repute among partners and customers.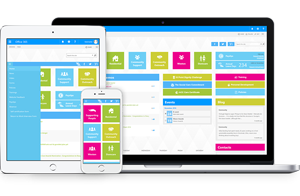 Do you face any SharePoint or Office 365 challenges? We are always ready to help and share our hands-on expertise with you.