Editor's note: Sergey explains the essence of SCORM and describes why implementing a SCORM-compliant LMS can benefit your eLearning environment. If you need assistance in choosing a ready-made one or implementing a custom SCORM-compliant LMS, don't hesitate to contact our LMS consulting team.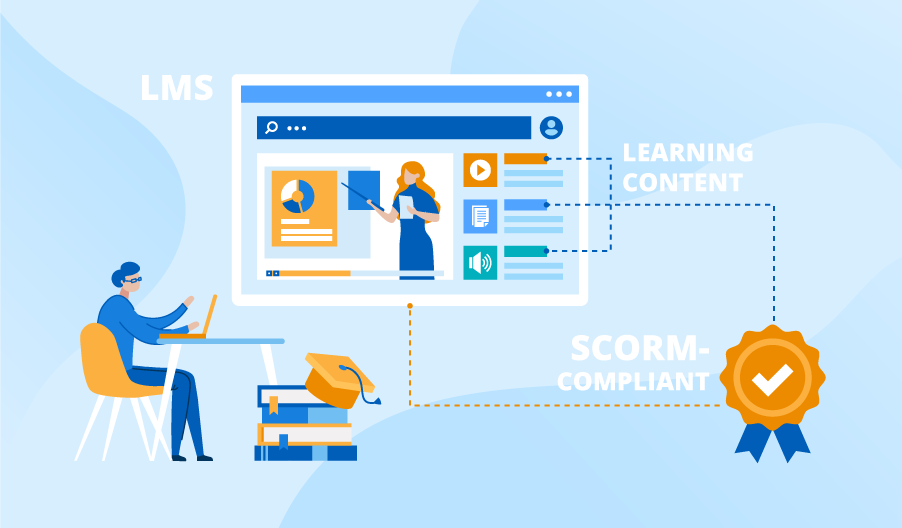 33% of organizations are either evaluating their options or already planning to replace their learning software. For 41% of companies, the most frequently anticipated purchases for 2021 are learning management systems. To address multiple learning needs more effectively, organizations tend to shift from a single LMS to a learning environment that combines diverse learning applications.
If you are planning to implement a new LMS, move from one LMS to another, or introduce new eLearning tools into your current LMS, you need to make sure the new software plays well with the learning tools and content you already have. Maintaining compliance with SCORM is a way to enable interoperability between your learning content and your eLearning tools as well as avoid costly and time-consuming content re-creation.
SCORM, which stands for Shareable Content Object Reference Model, is a set of the internationally recognized development standards and technical specifications for eLearning. SCORM provides common rules and requirements for software coding and learning content creation, which helps enhance interoperability, accessibility and efficient exchange of digital information across multiple eLearning tools.
SCORM was introduced in 2000 as an advanced successor to AICC, the first widely adopted standard for eLearning interoperability. For now, there are five implementable versions of SCORM but SCORM 1.2 and SCORM 2004 3rd Edition are the most widely used ones.
Due to smooth interoperability between LMSs, third-party course libraries and learning content authoring tools, you can substantially extend the volume of learning content for your training needs.
Since SCORM enables standardized communication between digital content and LMSs, there's no need for costly and time-consuming learning content re-creation when switching to another LMS.
To be SCORM-compliant, an LMS must adhere to the following technical specifications:
SCORM Run-Time Environment (RTE) defines an API and a common data model for eLearning content, which enable standardized communication between an LMS and digital content.
SCORM Content Aggregation Model (CAM) defines how to package learning content to provide its portability and reusability across diverse LMSs, and describes the format an LMS must be able to import to deliver content to learners.
SCORM Sequencing and Navigation (SN) describes how an LMS delivers content to learners via a set of learner or system-initiated navigation events, and enables specifying the order of delivery of the content objects to learners. The SN protocol is supported by SCORM 2004-compliant LMSs.
Docebo
A reputable LMS with solid functionality. It provides large companies across industries with training programs for their employees, partners and customers. It's accessible via desktop and mobile devices, and enables easy integration with CRM, HR systems, e-commerce and payment portals as well as content authoring tools.
SAP Litmos Training
An LMS solution known for comparatively easy setup and customizable UI. It is consistent across all devices and offers rich eLearning management functionality, scalability, custom branding, and multi-language support. SAP Litmos Training enables integrations with Salesforce, WordPress, and HR software.
iSpring Learn
An LMS designed primarily for small and mid-sized businesses. It offers built-in content development tools, native integration with an authoring toolkit iSpring Suite, and unlimited storage space. iSpring Learn is best for organizations that create custom eLearning content.
SharePoint LMS
SharePoint offers rich learning management functionality. Due to the platform's flexibility, SharePoint-based LMS can be tailored to your specific training needs, including custom tests and learning paths, advanced reporting, and more. SharePoint is a good option for companies that already have SharePoint or Office 365 subscription.
Ready to boost interoperability of your eLearning environment?
Being so widely used, SCORM is often referred to as the de facto standard for eLearning. If you consider implementing a robust SCORM-compliant LMS or migrating your learning solution to a SCORM-compliant learning platform, feel free to ask for the qualified assistance of ScienceSoft's LMS consulting team.
VIEW OUR LMS OFFER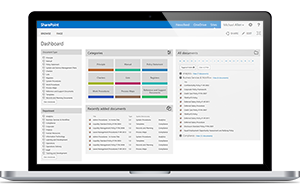 SharePoint Learning Management by ScienceSoft
Want to equip your company with a robust LMS for sound training management? Look for an engaging and effective way to upskill your employees? Start with checking our offer!