Editor's note: Read on to learn the essence of ecommerce customer experience and find out how to make your website appealing for online shoppers. Don't hesitate to opt for our customer experience consulting services in case you need help with building or perfecting customer journeys on your website.
A customer bases their decision to purchase on many factors, but their experience with an ecommerce store plays a key role in the process. It doesn't matter if they already ordered something from you in the past – disappointed once, they will look for someone else to provide a more satisfying service. In fact, every third customer would try out a new brand after one negative experience with their favorite one, and that's why you should never underestimate the power of customer experience.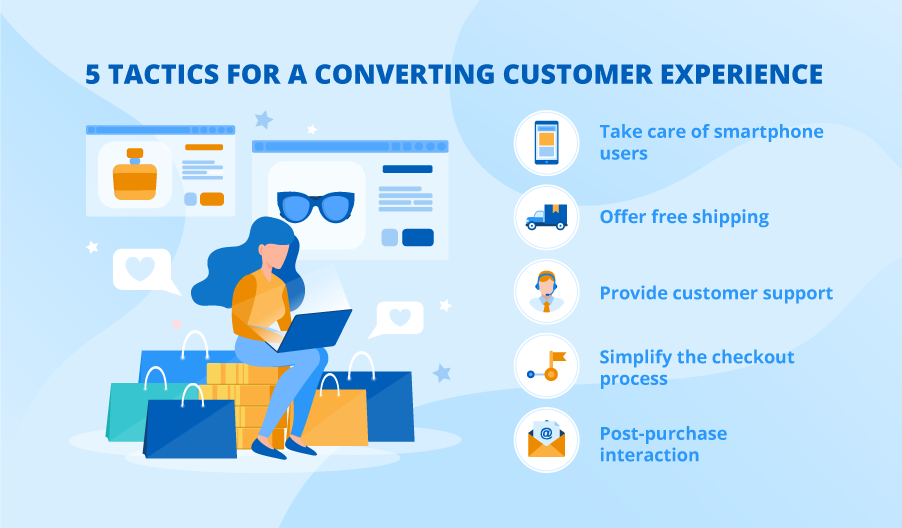 Ecommerce customer experience includes customers' perceptions and feelings on every aspect of your online business. The moment people open a website, they start making up their minds if it's worth staying there or if they can find a better online store. Your goal is to make each customer journey as easy and comfortable as possible. Not only will it result in a buy, but it also may increase the chances of building a base of loyal customers referring your brand to their families and friends.
The best way to master ecommerce customer experience is to imagine you are a customer yourself. Ask yourself whether you'd want to be required to register to make a purchase, what navigation and filtering would make the most sense for the goods you sell, and so on.
It is important to show customers you care about making online shopping easier for them. For example, one of the things you can arrange is pre-filling the necessary fields at the checkout with the info from their previous orders. It will save customers a bunch of time and make their journeys more personalized.
Take care of smartphone users
Approximately half of online shoppers use their mobile devices to surf the internet.
Offer free shipping
Setting a specific threshold for free shipping is a good idea not to break the conversion path and prevent customers from dropping the shopping cart.
Provide customer support
Ample customer support is important both before and after the purchase is done. Even if you rely on a chatbot, you should also give customers an opportunity to contact a real person if required. It comes especially handy while dealing with situations when something goes wrong after customers receive items. Solving such problems fast is crucial to leave customers happy.
Simplify the checkout process
The fewer steps customers have to take to order something, the less time they will hesitate. Ask people only for the necessary information and don't bother them with filling in too many fields not to create an additional obstacle on their way to buy goods.
Post-purchase interaction
Ecommerce customer experience doesn't end with receiving purchased goods. Make sure your customers are satisfied by sending them a short email with a thank you note and ask them to rate the service of your e-store. You can also inspire customers to post the products they bought and give their feedback on social media.
Get a value-driving customer experience now!
Ecommerce customer experience involves every detail of an online store, from landing page design to payment methods. If you are looking for professional help in creating an online store that drives customers into buying, contact ScienceSoft's ecommerce team.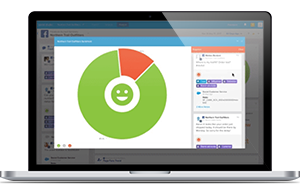 Looking for a way to improve your customer experience? Our specialists in customer experience management provide a full cycle of consulting and CX optimization.