Editor's note: Are you planning to design an ecommerce solution for your wholesale business but don't know where to start? Or do you suspect your wholesale customers flee to competitors because your website is not good enough? Read on to learn how to design wholesale websites that inspire customer loyalty and consider our ecommerce website design services if you are looking for implementation support.
Why should you care about wholesale website design?
Although a few years ago, B2B sales were more about face-to-face communication and their success largely depended on how good your rapport with B2B customers is, now the wholesale ecommerce market is on the rise. In 2019, it was valued at $12.2 trillion, 6 times surpassing the B2C market.
You may already have an ecommerce website for your wholesale business, but does it provide the desired amount of sales? With 17 years of experience in ecommerce, we at ScienceSoft are convinced that good website design can double the sales of retail and wholesale businesses alike. While a bad website design would make 90% of potential customers leave.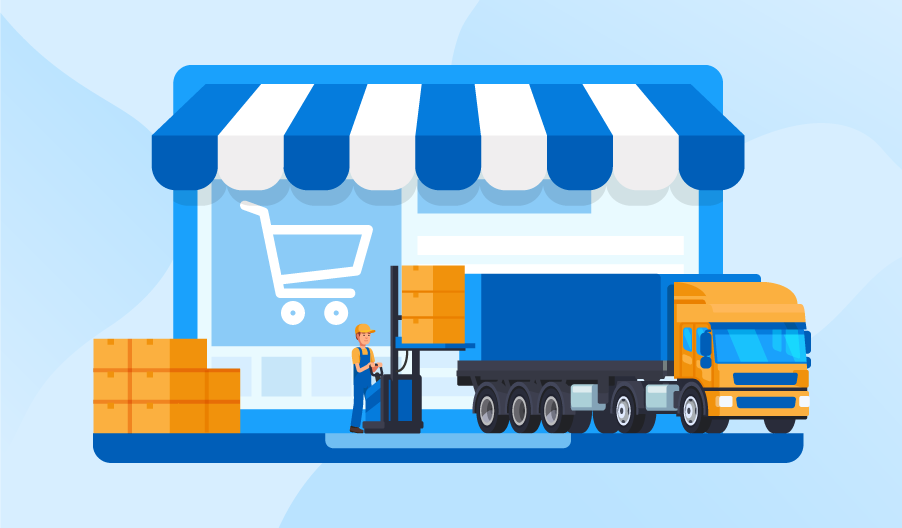 Wholesale vs. Retail: The key differentiator
Although retail might have pioneered in the digitization of selling and purchasing experiences, you should not look up to best practices in retail website design. The difference in buying habits of retail and wholesale customers naturally sets different approaches to web design. For example, retail ecommerce thrives on impulse buying. So, the path to purchase is rapid and straightforward.
Wholesale ecommerce, on the other hand, won't have a team of decision makers rushing into a buy. Their purchasing process usually involves elaborate research, product comparison, and usually, opinions of several stakeholders involved. So, the path to purchase for B2B customers may be long-winded and more complicated compared to B2C customers. Surely, you should take these peculiarities into consideration when designing an ecommerce solution for wholesale.
Best Practices of Wholesale Website Design
I start this section with a B2B portal demo where you can see first-hand the experience to pursue in wholesale ecommerce.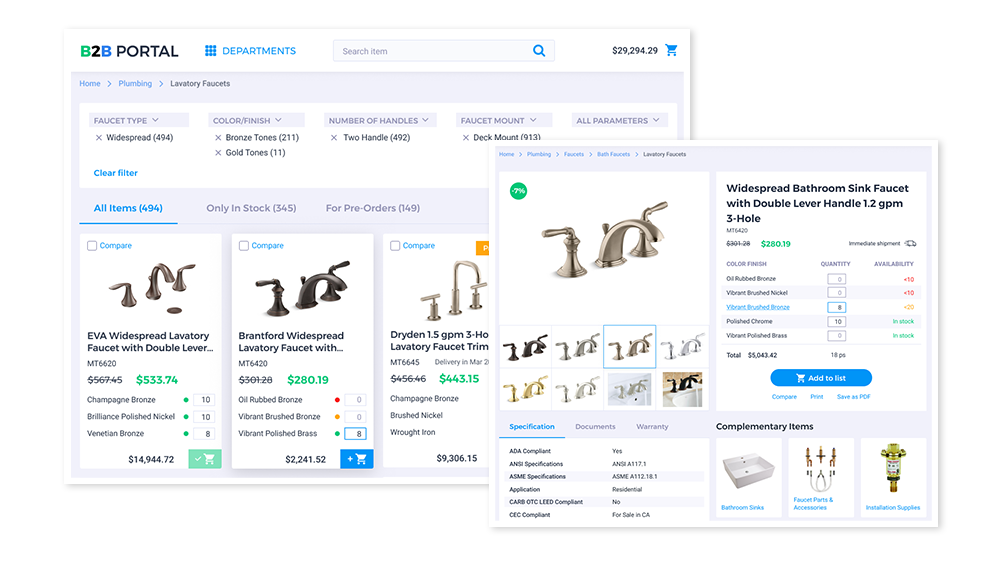 It's time to move on to 5 best practices of wholesale website design, aimed at improving customer experience and driving more conversions.
#1 Multiple user roles with personalization
A wholesale website must be aligned with business processes of your customers. Given multiple decision-makers taking part in the buying process, you need to allow for different user roles and permissions within one corporate account. For example, you may need to grant a permission to view product catalogs with prices and descriptions but restrict a possibility to trigger the payment.
Having personalized views for each user role is important too, so that your customers' employees don't get confused with tasks not meant for them, avoiding mistakes that might jeopardize your relationship with the organization.
#2 Tiered pricing
As wholesale customers will have the tendency to perform bulk purchases and hunt lower prices, the product and pricing displays should be able to reflect different pricing configurations according to quantities and applicable discounts. This also includes showing available stock and maximum quantities available for order. This way, customers can make informed decisions while keeping the whole process transparent.
#3 Path to purchase that converts
With the awareness that wholesale customers take a longer time to arrive at a purchasing decision, spin it in your favor by displaying case studies and customer stories highlighting your strong points on your website. This can provide an additional push factor for them to choose your products. And when your customers are ready to purchase, ensure a seamless and intuitive path from purchase to checkout, so that they don't experience unnecessary delays.
#4 Bulk, repeat and scheduled ordering enablement
Your customers are likely to place similar bulk orders repeatedly with minor variations in the future. Hence, be sure to have their saved order lists visible and reusable for them. Also, a good practice is to enable scheduled ordering for your customers to reduce the risk of running short on supplies. You will benefit too, as you can better plan your inventory. A classic win-win situation.
#5 Back-office integration
Ensure that your website is integrated with your major back-end systems such as ERP, PIM and CRM. This gives you the advantages of unified data and automation of critical operations such as accounting, inventory management and order tracking.
Now is the time!
US B2B online sales are projected to reach $1.8 trillion in 2023, so a converting ecommerce website for wholesale becomes a necessity for companies that don't want to lag behind the competition. Knowing your customers' behavior and mirroring it in a tailored design of your wholesale online store is a key to success. If you are looking for a partner to help you embark on a wholesale website design journey and support you along the way, you are welcome to contact our ecommerce design team.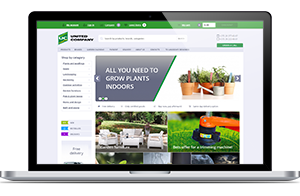 Are you planning to expand your business online? We will translate your ideas into intelligent and powerful ecommerce solutions.