Editor's note: Explore the UI principles to elevate a shopping experience and bring them to life with ScienceSoft's team of ecommerce website designers.
An ecommerce user interface is a presentation and user-facing part of an ecommerce website. One can't over-estimate the importance of UI design as the way visual and interactive elements are organized very much defines the behaviour and overall experience of ecommerce customers.
Today, I want to share the UI principles that we follow religiously in our own web design practice. These are the fundamental rules to provide a user-friendly experience and be competitive on the ecommerce market. And if you aim at superior experience, I can recommend exploring more sophisticated approaches and techniques in our custom ecommerce development offering.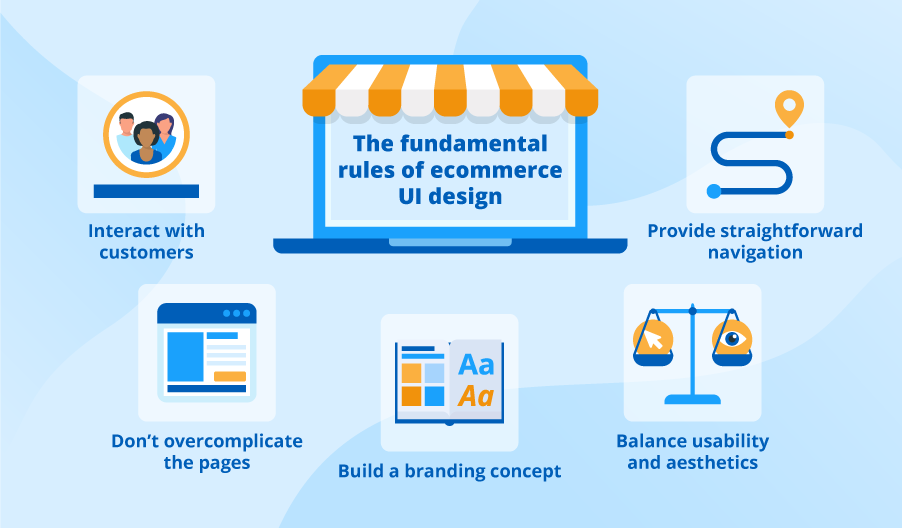 Interact with your customers
It's cool when ecommerce companies don't distance themselves from customers and build strong customer-brand bonds by telling the company story, presenting the team, allowing to see behind the scenes of design or manufacturing processes. There is usually a separate menu section for this, but you can also add elements of the company presentation to the homepage or product pages.
Expectedly, customers engage eagerly into the experience relevant and valuable for them. Start working on a personalization strategy to help customers along their digital journey with product recommendations or serving content responding the best to their interests.
Check Our Interactive Ecommerce Demo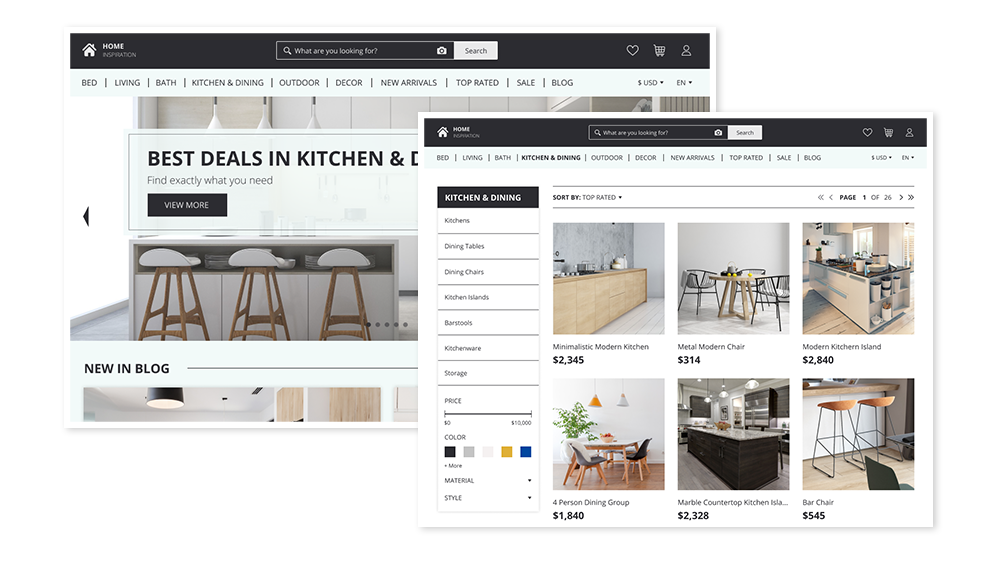 Don't overcomplicate the pages
When browsing online, customers tend to gain the first impression from briefly viewing a screen and then decide whether to stay on this website or not. Often, it's a matter of seconds. Not to waste the moment, make sure that the pages of your online store or the screens of your mobile app can be quickly scanned, the content is easy to perceive and the most valuable information is accentuated. Don't also forget that the visual design, no matter how beautiful, should not obstruct information perception.
Build a branding concept
Create a brand book with a color scheme, typefaces, fonts and illustrations, and ensure your website design is consistent all the way through. Highly visible UI elements, such as splashing screens and headers carry the great potential for promoting your brand. By integrating your identity into them, you can build a recognizable image that will increase customers' awareness of your brand.
Balance usability and aesthetics
Besides bringing joy and visual delight to customers, the UI design should enhance a customer's ability to navigate your online store and not distract them from their shopping journey. It helps when you highlight the UI elements intended for conversion – for example, contrasting, yet pertinent, colors make CTA buttons more noticeable for shoppers.
High-quality images or animated UI elements engage buyers to explore your ecommerce store. But don't overdo and optimize the layout for smartphones to minimize the churn among your mobile users.
Provide straightforward navigation
Another thing that influences customer experience is navigation. If you make your customers click a dozen times during their shopping journey without a good reason, it might kill any intention to purchase. To avoid that, you can stick to the good old friends of effortless navigation: short and logical navigation paths, distinguishable navigation elements, and familiar names and icons for actions.
What is more, you can facilitate navigation with directional hints that draw a buyer's attention to a specific app UI element, for example an arrow-shaped button for scrolling the page.
Be experimental but make informed decisions
Ecommerce UI design is a creative process, but it should be done with a pragmatic goal in mind. I've outlined general principles and practices that allow an ecommerce website UI or a mobile UI to be appealing and work towards smoothing the sales funnel.
As an addition, I would like to remind you that you build a user interface for your customers. You may find some design idea appealing while your target audience may not agree. That's why I keep on repeating – a user research is a must step to make before prototyping the web pages. If you value a user-centric approach to ecommerce web design, you will find the work of our designers noteworthy. Be welcome to start the conversation with our team if you need design assistance.
Start with a consultation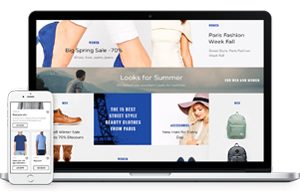 Ecommerce Website Design by ScienceSoft
At ScienceSoft, we create ecommerce websites with balanced visual appeal and usability.
Start with a consultation