Editor's note: In our today's article, we show how diligent digital journey mapping may win you more sales, even from visitors leaving your website without a purchase. Some ideas demand only tuning of your marketing strategy, others may call for custom ecommerce website development. Go ahead to check our competencies if you need such development assistance.
A digital customer journey denotes a way that customers make from awareness to consideration and decision in the variety of interactions within a company's digital presence. To firmly guide your customers' way to the stage of a purchase, you should map and unfold interaction scenarios differently depending on a consumer's behavior. Below, I take one point during a customer's digital journey, right after they've decided to buy or not, and show you three scenarios of further communication. You can use them as a draft journey map and adapt to your specific business.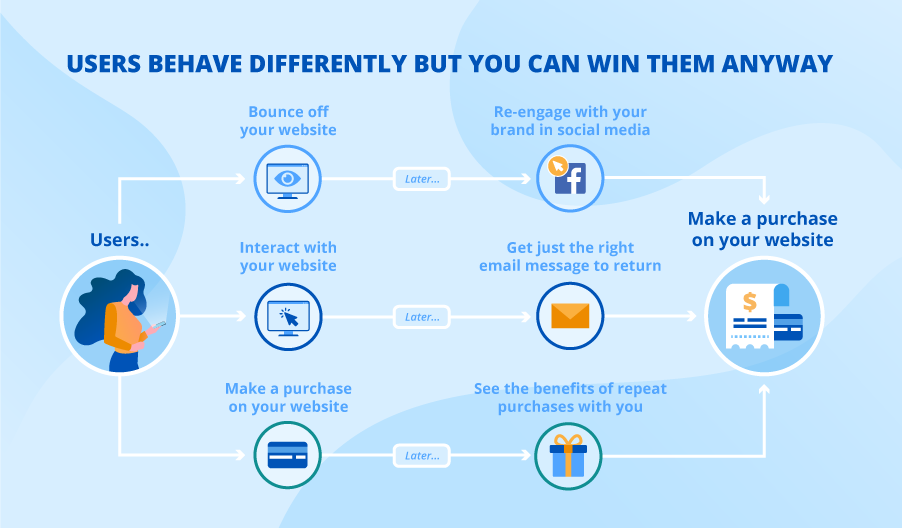 Scenario 1. A customer neither converts nor engages on your website
I start with the most disadvantageous scenario for any ecommerce seller – a customer acquisition campaign worked well to drive traffic, but visitors leave the website without any meaningful engagement. Still, they took time to check your website, hence they are generally interested in the kind of goods you sell. You have to take a second chance to re-engage with them.
I favor pay-per-click (PPC) advertising as the next step of this digital journey. Depending on where your target audience hangs out, you may choose to serve ads across relevant websites or in social media. I'm tapping into my own experience of working with Facebook advertising to say: it does work as a retargeting technique owing to Pixel, Facebook's analytics tool that installs on your website and tracks the actions visitors take there. This enables you to create an audience from website visitors and offer them ads best-suited to their purchasing intention.
Facebook advertising has become the marketing technique to map a customer journey in our B2C ecommerce demo. There, we illustrate how to prompt a visitor to a purchase and then to brand loyalty via a strong customer focus and a personalized attitude.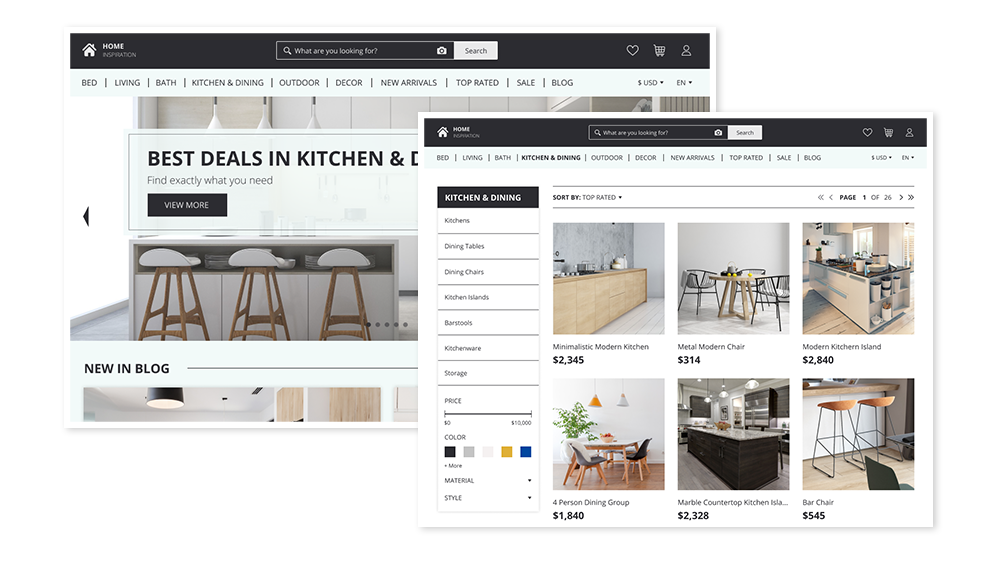 Scenario 2. A customer doesn't buy but engages at your half-way conversion points
There are website visitors who are not ready yet to trust you with a purchase but demonstrate a higher level of engagement by not only surfing but interacting with your website, for example, willing to subscribe for a newsletter or add items they like to a wish list. I recommend you to elaborate many similar conversion paths and, therefore, introduce a set of conversion points. With that, you expand opportunities to capture a visitor's email by offering something valuable in return.
If this scenario plays out, your next step is to motivate visitors to make the first purchase. You have their emails so you can:
Inform those users who have items saved in their wish list about product status updates that can encourage an impulse buy: low-in-stock notification or new discounts applied.
Send a discount coupon for the first purchase.
Experiment with different types of marketing emails and analyze which drive the highest ROI. Emails may feature new arrivals, share best deals available currently or be timed to seasonal needs, holidays, etc.
Scenario 3. A customer converts during the first visit
This best-case scenario gives praise to the shopping experience and brand trust you've managed to build on your website. There is no time, however, to lay back as now you have all chances to turn this one-time customer into a loyal one and even your brand advocate.
With the fist purchase already, you have enough customer information to start crafting their personalized experience:
Incorporate AI-powered product suggestions into emails to catch a customer's interest and drive them back to the website.
Include customers into loyalty campaigns to show the benefits of repeat purchases with you.
Reward them with one-off benefits for the second buy.
Customer behavior may be different but should never be neglected
To be successful in ecommerce sales, you have to find a way to engage your whole audience, those who are only getting acquainted with your company and who are interested to buy. Mapping customer journeys is a handy way to own all customer interactions and direct them where it serves your goals the most. Though it may sound as an easy plan if you have a couple of journeys to map, in practice, it's a tedious job if done and managed manually. That's why I recommend implementing an effective marketing automation tool that will help you navigate across your customer communication channels, build and trigger automatically as many user journeys as you want. ScienceSoft's team can help you to map converting user journeys and bring them to life effectively with a suitable marketing automation tool. Contact us if you are interested!
Start with a consultation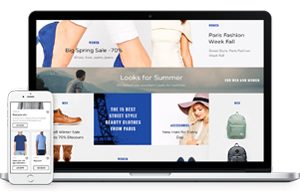 Ecommerce Website Design by ScienceSoft
At ScienceSoft, we create ecommerce websites with balanced visual appeal and usability.
Start with a consultation