Magento Development for International WiFi Service Provider
Industry
Telecommunications
Technologies
Magento, PHP
Customer
The Customer is an online service company offering subscriptions to registered WiFi hotspots in million+ locations worldwide. It brings together end-customers looking for secure, affordable and fast internet access with businesses which want to have their sites featured on the location map, thus attracting more clients.
Challenge
The Customer needed a website which would be a transaction point where their end-customers could find out about the company and its offerings as well as buy and manage their subscriptions. Users can purchase WiFi access rights to a range of locations that they frequent including railway stations and airports where free overloaded public hubs may lack the speed and connection quality. It was also required that the website would boost sales through a system of progressive and targeted discounts.
Solution
ScienceSoft offered its Magento development services to fulfill the task in accordance with Customer's needs. The team exploited the potential of the standard feature-rich package to the fullest, and after some configuration deployed a ready-to-go website showcasing different types of subscriptions and the available tariff network in the product catalog.
To complete a purchase or to navigate among the already acquired subscriptions a user should create an account on the website. The registration procedure is simple yet efficient from the security point of view. Payments are accomplished via PayPal website.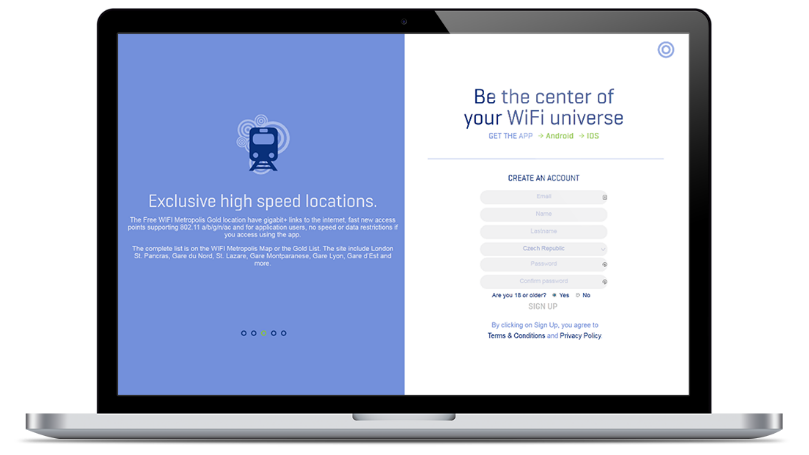 The website was largely customized according to the design mockups provided by the Customer and also versions in different languages were created to answer the needs of the international target audience.
The ability to incentivize the desired shoppers' behavior is one of the signature Magento features and in this project it took the shape of progressive discounts which track and analyze previous purchases as well as a special discount on the first purchase.
Once the platform's frontend was developed, ScienceSoft also did a considerable amount of integration with the other parts of the solution. Mainly, it involved ensuring reliable interaction of the frontend with the backend Java application and MySQL database. The required PayPal integration was also implemented to allow easy and secure payments.
Results
As a result of efforts of one Senior PHP Developer the project was finished in the course of two months. The Customer received a fully-functional multilingual website developed according to the requirements – a tool with added value for end-users who enjoy an intuitive clickable interface and full control over their WiFi subscriptions.
Technologies and Tools
Magento CE 1.7; PHP, MySQL.

Need help with a similar project?

Drop us a line, and our rep will contact you within 30 minutes to arrange an initial discussion.

<![endif]--> <![endif]--> <![endif]-->