To ensure a first-class delivery of their services or products, many companies rely on their trusted partners. Quite often a partner network becomes so complex and important for the company that it makes sense to call it an ecosystem. With hundreds of partners across the world, creating partner page on your website that is intuitive and user-friendly might become a real challenge. Thus, based on our experience in web portal development, we have come up with 3 sets of golden rules to make your partner page work for your ecosystem.
Use a smart search instead of long lists of partners. With few partners, it is easy to place all of them in a table or even a list; but when it comes to hundreds and thousands, a smooth Partner Finder is a must to ensure prospects' convenience. Think like Google and show up the most relevant partners to your prospects.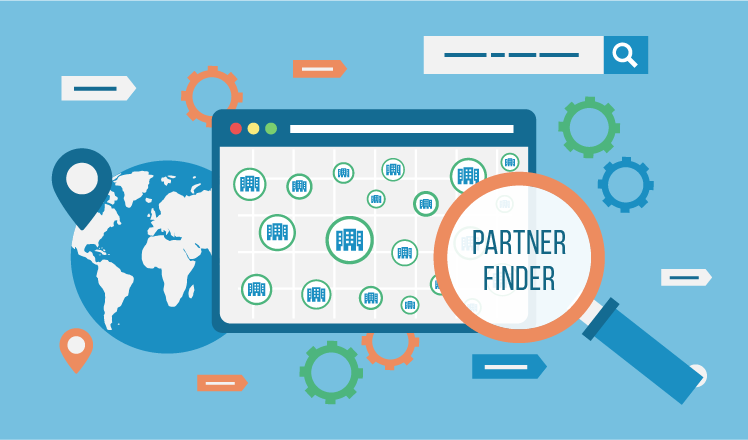 Turn the Partner Finder from a torch into a laser. To pinpoint the most relevant partners with ease, implement a range of customizable filters. Filters may differ from company to company and include:
Location specified by country, state and city
Specialization (particular product, service, or its type)
Industry focus
You can also add the following criteria: partner type, product or sub-product category, business needs, competencies, certifications and awards, etc.
Benefit from keywords and a predictive search box. This enables a plain search by a partner's name, services, industry, etc. But don't make the prospect guess, give them a clue through the predictive text.
Display location properly. According to our research, 11 out of 15 large companies surveyed use a map to visualize their partner network. When choosing potential partners, prospects tend to consider a partner's geographical location. So, why not take this burden off them and add visibility to partner locations? A pin-dropped labeled map with partner types or a Google map will do for this purpose. Besides, do not confine yourself to only a country-based search. Allow the prospect to find the nearest partner by state, city, town, postcode, or even distance.
Offer search by categories so that the prospects can easily start search with predefined parameters via an eye-catching category box (service provider, reseller, etc.). Still, make certain it doesn't lower the effectiveness of the engine. Categories should be optional.
Sort results by relevance. Even a smart Partner Finder can return lengthy lists of results. Therefore, it's a good idea to visualize search results both as a list and a map, and enable sorting search results by relevance (best match, rating, or distance).
Provide both quick and detailed views of partners' information. Give each partner's basic details and then provide the link to a dedicated page with full information. Make sure it is quick and usable (like pop-up windows).
Be concise but not silent. The basic information must be grasped at first sight. It should include a brief one-paragraph description, logo, contacts, industry, specialization, etc. What is more important, it is supposed to facilitate the choice. So, mention awards, figures, certificates, say, everything that makes your partner special and worth choosing.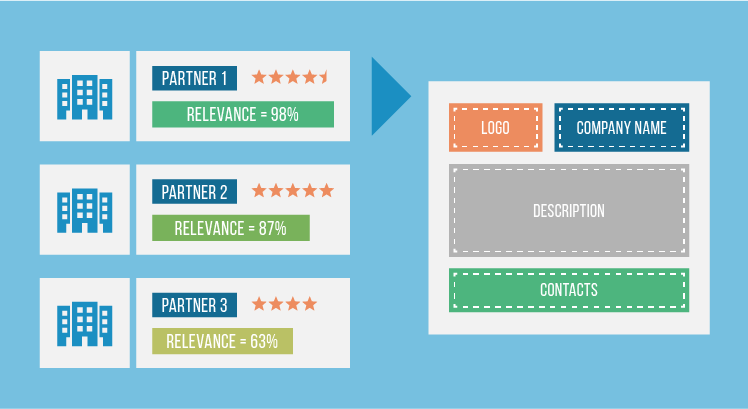 Ensure a partner profile does not interfere with the search. A partner's page should open in a new window or tab while allowing to compare it against several other companies. At least you should make sure there is a back-to-search option on every partner page.
Remember: you can make the first impression only once. Even though an overview page is the first impression of your partner, many companies tend to give too little information there. Try to incentivize your partners to include a useful and neatly organized description of their company, products or service portfolio, key industry focus, awards, certifications, etc. Visualize their location with a map and provide driving directions: such perks really make you closer to prospects and show that you are interested in saving their time.
Give a hint. The option overlooked in more than 90% of cases is reviews. We analyze facts but we listen to people. Try introducing your own system of stars, crowns or scores. The main idea is to differentiate partners, ease the choice and, again, engage prospects. But stay objective - provide pros and cons, customer references or links to success stories.
Consider two key questions while creating your partner page:
Is this page visually appealing?
What do I want to communicate with this page?
Of course, prospects search for information, not for design; but still check that the page is captivating and or catches attention.
Find the best place for a Partner Finder on your website. Remember, you do it for your prospects' convenience. So make sure the partner page is easy to find. The path to the page should be intuitive, while the page itself should stand out in the navigation bar.
Explain the game rules. So ensure that it is easy to understand how to use the search bar, filters, and keywords via handy tips displayed as pop-up windows, commentaries, etc. Is it clear how to fill in each box? Do you provide links with explanations of partner types, specializations, etc.'
Make the difference between the statuses of your partners evident. Enable a structured comparison (a table) or use buttons and a slide show to give short description of every status one by one. Many companies underestimate how important this stage is: they give too brief or vague descriptions, following each of them with long lists of partners, or give no explanation at all.
Add a personal touch to your website to engage prospects. To encourage two-way communication, provide automated forms for visitors to ask for assistance or share their feedback. You can go further and use every opportunity to facilitate lead generation: implement a contact-us form on each partner's overview page. By allowing prospects to receive a partner's response immediately, right from the search results page, you will save their time. At the same time, you make it clear your website is actively providing the partner with leads and thus reinforce your relationship. Although this may seem rather obvious, our research shows that only 5 out of 15 large companies benefit from this option, and all of them are IT companies.
Target prospects, think partners. Though the mission of your Partner Finder is to provide information about partners, don't miss the chance to widen your partner network or communicate with existing partners. Just add links to your partner portal, if you have any, and a How to Become a Partner page.
Good
Bad

Search engine

Easy-to-use filters
Keywords and predictive search box
Location filters (country, state, city)
Sorting by location and proximity

Search engine

No search, just a long partner list
Weak search that can only show that you have partners
Too broad search by location (e.g. only by country)

Search results

Relevant and helpful search results
Quick view to ease the search
Detailed partner profile in a new window
Prospect engagement

Search results

The need to reload the page to display every partner profile due to no quick overview
No partner information except contacts
No option to differentiate between partners
Poor or unhelpful information, irrelevant partner results
The necessity to start search from scratch every time

Overall structure and design

Intuitive and straightforward web portal with user-friendly navigation
Accessible Partner Finder

Overall structure and design

Unintuitive web portal and search with no user tips provided
Complicated or confusing navigation to locate the page
Just to re-iterate, the challenge to create a good partner page can be solved if focus on these 3 guidelines:
Ease of use and apt search criteria
Relevance of search results
Good structure and user-friendly design
Note that it's not enough to just show that you have partners. Instead, you can inspire prospects to choose the most relevant of them. Treat the partner page as your tool to interact with prospects and to analyze click-through rates for your partners' website links. And remember, relevant information that is clearly displayed makes the prospect's choice easier, and thus ensures more leads generated for your partners and more customers for you.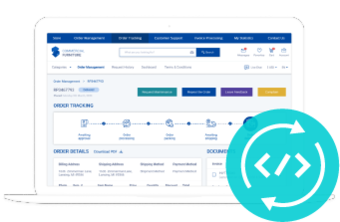 In web portal development since 2005, ScienceSoft's team will deliver a tailored portal solution fully in line with your business needs.