Editor's note: Alena explains how telehealth technology can be worth investing in by showing the benefits it can bring to healthcare organizations and patients. And if you consider leveraging telehealth technology in your organization, check ScienceSoft's offering in telemedicine app development.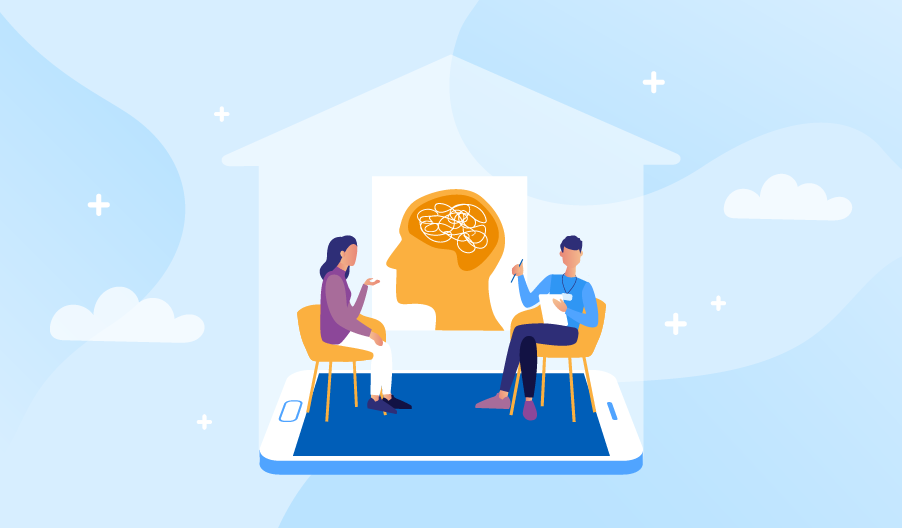 There is an acute shortage of mental health professionals in the United States, while mental health disorders have grown exponentially, exacerbated by the COVID-19 pandemic.
Since July 2020, many Americans have reported they faced health problems with sleeping (36%) or eating (32%) and increased alcohol or substance use (12%), because of anxiety and stress due to the coronavirus. Telehealth offers a great opportunity to provide the needed mental care and avoid the risks associated with travel.
Telepsychiatry implies a remote provision of psychiatric evaluations, individual, group, or family therapy and medication management using synchronous (in real time, e.g., interactive audiovisual conferencing) and asynchronous (without real-time interaction) telecommunication technologies.
Telemedicine can be easily adopted in mental health care because treatment typically does not require a physical exam, meaning that the entire session can be delivered virtually or combined with in-person visits.
There is a reason why some patients or healthcare providers may be hesitant to use telepsychiatry: it is about patients' data confidentiality during telepsychiatry sessions. Due to the exchange of confidential patient information, telemedicine software should comply with the Health Insurance Portability and Accountability Act (HIPAA). There are many standalone video conferencing tools on the market that can be quickly deployed, but very few are uniquely qualified for medical use.
Benefits of using telehealth for mental health
Telehealth allows healthcare providers to improve accessibility and quality of care provision. Consider the benefits in more detail.
Visiting a psychiatrist from anywhere at any convenient time
According to the U.S. Department of Health and Human Services, 111 million people live in mental health professional shortage areas. The use of telehealth technology improves patients' access to specialized mental healthcare.
Decreased psychological distress compared with in-person visits
42% of people who have never had a mental health diagnosis consider or know someone who said that people with mental health disorders scare them. That is why people diagnosed with a mental health condition or experiencing troubling symptoms may feel the fear of meeting an acquaintance on the way to the therapist's office, and the visit will trigger disease symptoms (e.g., anxiety).
A wider selection of mental health specialists
Due to the increased accessibility of mental health services, patients can find a mental health professional they really like. The emotional compatibility between the patient and the doctor is key for successful therapy outcomes.
Reduced time and transportation costs
For individual patients, the use of telehealth and decreased need to visit the doctor in-person resulted in 278 fewer miles traveled and $156 in travel cost savings.
Reduced professional burnout
The use of telemedicine in psychiatry expands doctors' access to more varied patient populations, which increases their professional interest, reduces the level of routine, and helps avoid burnout.
Bringing more timely psychiatric care to emergency rooms
About one in eight emergency room visits is related to mental illness or substance use. Many emergency departments are not equipped to serve people with serious mental health problems and don't have psychiatrists or other mental health clinicians to assess and treat mental health problems. Telehealth allows emergency departments to arrange remote telepsychiatry sessions for patients using videoconferencing.
Decreased direct and indirect costs
Direct costs (e.g., provider time, medical supplies), as well as indirect costs (e.g., clinic space, administrative support, and transportation of psychiatric inpatients from their local hospitals to psychiatric facilities) decrease due to the use of telehealth. 16 sessions of cognitive behavioral telehealth therapy for over 20 weeks could save one clinic approximately $2,025 per patient compared with face-to-face treatment.
Expanded telehealth coverage by Medicare and Medicaid during COVID-19
Due to the COVID-19 public health emergency, the providers of mental healthcare who treat Medicare and Medicaid beneficiaries can easier implement telehealth services. For example, during the pandemic, psychologists can provide teleconsultations from their homes to both new and established Medicare patients. The reimbursement for telehealth visits is the same as for in-person visits.
The global telepsychiatry market size was valued at $5.5 billion in 2019 and is expected to grow at a CAGR of 24.7% from 2020 to 2027. It makes the field of telepsychiatry promising for investment. If you want to create a telehealth solution for mental healthcare and need help at any stage of the development cycle from consulting to an application's support and evolution, feel free to reach out to ScienceSoft's team.
Get A Consultation
Not Sure What Functionality Will Benefit Your Telemedicine App?
ScienceSoft's healthcare IT experts will advise you on the best ways of developing a high-quality telehealth solution with the feature set just right for your healthcare organization.