Editor's note: Anastasiya shares tried-and-tested tips to improve customer service of a small business and presents a list of top 3 customer service software for small business owners. If you are interested in establishing an orderly customer service in your company, feel free to check ScienceSoft's offering in customer service consulting.
I'm sure that excellent customer service is a prerequisite for successful company growth. It helps retain customers and build loyalty to your brand, and, as a result, contributes to the growth of your customer base. And for a growing company, it is particularly important to fight for customer satisfaction because every unhappy customer is a potential threat to the company's success. So, let's see how to win this fight!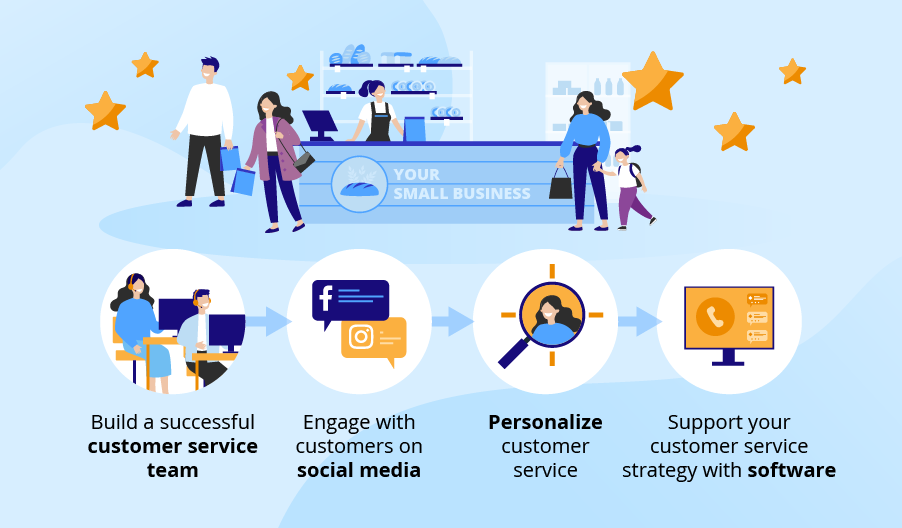 Build a successful customer service team
Investing in a professional customer service team should be a top priority for small business owners since customer service agents are the face of the company and can influence a customer's choice whether to stay loyal to your brand. Your employees should be patient and empathetic communicators having the ability to listen to and solve customers' problems.
Engage with customers on social media
According to statistics, 80% of customers prefer to use social media to interact with brands. Build your customer service presence on social media like Twitter, Instagram and Facebook to meet your customers where they already are and timely respond to their questions and concerns. It can also help small business owners increase brand recognition and get important feedback from customers.
Personalize customer service
One of the perks of being small is having an opportunity to create a more personal touch with customers. Collect and store customers' personal data and information about their interactions with your company. It will help you better understand your clients' needs and make them feel valued.
Support your customer service strategy with software
The next step to outstanding customer service is to implement customer service software that will enable multi-channel communication with your customers, help automate your service agents' everyday tasks, provide an insight into customer service performance, and more.
The Professional edition offers basic customer service features that cover small business service needs with no limit on the number of users. Furthermore, Dynamics 365 can be easily integrated with other Microsoft products, for example, Office 365 apps.
Core features:
Case management
This feature allows you to break your case management process into 4 main steps: case creation, assignment, escalation, and resolution. Software helps your customer service agents move through the case management stages, providing them with the necessary information, such as customer and case details, case priority and status, etc.
Knowledge management for customer service agents
Knowledge articles provide your agents with quick answers to your customers' questions.
Reports and dashboards
This feature provides you with valuable insights into your customer service department performance. You can track customer service KPIs, including CSAT and the number of active and resolved cases filtered by origin, priority, account, or status.
Pricing: Starts at $50 user/month (the Professional edition).
More about Dynamics 365 Customer Service
The Essentials edition is designed with small businesses' needs in mind. It provides basic customer service functionality for max. 10 users. To help your service agents get started with Salesforce, you can use Trailhead, an interactive online learning environment that offers free training on the platform's basics.
Core features:
Omni-channel customer communication
With this feature, you can create cases through multiple communication channels, including phone, email, web, the Live Agent chat, social media, community sites. All the incoming cases are brought to the Service Cloud and routed to the best available agents according to their expertise.
Case management
This feature helps you cover all the phases of the case management process: creation, prioritization, assignment, escalation, reassignment, and closure.
Service console
It is a unified workplace for service agents that displays important case details and customer and/or account information and shows knowledge articles related to the case.
Knowledge base for customer service agents
A centralized repository of easy-to-digest knowledge articles that empowers your service agents to resolve customers' issues much faster.
Pricing: Starts at $25 user/month (the Essentials edition).
More about Salesforce Service Cloud
The Zendesk Essentials plan is a sensible choice for small business owners as it offers all the necessary customer service features for a reasonable price. A free trial is available.
Multi-channel customer communication
This feature enables your service agents to work with tickets from multiple communication channels, including email, web and social media.
Essentials card and interaction history
The feature provides your service agents with all the information about the client your agent is currently serving, as well as their interaction history.
Help Center for customers
This feature helps you build a self-service hub for customers with knowledge articles and FAQs to handle simple issues.
Overview dashboard
With this feature, you can track your key ticket metrics broken down by communication channel, benchmark, and first reply time to evaluate your progress.
Zendesk Benchmark
This feature enables you to compare yourself against other companies using Zendesk against three key KPIs: customer satisfaction (CSI), the first response time (FRT), and ticket volume.
Web Widget
This feature empowers your customers to search Help Center articles for instant self-service, submit a support request with the help of a contact form, and start a live chat with your service agent from a single interface.
Pricing: Starts at 5$ user/month (the Essentials edition).
Win the battle for loyal customers with customer service software
To attract a new customer is five times more expensive than to retain an existing one. Proper customer service software can help you build a long-term trustworthy relationship with customers and increase your retention rate. And if you need help with establishing a structured customer service process, contact ScienceSoft's team.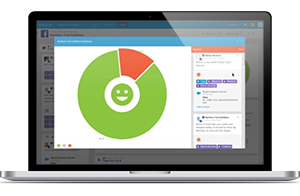 Looking for a way to improve your customer service? Our specialists in customer service management provide a full cycle of consulting and optimization.