Analyzing knowledge management challenges and looking for the ways to solve them, we at ScienceSoft developed our proprietary knowledge management framework. In Part 1 of this series, we gave the examples of how the KM framework reinforced with Microsoft SharePoint's capabilities can help organizations to balance explicit and tacit knowledge, facilitate knowledge search and choose the right knowledge distribution model. Now let's see how the framework guides companies towards well-structured, regularly updated knowledge and a knowledge-friendly corporate culture.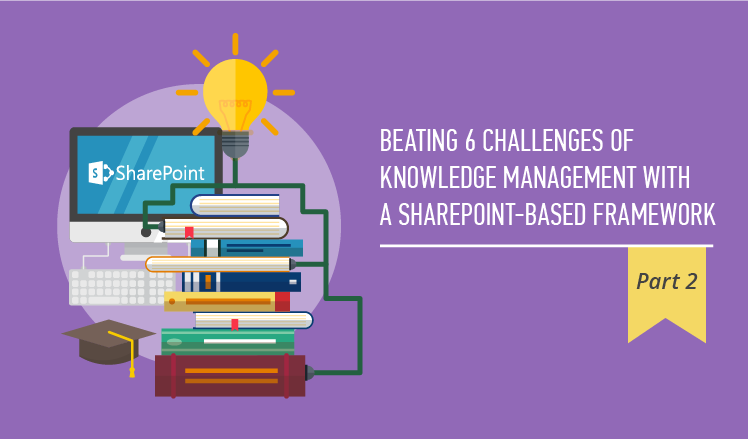 Challenge 4: Ignoring knowledge mapping
Knowledge mapping is usually neglected by organizations, because' well, it's tough. The most challenging task is to determine knowledge domains of an organization, then to identify relevant knowledge items and their owners across the entire company. Ignoring this step in KM means that organizations can't control their knowledge, stay unaware of its potential competitive advantages and risk to overlook critical knowledge gaps.
What the framework suggests: Knowledge mapping is fundamental in the framework. It's essential to sustaining the entire KM cycle. With a corporate knowledge map, companies can assess the current state of knowledge objectively and reveal both their strengths and gaps. The knowledge map then allows triggering relevant KM activities based on real facts, not just managers' gut feeling. Moving on with KM, companies can continue filling in knowledge gaps, create new branches of the knowledge map and make it as detailed as needed.
Challenge 5: Neglecting knowledge maintenance
Knowledge management can only be successful if knowledge is circulating freely and is able to survive the entire lifecycle, from its identification to upgrade or removal. Unlike rare and specific pieces of knowledge that stay valuable during long periods of time, regular knowledge gets outdated quite quickly, therefore requires regular upgrading. If left as it is, unmaintained knowledge becomes not only irrelevant but provokes mistakes and can even lead to business failures.
What the framework suggests: Knowledge maintenance is one of the key pillars of the KM framework. Acting in line with it, companies can set up flexible role-based workflows for review and updates of particular knowledge items, based on pre-defined knowledge attributes. For example, as soon as the date of some valuable knowledge asset passes the pre-defined viability period, a knowledge manager or a knowledge owner will get an automatic notification with the request to review and upgrade the asset. At the same time, knowledge users will learn about the changes through notifications in a knowledge management system or emails.​
Challenge 6: Managing knowledge in a reluctant corporate culture
When organizations try to spread KM principles among employees who never cared about nurturing their knowledge, most likely that knowledge management itself will be ineffective. It takes educating and interacting with employees to instill KM in their daily routine.
What the framework suggests: Using a SharePoint-based knowledge management solutions, organizations can foster a knowledge-friendly corporate culture. Organizing a separate site with collaboration spaces, companies can explain to employees how to use the knowledge map, search for knowledge items, assets and owners, retrieve knowledge, update it, and much more. The system can also become a central hub for introducing new KM initiatives, getting employees' feedback on their user experience, collaborating on how to improve KM in an organization, all while engaging each employee into the process.
Get rolling with the KM framework, and be patient
While working on their knowledge management projects, companies may feel like giving up on their efforts, what with a pile of challenges, staff's reluctance and growing costs. The knowledge management framework we suggested can be a way out of this tight corner. Companies can adopt it at any stage of a knowledge management project, as well as at any stage of their SharePoint platform maturity. It can help knowledge managers to shape scattered ideas and activities into a weighed KM strategy supported with user-oriented knowledge management tools. Following the framework logic, companies will be able to bring together employees, technology, and organizational processes, which is crucial for success.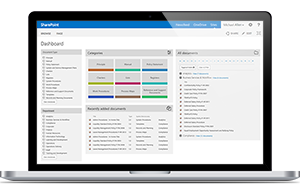 Are you looking for a powerful knowledge management solution? We can show you how to make your corporate knowledge flourish with SharePoint!