Editor's note: Optical sorting has seen an active adoption in the food & beverage industry recently. Read on to learn real-life success stories of grape-sorting equipment and the challenges there may appear. And should you search for a way to optimize your business workflows, check out ScienceSoft's software development offering to get reliable software solutions with a high degree of sophistication.
The coming of mechanization to winemaking feels almost like the dawn of a new era, of course met with much caution. Even today, winemakers are slow to adopt new technologies that range from mechanical harvesters to the Flash Détente method. Automated optical sorting of grapes is on the list too, as the only widely acknowledged application of industrial machine vision in winemaking.
The food industry was an early adopter of automated machine vision-assisted inspection, quality control and grading of raw materials, let alone labeling and verification of packaged products. The technology has been widely applied to post-harvest fruits, vegetables and berries, including oranges, apples, potatoes and cranberries. In its turn, the wine industry started to catch up on this innovation just recently.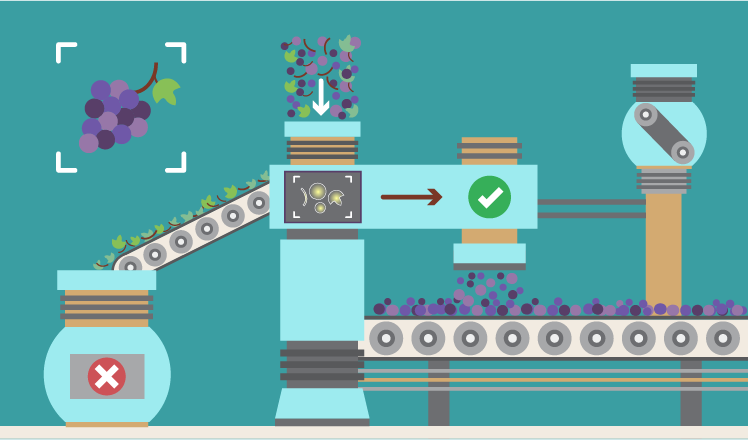 One of the first news about automated optical sorting of wine grapes made its appearance only around 2008, when Pellenc launched their line of optical sorters, first in France and then globally. Speeding into 2017, we have tech-aided viticulture on the agenda of major international symposia, both in the US and abroad. Slowly but steadily, American wineries had to get on in order to replace expensive labor with fail-free automation, to increase throughput, as well as to improve quality and uniformity of their products.
As the industry is gradually transforming towards more mechanization, we are setting out to define the place – and challenges – of automated image analysis for grape sorting and inspection today.
Automated grape sorting: how and why
The market for automated optical sorting is populated with companies that supply both machinery and image processing software in one bundle. Heavy on the hardware side, with sorting conveyors, grape scanning boxes, etc., automated optical sorting may look completely mechanical. Yet, it employs an intricate air-ejecting mechanism powered by software for detecting defects.
Which defects, namely? MOG (material other than grapes) is the number-one enemy of grape sorters and a principal target of automated sorting machinery. This is foreign matters of all types, including stems, twigs, leaves, critters, damaged or moldy berries and even raisins. Advanced optical sorters, such as those by WECO (Woodland, CA), use visible, near-infrared light and LEDs to identify under- and over-ripe grapes, sort by color, and grade the quality based on the manufacturers' original algorithms. Unlike floor-standing conveyor sorters, some of the vendors, such as Pellenc, also supply on-board optical sorters built into mechanical harvesters for work in the field.
And vineyard automation does bring value beyond grape quality alone. The Napa Valley vineyard management company Walsh Vineyards managed to cut labor costs in half when their crew of 6 instead of regular 12 destemmed and sorted 15 tons of grapes in about 5 hours. At another Californian winery Gundlach Bundschu, the staff handled 40 tons a day with the help of a Delta Vistalys optical sorter – about three times quicker than doing it the old way.
For the industry, faster harvesting means higher throughput. And less hands that are busy with humdrum sorting means happier crew with more normal working hours even at the height of the crush season. Yet despite such a variety of reputable providers in the market, configurations and benefits, vineyards and wineries are still tentative to go for automated inspection whole-heartedly.
Challenges afield
Let's break down the limitations and challenges of machine vision for winemaking to see if it has any chances to take root among an ever-increasing number of viticulture innovations.
Professional prejudices
Historically perceived as a handcraft, winemaking has always been manual labor-intensive, where 'hand-picking' and 'hand-sorting' is perceived as a trademark, an advantage. This approach however reaches its extreme during the harvesting season that falls between August and October in North America, with night shifts and all. The other side of the debate, the 'cleanness' of wine was also put under scrutiny as to determine if zero-MOG must produces the best wine or not. As it happens, the questions are still open.
Infrastructure barriers
When it comes to costs, adopters of automated optical inspection will have to put up substantial investments, and mostly for machinery and hardware. Simply because of their very architecture, automated optical sorters often come with original equipment such as sorting tables, MOG shakers, ejection jets, etc. That said, you just can't buy packaged software and run it on a PC at crush pad facilities without first investing in the manufacturer's entire bundle.
Training needed
Although more a prejudice than a real obstacle, automated optical sorters do require well-skilled operators. Acknowledging this limitation, vendors do their best to introduce intuitive interfaces with fancy touch screens for easy selection and adjustment of sorting criteria. However, it's a matter of precision and experience to set up everything correctly with attention to the type of fruit and wine to be made of it. For example, eject rates for Merlot are strangely known to be considerably higher, while regular settings can be too harsh for Pinot Noir grapes.
Limited application
Seems like there is not enough value in mechanized sorting alone for vineyard managers and winemakers. Many admit, they only adopt automated sorting for certain types of grapes or problematic harvest, like hail-damaged or sunburnt fruit, in order to maximize yield. Others just don't believe optical sorters per se can be truly decisive in the winemaking process, since destemming, crushing and sending the must for fermentation are all crucial stages that also affect the taste and quality of wine. Without advanced features such as precise sugar-based image analysis of grape ripeness or other quality grading methods, optical sorting will be only an emerging alternative to manual inspection.
Premium goes ultra-premium
Tech-incurred margins is one of the major concerns for those with a penchant for high-tech winemaking. With the price starting around $75,000 and going up as high as $200,000, automated optical sorters seem to be the toys reserved for luxury winemakers only. And when it comes to price-setting, will it make automatically sorted wines ultra-premium to accommodate expenses on technology?
Nothing for table grape growers
In its current version, automated grape sorting is only applicable for winemaking and not for quality inspection of table grapes. It is largely due to the configuration of machinery that it can't handle grape clusters without destemming them first. Non-wine grape growers and suppliers still need to rely on manual inspection by humans, though they could greatly benefit from automated quality grading to set objective prices and shelf life analysis to define how soon a batch will go rotten or moldy.
Roadmap for the future
For now, it's clear that in order to retain and strengthen its position with winemakers and grape growers, the technology behind automated optical inspection needs to evolve. Not in the least because industry regulations are changing.
In the area of compliance, wineries have been long exempt from following the Food Safety Modernization Act (FSMA) except for a few provisions related to side-line manufacturing of non-wine products. However, as pointed out by Dr. Randy Worobo of the Cornell University Department of Food Science, wineries "will have to have a documented program in place to control biological, chemical and physical hazards." It's not yet possible to predict if non-invasive optical analysis could detect bacteria, such as Acetobacter, that survive fermentation, yet automated and fully traceable (read, documented) quality inspection could serve well for compliance reporting to authorities.
Show me more info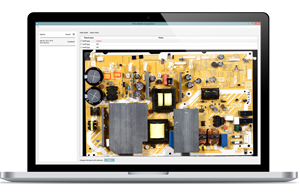 Automated visual inspection by ScienceSoft
Dissatisfied with the speed, results or costs of your inspection process? Consider what changes automated visual inspection can bring.