ScienceSoft is a Salesforce Partner
As a Salesforce partner with 14 years of hands-on CRM experience, ScienceSoft delivers full-cycle Salesforce implementation services. Our team of Salesforce consultants, developers and administrators can implement and support a Salesforce solution tuned to bring you quality leads, increased sales and improved customer service.
Entrust your CRM project to a Salesforce partner with in-depth technical knowledge and comprehensive industry expertise.
Highlights about ScienceSoft
14 years in CRM consulting and implementation.

Salesforce consulting partner.

A multidisciplinary team of Salesforce consultants, certified developers and administrators.

Extensive industry experience in manufacturing, retail, professional services, healthcare, banking, telecoms, etc.
Customers Say
ScienceSoft has done an amazing job of making our internal processes more efficient, implementing changes without causing any interruptions to the business. The changes they've made within Salesforce are reliable and functional.
The National Manager of a US-based roofing company
Salesforce Products We Cover
Salesforce consulting
We conduct careful elicitation of your business needs and analyze your business goals to guide you on the optimization of sales, customer service and marketing processes in the relevant Salesforce clouds. We also recommend the edition of Salesforce clouds and products that suits your business best.
Salesforce implementation
We handle Salesforce implementation from consulting to after-launch support and evolution to deliver a reliable Salesforce solution that corresponds to your requirements in full.
Salesforce customization
We implement customizations of any scale and complexity and tailor a Salesforce solution with point-and-click tools or code to make it better reflect your sales, customer service and marketing processes and industry specifics.
Salesforce application development
We build custom Salesforce applications that support your internal business processes (e.g., lead assignment, delivery planning) or get listed on AppExchange and become an independent source of income.
Salesforce migration
We efficiently perform CRM migration from your legacy system to Salesforce, keeping your data accurate and complete and ensuring uninterrupted business operations supported by CRM.
Salesforce integration
We perform Salesforce integration with enterprise systems (e.g., ERP, DMS, email,) to ensure smooth data flow between the systems, single access to them for users and the efficient collaboration of various departments.
Salesforce support
We handle administration and development support of your Salesforce solution, including user and data administration, on-demand configuration, system monitoring, troubleshooting issues on the code level and implementing feature enhancements.
Salesforce managed services
We provide comprehensive Salesforce managed services to ensure your Salesforce solution's stability and quick evolving in line with arising business needs and changes in sales, customer service and marketing processes.
Selected Salesforce Projects
Salesforce Demos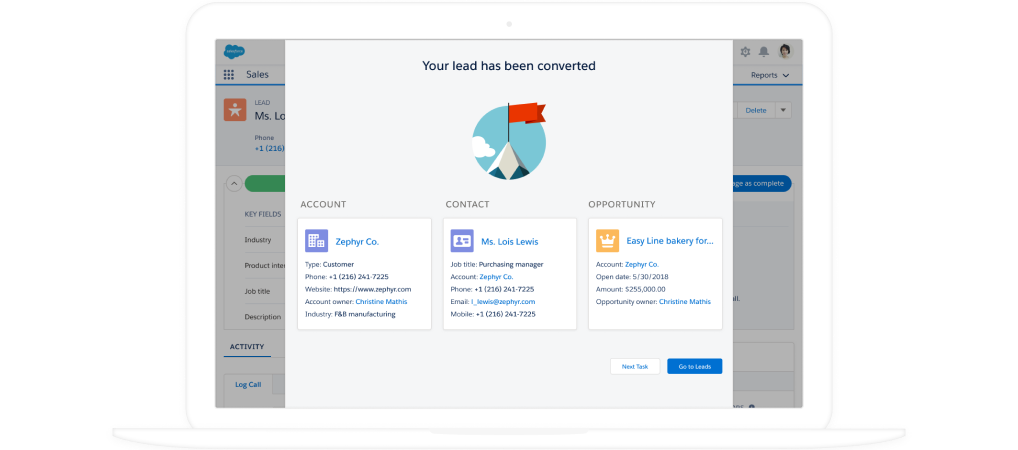 What You Get from Our Cooperation
A stable Salesforce solution capable of quick evolution. Our certified Salesforce developers use their in-depth knowledge of the Salesforce platform to provide you with a Salesforce solution that works in line with your business processes and quickly evolves to support your business process change.

Individual implementation strategies. As a Salesforce implementation partner, we're ready to deploy Salesforce clouds choosing an optimal strategy for each implementation case.

If no change to your live business processes is required, we will automate them with attention to their peculiarities, using Salesforce default or custom functionality.
If you need to modify your live sales, marketing or customer service processes, we may redesign them with a view to Salesforce best practices of process automation (e.g., approving discounts in a multistep approval process).
If there's a need for drastic changes to live sales, marketing or customer service processes, we can design them within Salesforce from scratch, making a parallel change of live business processes and Salesforce-supported processes during implementation.

Minimized managerial efforts on your side. Due to our ample project management experience and accurate KPI-based reporting with useful explanations, we can handle implementation, customization and custom development projects with little or no involvement from our customers' side.
Get an Optimal Salesforce Solution from a Salesforce Partner

We can properly implement and customize a Salesforce solution, which helps you get increased sales, better leads and quality customer service.

Try Salesforce guided tours

<![endif]--> <![endif]--> <![endif]-->