ScienceSoft Joins the UN Global Compact to Further Support and Mainstream the Universal Principles of Sustainability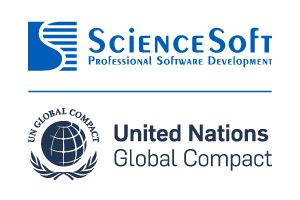 The UN Global Compact is the largest voluntary corporate social responsibility initiative that united more than 13,000 companies around the world. Signatories to the Global Compact assume the obligation to implement responsible business processes and move forward sustainability principles among other local companies, non-business entities and the public at large. At the center of the members' attention is the protection of the human rights, introduction of global labor standards, preservation and enhancement of the environment, and anti-corruption work.
For years, ScienceSoft has operated with respect to sustainability values. Participating in the UN Global Compact initiative is a significant public step in our sustainability strategy. We work in alignment with global labor standards, respect human rights at the workplace and in our marketing campaigns, seek to minimize the negative effect on the environment with responsible consumption, as well as stand for transparency in all business operations and are committed to the prevention of corruption, bribery and coercion. We also encourage our business partners and customers to do the same.
Each year we will communicate on the efforts and progress made in the implementation and promotion of the Global Compact principles. The first public report is to be published in May 2020.